GALLERY: Shell's Brent platform reaches UK port ahead of final dismantling
Following its recent removal from the UK North Sea, Shell's oil and gas platform Brent Alpha has arrived at a decommissioning yard in the UK.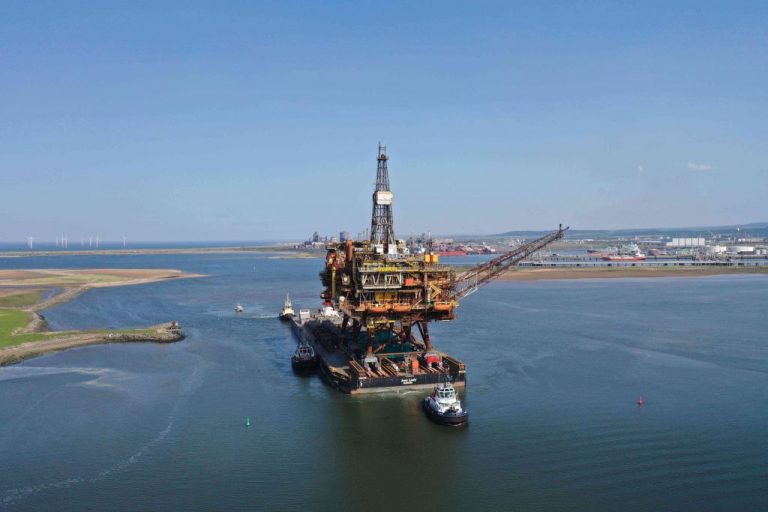 The Brent Alpha was the third of four platforms, after Delta (2017) and Bravo (2019), to be decommissioned and removed from the Brent oil and gas field in the UK North Sea.
It is also the third platform from Shell's Brent field to be decommissioned at Able Seaton Port.
The removal of the Alpha platform was completed in the evening of 21 June 2020.
The Allseas-owned giant heavy-lift vessel Pioneering Spirit was in charge of this important assignment.
The removal was the first offshore lift to utilise specially developed "horseshoes": connection tools that clamp around pre-installed lift points called bearing brackets mounted on the upper sections of the steel jacket's legs.
Following the removal from the field, the 44-year old structure headed to Able UK's Teesside decommissioning yard in North East England for dismantling and recycling.
Able UK announced the arrival of the platform on Thursday, 25 June.
The final stage of the arrival operation involved the transfer to the Allseas' cargo barge the Iron Lady for the tow into the Seaton Channel and load-in at Able Seaton Port's specialist quay 6.
Peter Stephenson, founder and Executive Chairman of Able UK, said: "The Brent contract is just about the most prestigious oil and gas decommissioning project in the world".
The Brent Alpha part of the project will safeguard approximately 80 jobs and is expected to take around 12 months. As with the previous two platforms in the contract, a recycling rate of c 97 per cent is anticipated.
Production from the Brent field continues through Brent Charlie platform, with Pioneering Spirit booked to remove the 34,000-t topsides when the platform finally ceases production.
All photos by Able UK