Gibson: Russia targeting year-round sailing in Northern Sea Route as early as 2025
Voyages through the Northern Sea Route (NSR) have long been on the radar, but recent developments indicate that Russia is now aiming to establish year-round sailing on this strategic maritime pathway as early as 2025, Gibson Shipbrokers said in a recent report.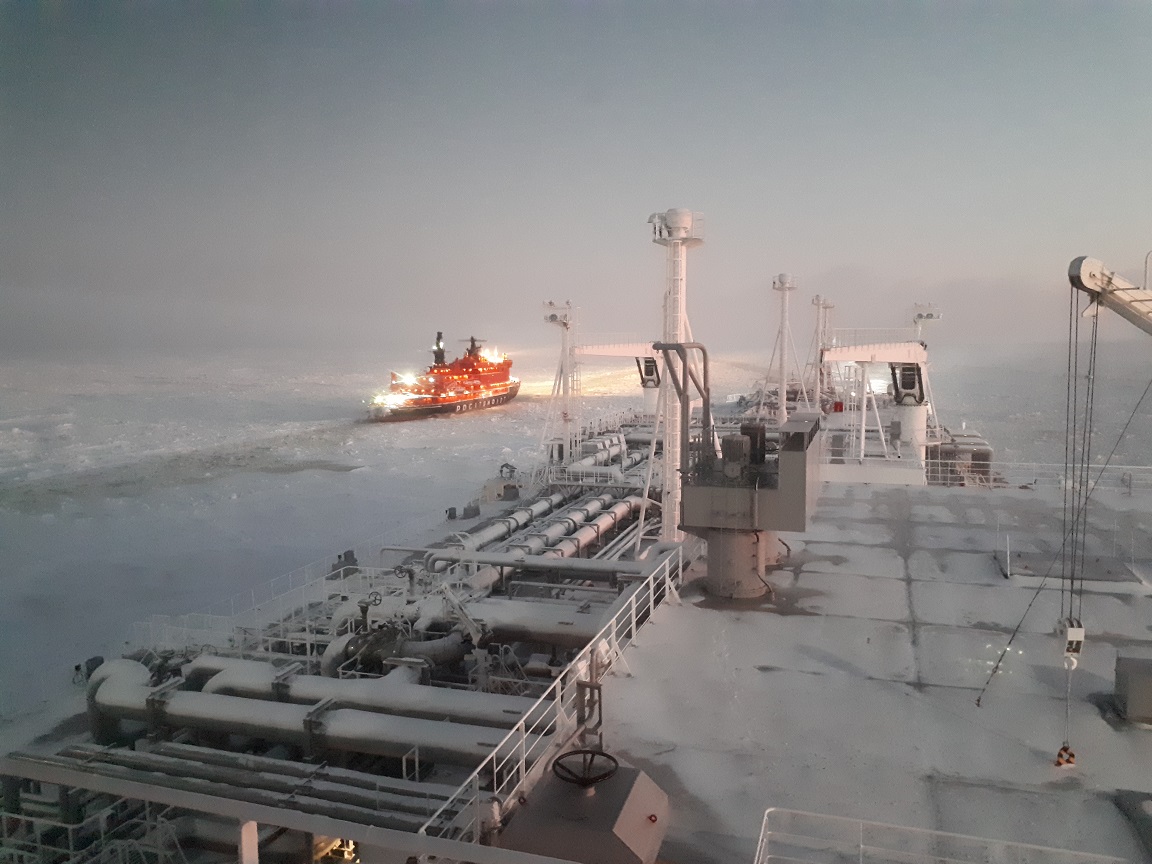 This ambitious goal comes as Russia seeks to optimize its maritime routes amid evolving global trade dynamics, especially in the context of the recent sanctions on its oil exports imposed due to the war in Ukraine.
This shift in oil trade dynamics has occurred following sanctions imposed by Europe, the United States, and other global powers, which have limited their own purchases of Russian crude.
As one of the world's top three oil producers, Russia has supplied record volumes of oil to two major Asian economies, China and India.
In addition, Japan has resumed its LNG imports from Russia. These countries have notably refrained from imposing sanctions on Moscow, and as a result, they have emerged as leading buyers of Russian oil.
The Japanese government plans to keep its stakes in the Sakhalin 1, 2 and Arctic LNG 2 projects in Russia, as they are described to be vital for the country's national energy security.
According to data released by Japan's Ministry of Finance, Russia ranked as the third-largest supplier of liquefied natural gas (LNG) to Japan during the first half of 2023. Russian LNG shipments constituted 9.5% of Japan's overall LNG imports, which amounted to 32.62 million metric tons during that period.
The NSR, a passage through Arctic waters, has been a focus of Russia's strategic priorities since the early 2000s, with the first successful voyage completed in 2010. Over the past decade, shipping volumes of various commodities have gradually increased along the NSR. However, the navigation season along this route remains relatively short, typically starting in early summer and ending in mid to late autumn. To navigate through the NSR, vessels often require the assistance of nuclear icebreakers, depending on ice class conditions.
The rationale behind Russia's efforts to develop the NSR is clear. In terms of distance, the NSR offers approximately 30% shorter routes for Russian Baltic shipments destined for Northern China and about 45% shorter routes for shipments from Murmansk. The significance of the NSR's development has been amplified following the European Union's ban on imports of Russian crude in December of the previous year.
Despite the clear benefits of the NSR, navigating it year-round remains a formidable challenge, particularly during certain times. In November 2021, 18 vessels became stranded at various remote points along the NSR when the water froze faster than expected, Gibson Shipbrokers said in the report.
"This year, two Aframaxes, the NS Arctic and the Primorsky Prospect, shipped Urals from the
Baltic into Northern China along the NSR, with the voyage taking about 46-47 days, slightly longer that
what would have taken these vessels to travel via Suez Canal at 12.5 knots speed. AIS tracking shows
that both tankers slowed down notably at some ; stages between the Kara Sea and the Chukchi Sea, at
times going as slow as 3-4 knots, probably due to challenging ice conditions," the report reads
Despite the longer voyage days, the economics of using the NSR are balanced by lower bunker expenditure due to the shorter distance and the absence of Suez Canal tolls, although icebreaker costs remain a factor. Moreover, vessels attempting the NSR voyage later in the navigation season may encounter better conditions and achieve higher speeds.
Irrespective of ice conditions, the economics of shipping crude from Murmansk to China remain attractive. Last year, the Panamax Vasily Dinkov completed a voyage from the Umba FPSO to Rizhao in just 28 days. This year, the Aframax SCF Baltica completed a similar journey in 31 days, despite reducing speed in some parts of the route. In comparison, a voyage via the Suez Canal at 12.5 knots typically takes about 45 days, Gibson said.
While seaborne crude exports from Murmansk are relatively small, at approximately 325,000 barrels per day (kbd) so far this year, nearly half of it (150 kbd) has been shipped to China, including shipments via the Myanmar pipeline. Baltic shipments to China have averaged around 230 kbd. Collectively, these volumes are significant, considering the distances and time required for delivery into China via the Suez Canal.
"For now, crude volumes shipped via the NSR are very modest in comparison to voyages via Suez, whilst the economics for Baltic shipments remain questionable. However, this trade will undoubtedly continue to grow going forward due to global warming, gradually chipping away at Russian crude tanker tonne mile demand," Gibson concluded.
These developments signal Russia's determination to capitalize on the strategic advantages of the NSR and its pursuit of year-round sailing, which could reshape global maritime trade in the coming years.