Golden Energy gets loan for OCV/IMR vessel acquisitions
Oslo-listed offshore vessel owners Golden Energy Offshore Services has secured a bank loan to buy OCV/IMR vessels Larissa and Despina.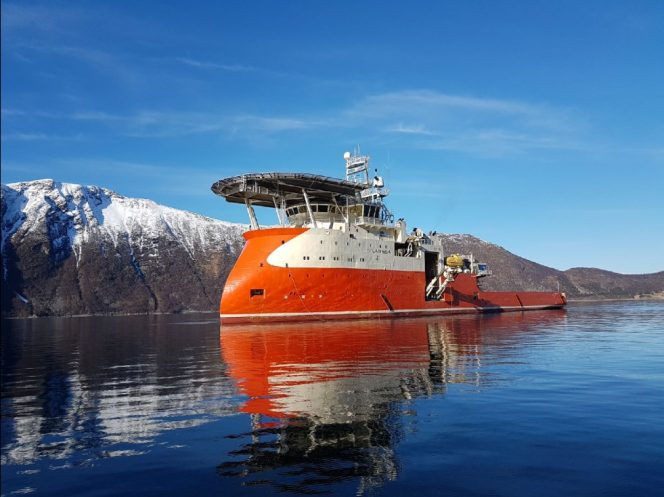 Neptune Larissa and Neptune Despina are 98.6 meters long sister vessels of Ulstein SX130 design delivered in 2011 by Zhejiang Shipbuilding, a subsidiary of Sinopacific Shipbuilding Group
Unqte.
Golden Energy on Thursday said that term loan of $35 million maturing in November 2022 was agreed at attractive terms.
"Having secured attractive financing, the Company has now finalized the negotiations with Neptune Subsea AS and reached an agreement to acquire the OCV/IMR Vessels," Golden Energy said.
The set price is $39 million per vessel, with Neptune agreeing to subscribe to $8 million of shares in Golden Energy as part settlement of the purchase price.
Golden Energy has disclosed that the CEO of the company, Per Ivar Fagervoll has an indirect minority ownership interest in the seller and will indirectly upon completion of the acquisition increase his overall ownership in the Company.
Delivery of the OCV/IMR vessels is expected to occur in the first quarter of 2019.
Established in 2013, Golden Energy currently operates two platform suppliers which it bought in 2014 – the Energy Swan and the Energy Scout.
The company in June 2018 announced it had secured rights to order two Multi-Purpose Support Vessels (MPSVs) from China.
In a statement on Thursday, Golden Energy said the remaining financing requirement is estimated to be about USD 75–80 million, which includes balance acquisition costs, working capital requirements, positioning costs and an amount for an upgrade of the MPSVs to light IMR/renewable work.
CEO Per Ivar Fagervoll said on Thursday: "I am very pleased that we have now been able to reserve four very attractive vessels which are all well known to Golden Energy Offshore Management AS and should be capable of creating shareholder value to, and investor interests in, the Company. Under the existing management by Golden Energy Offshore AS the Despina and Larissa have been warmly welcomed in the market and we are confident that charterers will also find the MPSVs very interesting.
"We are in dialogue with possible charterers for the vessels, but we expect to trade all vessels in the spot market during 1H 2019 as we anticipate that the market for modern SPS compliant
offshore vessels will tighten as the market improves. The confidence shown by the commitment made by the lenders confirms the quality of our operation and proposed capital structure. We are committed to create additional shareholder value in the Company for the benefit of existing and new investors"