Good news for Panoro Energy offshore Equatorial Guinea
London-based independent E&P company Panoro Energy has received all necessary approvals allowing for the completion of its farm-in to the Kosmos Energy-operated Block S offshore Equatorial Guinea.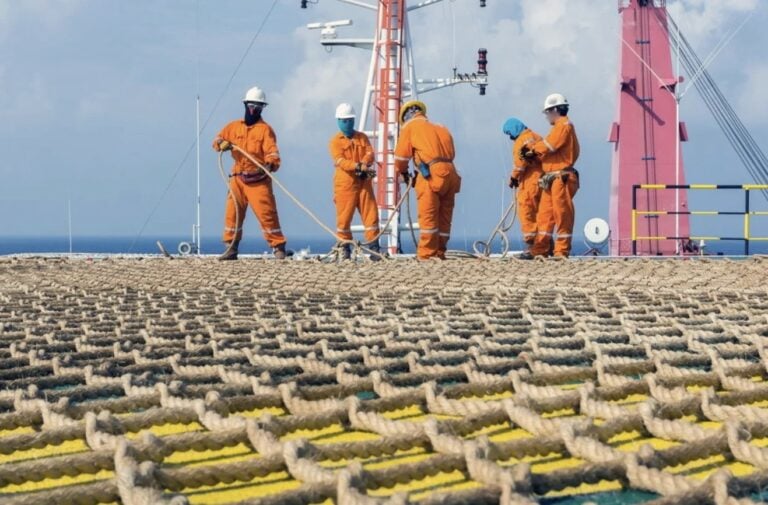 Panoro has acquired a 6 per cent participating interest in Block S from each of Kosmos Energy and Trident Energy to hold a 12 per cent non-operated participating interest.  
The company's partners at Block S are the operator Kosmos Energy with 34 per cent, Trident Energy, also with 34 per cent, and GEPetrol, holding 20 per cent.
One exploration well is planned on the block during 2024 to test an Albian play in the Akeng Deep prospect. Gross mean unrisked prospective resources are estimated to be around 180 million barrels and the prospect lies within tie-back distance to the Sendje-Ceiba FPSO.
Furthermore, the Government of Equatorial Guinea has ratified the UK company's award of Block EG-01, announced in February. Panoro has been awarded a 56 per cent operated interest in the block, alongside partners Kosmos Energy, which holds 24 per cent, and GEPetrol, which holds 20 per cent.
The two blocks are located in the immediate vicinity of Panoro's producing Ceiba Field and Okume Complex which accounted for around 59 per cent of group production last year and where the company also partnered with Kosmos Energy, Trident Energy and GEPetrol.
"We greatly appreciate the Ministry of Mines and Hydrocarbons' support in concluding both the award of Block EG-01 and farm-in to Block S which together represent a complementary expansion of our portfolio offshore Equatorial Guinea," said John Hamilton, CEO of Panoro.
"In line with our infrastructure-led exploration strategy, Panoro will have modest financial exposure to a large inventory of prospects and leads within tie-back distance of existing production facilities offering scope to leverage synergies in the event of a commercial discovery."
Block S covers a surface area of 1,245 km with water depths ranging from 450 to 1,500 meters. Past exploration activities have tested and proven the necessary geological play elements which have led to an extensive prospect inventory being identified within tie-back distance to the Ceiba Field and Okume Complex facilities, Panoro said.
Block EG-01 is located in water depths ranging from 30 to 500 meters, mainly shallow. The partners have been awarded the block for an initial period of three years during which they will conduct subsurface studies based on existing seismic data to further define and evaluate its prospectivity.
Following this, they will have the option to enter into a further two-year period, during which one exploration well is set to be drilled. Past exploration activities on Block EG-01 have tested and proven the key geological elements for successful exploration. These findings have led to the identification of an extensive prospect inventory within tie-back distance to the Ceiba Field and Okume Complex facilities.
Since 2003, three exploration wells have been drilled on the block, with two encountering thin oil and gas pay and one encountering oil shows. Moreover, there is potential for deeper Albian targets, similar to the Block S prospect, which is scheduled for drilling in 2024.