Greenpeace loses lawsuit appeal against Norway's Arctic oil drilling plans
An Oslo appeals court has dismissed a lawsuit by environmentalists against the Norwegian government and its granting of new exploration licenses in the Arctic Barents Sea back in 2016.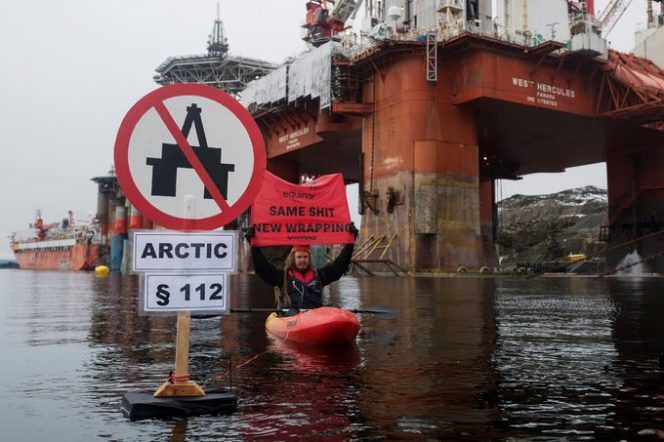 ---
The case was taken to the appeals court in April 2018 by Greenpeace and Norwegian environmental group Nature & Youth following a ruling by the Oslo District Court in favor of the Norwegian government in January of the same year.
The lawsuit had argued that the new oil licenses awarded in 2016 as part of the country's 23rd licensing round violated both the Paris Climate Agreement and paragraph 112 of the Norwegian Constitution, which commits the government "to safeguard the people's right to a clean and healthy environment for future generations."
Reuters reported on Thursday, January 23, 2020, that the appeals court, in a unanimous verdict, had approved Norway's plans for more oil exploration in the Arctic, dismissing the lawsuit by environmentalists.
Unlike the decision by the Oslo District Court, which found that the use of Norwegian oil by foreign customers was not relevant to the case, the appeals court found that such use abroad should in fact be part of the consideration. However, the argument was not enough for the court to find in favor of the environmentalists, Reuters reported.
Responding to the verdict on Thursday, Greenpeace said that, while the Norwegian Court rightly upheld the Constitution which guarantees everyone's right to a healthy environment, it did not acknowledge the environmental boundaries breached by awarding 10 oil drilling licenses in the Arctic.
Greenpeace said it would appeal the judgement to the Supreme Court. It is worth noting that the groups' request to take the case to the Supreme Court, following the ruling by the District Court in 2018, was denied.
"Still, the Court finds that the threshold for invalidating the oil drilling licences is not breached. The co-plaintiffs will appeal the judgement to Supreme Court, as it is clear that this necessitates further review by the judiciary," said head of Greenpeace Norway Frode Pleym.
Greenpeace also said that the Court of Appeal additionally found that the case raises important principles pertaining to the environment and the living conditions for current and future generations. Thus it has ruled that Greenpeace and Nature and Youth do not need to bear the government's costs from the District Court nor the Court of Appeal, Greenpeace said.