GSI wins deal to build three dual-fuel PCTCs
Guangzhou Shipbuilding International (GSI), a subsidiary of state-owned China State Shipbuilding Corporation (CSSC), has signed a contract with Guangzhou Yuanhai Car Carrier Transportation, COSCO Shipping's joint venture, to build three 7,000 CEU pure car truck carriers (PCTCs).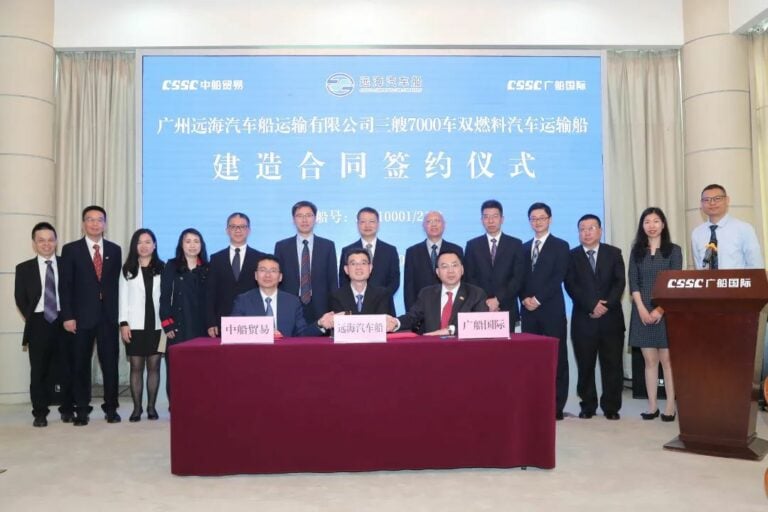 The dual-fuel car carriers will be able to run on LNG and conventional fuel. They will have a length of 200 meters, a width of 38 meters, and a design draft of 8.6 meters. The trio will feature green, smart and energy-efficient characteristics including single bow thrusters, drag-reducing anti-fouling paints and semi-suspended twisted rudder systems, GSI noted.
The shipbuilder said that the vessels will also have the capacity to export the latest types of vehicles, including those powered by hydrogen and natural gas on its specially-tailored 11th and 12th decks.
The order pushes GSI's car carrier orderbook to 22 units, securing a lion's share of orders on the market.
The order comes on the back of a an announcement made in December, when Guangzhou Yuanhai Car Carrier Transportation, a joint venture recently set up by Cosco Shipping Specialized Carriers, SIPG Logistics and Anji Logistics, placed an order for six 7,500 CEU dual-fuel LNG car carriers.
The vessels will be built by Fujian Shipbuilding's Xiamen Shipbuilding Industry and Mawei Shipyard, with delivery scheduled for 2025 and 2026. The order was placed in collaboration with Fujian Shipping Administration and Japan's Santoku Shipping. The cost is estimated to be around $85 million per vessel.
The orders are said to be aimed at helping alleviate the current supply and demand imbalance in the market caused by insufficient vessel capacity in the RoRo market to meet China's booming car export capacity.
Namely, the country is closing in on its rivals South Korea and Japan with volumes for 2022 estimated to be 2.6m cars, Clarksons' data shows.
Orders for new car carrier vessels increased significantly in 2021 and 2022 due to the strong demand in the car trade industry and the resumption of fleet renewal programs by owners. In addition, there is an effort to support manufacturers to become more environmentally friendly throughout the supply chain.
According to data from Clarksons Shipbrokers, there were 48 vessels with a total capacity of 375,000 CEU ordered between January and October 2022, making it the most robust year since 2007. As of November, the orderbook had reached a more than 10-year high of 86 vessels with a total capacity of 641,000 CEU
It is worth noting that 93% of the newly ordered capacity will be capable of using LNG as fuel, and 23% will be ammonia/methanol 'ready', as owners seek fuel optionality.