Hammerfest-based firm scoops five-year deal for Barents Sea FPSO
Norwegian oil and gas company Vår Energi has awarded a long-term framework agreement to the Hammerfest-based Oss-nor for valve services on an FPSO in the Barents Sea.
Vår Energi revealed last Friday that it has given Oss-nor a framework agreement for valve service, covering various engineering tasks related to maintenance, follow-up and testing of valves on the Goliat FPSO in the Barents Sea.
Steffen Varpe, Head of the Vår Energi office in Hammerfest, remarked: "We have a well-established relationship with Oss-nor and are happy that we now ensure continuity in services that are important to us. Their local presence in Hammerfest provides a good framework for close cooperation. Furthermore, we get the opportunity to secure activities and jobs in Finnmark."
The framework agreement is for a period of five years and includes two annual one-year options for extension, which if exercised would allow Oss-nor to provide valve services to the Goliat FPSO for seven years in total, starting on 1 July 2022.
Vår Energi's Industry & Public Affairs Coordinator, Kaj Gunnar Dahl, explained: "Oss-nor has a good set-up for apprentices and make an effort on local recruitment and building competence in Hammerfest. Their approach harmonizes very well with our principle of creating opportunities and ripple effects where we are present."
Located in the Barents Sea, 50 kilometres southeast of the Snøhvit field, the Goliat field in production licence 229 lies at a water depth of 360-420 metres. Originally awarded on 30 May 1997, the licence has been extended until 15 May 2042. Vår Energi is the operator of the licence with a 65 per cent working interest and its partner is Equinor with the remaining 35 per cent.
The Goliat field was discovered in 2000, and the plan for development and operation (PDO) was approved in 2009. Developed with a cylindrical FPSO vessel, the field includes eight subsea templates with a total of 32 well slots tied back to the FPSO.
According to Vår Energi's shareholder, Eni, the FPSO Goliat undertook a 63-day journey around southern Africa before arriving in the Barents Sea in spring 2015. This Sevan 1000 floating unit is a 64,000-tonne platform, 107 metres in diameter, with 14 anchor lines and a 100,000 b/d production capacity.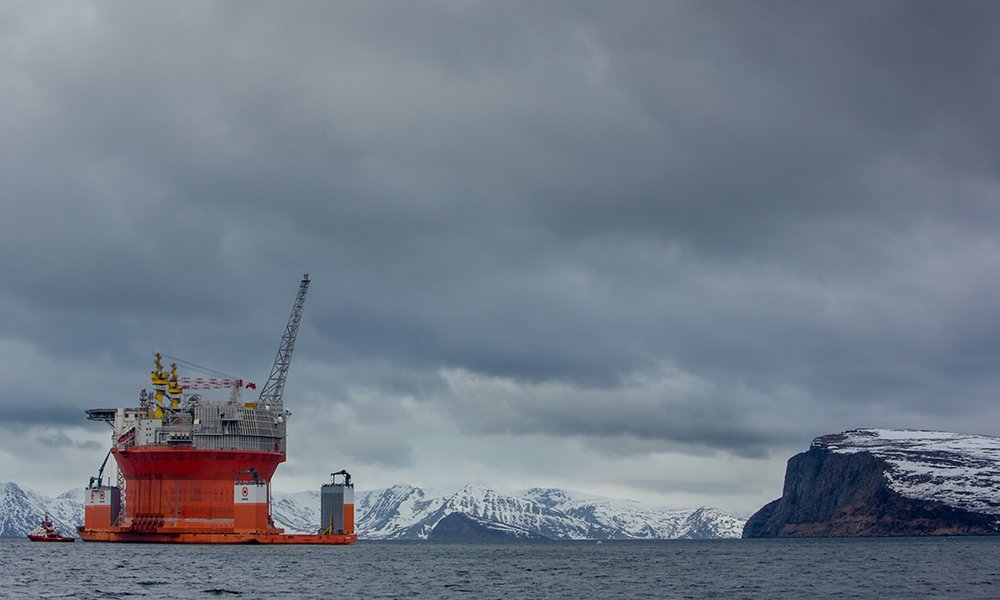 As Vår Energi is working on curbing CO2 emissions, Goliat is powered by electricity sourced onshore via an underwater electric cable, along with energy generated on board the platform. The Goliat field's production started in 2016.
Back in September 2021, a cooperation agreement was inked to assess the feasibility of the Barents Blu-Ammonia project, which provides for the monetisation of gas production at the Goliath field by means of blue ammonia production and commercialisation. The CO2 captured in the process will be transported and stored in a depleted offshore field.
Based on Vår Energi's results for the first quarter of 2022, the production from the Barents Sea area (Goliat) was 26.7 kboepd in this quarter (11 per cent of total production), down from 27.4 kboepd in the previous quarter. The firm pointed out that the production from Goliat was marginally lower than the previous quarter due to natural well decline. The company also disclosed that it was preparing for a three-week turnaround, scheduled to start in late May.
When it comes to Vår Energi's latest activities, it is worth noting that the Norwegian player is part of a group which was awarded a CO2 license in April 2022 by Norway's energy ministry. The licence is located in the Barents Sea.