Heerema, AF in Brae Bravo removal gig
Heerema Marine Contractors and AF Offshore Decom, together known as the HAF consortium, have been awarded a contract from Marathon Oil for the Brae Bravo platform decommissioning.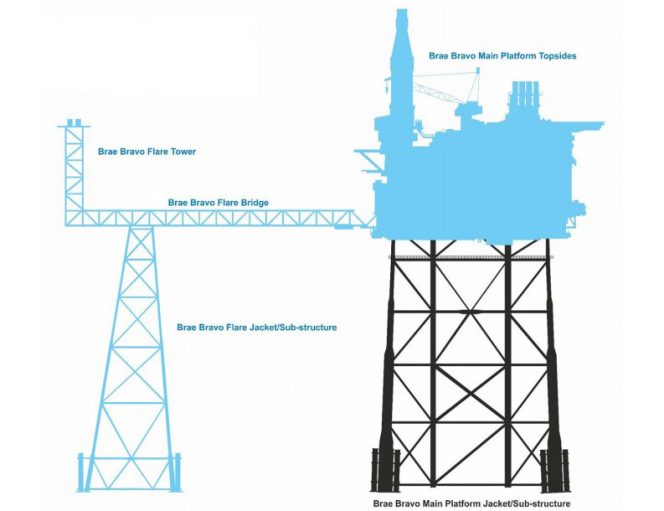 The consortium will carry out engineering, preparation, removal, and disposal (EPRD) services of the Brae Bravo Platform in the UK section of the North Sea.
The scope comprises of the topsides, the flare jacket & bridge, and the main jacket.
According to the decommissioning plan shared last year, the Brae Bravo platform topsides will be returned to shore for reuse, recycling or disposal.
When it comes to jackets/sub-structures these will be removed to the top of the footings, which is approximately 34 meters above seabed for Brae Bravo. The recovered material will be returned to shore for recycling or disposal.
Koos-Jan van Brouwershaven, CEO HMC says: "At the start of the tendering process the teams set themselves a clear goal: We are in it to win! It has been a true team effort along the way together with our long-standing partner AF Offshore Decom to secure this contract. We are both pleased and proud that this has earned our clients trust in the HAF consortium to execute this complex EPRD project".
Bengt Hildisch, President of AFOD, says: "Thanks to all, both within Heerema and AF Offshore Decom that helped to win this important work. The award of both Dunlin Alpha and Brae Bravo in the last two weeks, cements HAF's position as the absolute market leader in EPRD projects in the North Sea."
As previously reported, Heerema Marine Contractors and AF Gruppen in September said the joint venture had won a contract from Fairfield to remove the Dunlin Alpha platform topside in the UK North Sea.
Offshore Energy Today Staff