Hibiscus pushes back investment decision on Marigold development
Malaysian operator Hibiscus Petroleum has pushed back the final investment decision (FID) for the Marigold development in the UK part of the North Sea.
Hibiscus Petroleum said that its indirect wholly‐owned subsidiary, Anasuria Hibiscus UK, was in advanced stages of drafting the final Marigold field development plan (FDP).
Anasuria has been in pre‐submission discussions with the UK's Oil and Gas Authority (OGA) to ensure the FDP meets their requirements before the final submission is made later this month.
Because of delays, which Hibiscus claimed were in large part due to the impact of Covid-19, the project FID is now expected to be received around the end of March 2021 instead of by end of December 2020.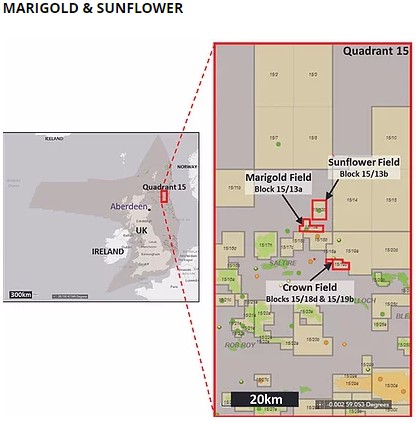 A concept select report for the development of Marigold and Sunflower fields was submitted to the OGA on 31 August 2019 and a letter of no objection to the selected concept was received on 15 October 2019.
The Marigold Cluster currently includes the following licenses and fields: P198 – Block 15/13a (Marigold Discovery); P198 – Block 15/13b (Sunflower Discovery); and P2366 – Blocks 15/18d and 15/19b (Crown Discovery).
The selected concept for the development of Marigold includes drilling and completion of subsea wells tied back to an FPSO unit via flexible flowlines and umbilicals.
It will also facilitate a phased development approach to further mitigate project risks. The project is expected to proceed in two phases to mitigate subsurface uncertainties and minimize capital outlay required to achieve first oil production.
To remind, Anasuria completed the acquisition of Blocks 15/18d and 15/19b, from United Oil & Gas and Swift Exploration for a total cash consideration of up to $5 million in December 2019.
The blocks are located offshore in the United Kingdom sector of the North Sea, some 250 kilometres northeast of Aberdeen. The blocks include the Crown discovery located 12 kilometres southeast of Marigold, which together with the Sunflower field, was acquired by Anasuria in October 2018.
Given its proximity to Marigold, the contemplated development of Crown is based on a single well subsea tieback to the Marigold field.
Since the developments have been impacted by Covid‐19, the payment of an additional sum of $3 million which is due within seven business days of approval of the Marigold FDP is now expected to be made to United and Swift by the end of the first half of 2021.