Nigeria's Homeland orders two more offshore patrol vessels from Damen
Dutch shipbuilder Damen has signed a contract with Homeland Integrated Offshore Services of Lagos, Nigeria, for the delivery of two additional offshore patrol vessels.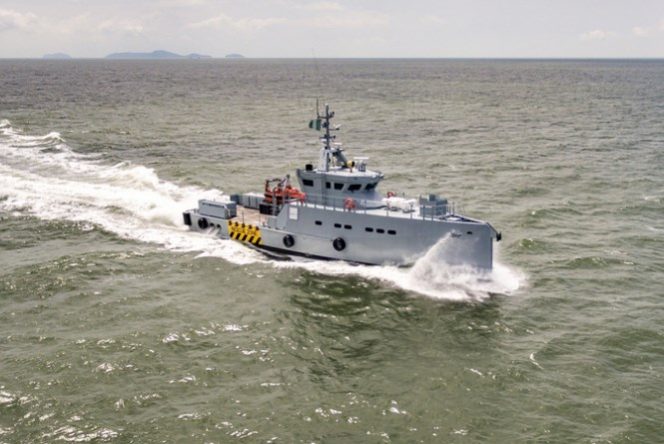 ---
Damen said on Monday that the new contract, signed in Singapore, was for two Damen 3307 patrol vessels, increasing the total number of Damen offshore patrol vessels in the Homeland fleet with the first ordered in 2014 and the fourth vessel in the series delivered in January 2018.
The 33-meter patrol vessel is equipped an armored citadel protecting the wheelhouse, a fast rescue craft, an electronic fuel monitoring system, and a redundant fuel separation system.
Like the sister-ships, the two latest additions will be able to accommodate up to eight security personnel together with their equipment alongside the six crew and fifteen seats for crew transfers.
Homeland was founded in 2006 to support international oil companies working in Nigeria's offshore oil and gas fields by providing a wide range of services both at sea and on shore.
It is worth noting that the Nigerian offshore waters are one of, if not the most, dangerous in the world. Pirates in Nigeria are often well armed, violent and have attacked hijacked and robbed vessels, kidnapped crews along the coast, rivers, anchorages, ports and surrounding waters.
The most recent such incident reported on Offshore Energy Today was an attack and boarding of an offshore vessel by pirates in December 2018. Up to that point, there had been 48 confirmed OFFSHORE Nigerian pirate attacks. What is interesting, Nigerian pirate attacks are not only focused on Nigerian waters. According to EOS Risk Group, Nigerian pirates have attacked offshore vessel Ghana, Benin, Nigeria, Cameroon, Gabon, and Congo.
Related news
List of related news articles