IEA: Ensuring gas supply security and decarbonisation high on global energy market's agenda
In the aftermath of the Ukraine crisis, the global energy crisis took the world by storm last year, reshaping the structure of natural gas markets and leaving profound implications in its wake for policymakers and market players. As a result, the International Energy Agency (IEA) outlines in a new report that closer dialogue between producers and consumers is required to ensure both short- and longer-term security of supply while curbing emissions in line with net-zero aspirations.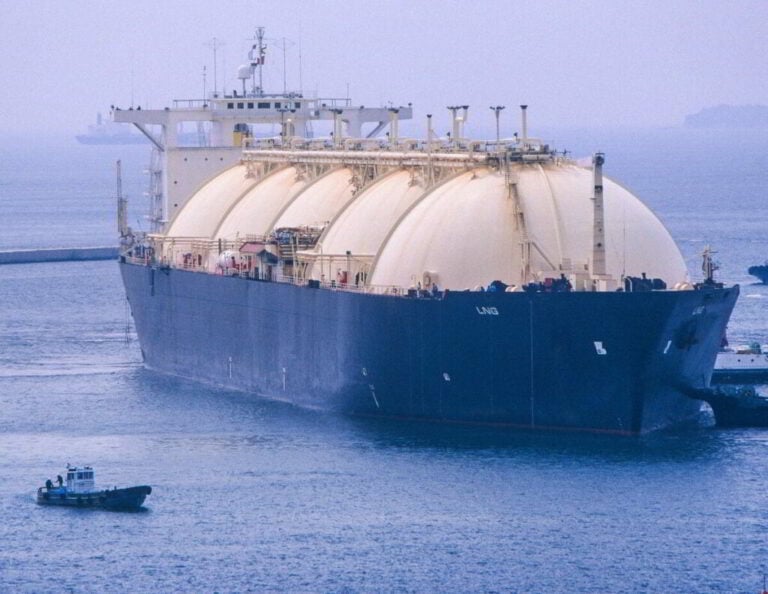 The IEA recently published a new report, titled the Global Gas Security Review, outlining an assessment of the evolution of gas supply security and LNG contracting trends. This year's edition includes a special spotlight on natural gas storage and evolving regulatory frameworks, taking into account the increased need for supply flexibility.
While Europe was hit the hardest, the Ukraine crisis triggered the first truly global gas crisis, with natural gas and LNG markets contending with supply disruptions and unprecedented price volatility. The IEA points out that the structural changes that emerged in 2022 will persist for years and should be taken into account both by policymakers and market players, even though the immediate effects of last year's supply shock have eased in recent months.
Against this backdrop, the International Energy Agency is adamant that the architecture of global gas supply security and the underlying flexibility of the market need to be carefully reassessed through an ever-closer dialogue between responsible producers and consumers. In light of this, policymakers, in close coordination with private actors, will need to facilitate the development of innovative commercial offerings, novel procurement mechanisms and new co-operative frameworks to ensure secure supplies of LNG.
Furthermore, the IEA highlights that the decarbonisation of gas and the broader energy system will require the deployment and scaling up of low-emission gases, beyond the growing complexity of gas supply security both in the short and long term. Despite the significant easing of tensions in gas markets since the beginning of 2023, the new report notes that deeper coordination among market participants remains essential, given momentous shifts in how gas markets function.
In addition, the new report entails a special focus on integrating low-emissions gases into energy systems, since scaling up the use of these gases is expected to play a critical role in reducing greenhouse gas emissions from the sector.
Keisuke Sadamori, the IEA's Director of Energy Markets and Security, commented: "A new global gas market is taking shape after last year's crisis. Given this, responsible producers and consumers must reconsider their approaches to supply security and flexibility, cooperating even more closely. Meaningful efforts are also needed to reduce the carbon footprint of gas supply chains, including through greater use of low-emissions gases."
What's happening in global gas markets?
Moreover, the IEA's latest assessment of market dynamics shows gas markets have moved towards a gradual rebalancing since the start of the year with high inventory levels at storage sites in Asian and European markets providing grounds for "cautious optimism" ahead of the 2023-24 winter heating season in the Northern Hemisphere.
According to the report, if injections continue at the average rate observed since mid-April, EU storage sites will reach 90 per cent of their working capacity by early August and could be filled close to 100 per cent by mid-September. However, the IEA warns that full storage sites are no guarantee against market volatility during the winter.
Therefore, major uncertainties remain ahead of the upcoming heating season, as a cold winter, together with a full halt in Russian piped gas supplies to Europe early in the heating season, could easily renew market tensions. Additionally, fierce competition for gas supplies could emerge if Northeast Asia experiences colder-than-usual weather and economic growth is stronger than expected in China.
In the first half of 2023, spot gas prices in Asia and Europe fell by over 50 per cent year-on-year, albeit remaining 140 per cent and 180 per cent above their 1H average levels between 2016-20, respectively. Based on this report, strong growth in domestic gas production in the U.S., together with an unseasonably mild 1Q 2023, put downward pressure on benchmark Henry Hub prices, which fell by 60 per cent year-on-year in 1H 2023.
The IEA underlines that the steep decline in natural gas prices in Asia and Europe occurred despite a tight supply environment, which came as a consequence of Russia's piped gas deliveries to the European Union falling by over 75 per cent (or 36 bcm) in 1H 2023, while global LNG supply rose by an estimated 3 per cent (or 9 bcm) – insufficient to offset the decline in Russian piped supplies.
When it comes to Asian markets, natural gas demand remained close to last year's levels in the first five months of 2023. While China returned to growth, the report emphasises that these gains were almost entirely offset by demand drops in Japan and Korea, reflecting a mild 1Q and improving nuclear availability.
The IEA believes that the world's demand for oil is set to slow almost to a halt in the coming years, with the high prices and security of supply concerns hastening the shift towards cleaner energy technologies and enabling peak oil demand to come into view.
However, peak gas demand does not seem to be in sight, as the International Energy Agency claims that global gas demand is expected to remain broadly flat in 2023 and return to moderate growth of 2 per cent in 2024, supported by the expansion of economic activity and assuming a return to average winter weather conditions in the Northern Hemisphere.
Most gas demand growth is projected to be driven by the Asia Pacific region, the Middle East and Africa but this growth is anticipated to be almost entirely offset by falling demand in North America and Europe. After its first decline in four decades, China's natural gas demand is expected to expand by just over 6 per cent in 2023. The country's LNG imports are forecast to increase by close to 15 per cent, albeit remaining below the record levels reached in 2021.
Even though the global gas demand is expected to return to moderate growth of 2 per cent in 2024, the bulk of demand growth is projected to be concentrated in Asia Pacific, accounting for around 80 per cent of incremental gas demand to the end of 2024.
"The security of global gas supplies remains at the forefront of energy policy-making, with growing complexity for both the short and long term. LNG has become a baseload source of supply for Europe, with its share in total EU demand rising from an average of 12 per cent over the 2010s to close to 35 per cent in 2022 – similar to the contribution from Russia's piped gas before the invasion of Ukraine. Meanwhile, China's balancing role in global gas markets is set to increase," says the report.
The IEA believes that the flexibility of gas supply needs to be reassessed in light of the phase-out of Russian piped gas exports to the European Union and recommends exploration of the development of innovative commercial offerings, new procurement mechanisms and cooperative frameworks favouring a more flexible supply of LNG.
In hot pursuit of greener shipping
As oil products account for 99 per cent of the total fuel consumed in the international maritime transport sector, the IEA underlines the industry is responsible for about 2 per cent of global energy-related CO2 emissions and faces major decarbonisation challenges due to large, heavy vessels carrying cargo over long distances, which makes the industry not only a hard-to-electrify sector but also a hard-to-abate one.
Although scrubber systems and LNG could offer near-term reductions in emissions, the International Energy Agency says that other low-emission, non-fossil fuel-based fuels have "a critical role" to play in decarbonising the shipping sector. The United Nations' International Maritime Organisation (IMO) has set a target to reduce the carbon intensity of international shipping by 40 per cent by 2030 and at least 50 per cent by 2050 versus the 2008 levels.
In addition, the IMO is discussing a carbon tax, the revenues from which could be used to subsidise technologies or fuels to decarbonise the sector, thus, these regulations are expected to have an impact on the design and operation of ships with initiatives also focusing on shipping fuel to boost the demand for renewable and low-carbon fuels.
To slash their carbon footprint and improve fuel efficiency, vessel owners and operators have several options at their disposal, such as operational optimisation, modernisation of vessels with energy-saving technology, and switching to low-emission fuels.
While a combination of all these options will be needed to reach decarbonisation targets, alternative marine fuels, including liquefied diesel/methanol or residual fuel oil (RFO)/methanol, biomethane (LBG), low-emission hydrogen, methanol, ammonia, and liquefied e-methane (e-LNG) could lend a helping hand in this quest.
Based on the IEA's report, LNG seems to be the most pragmatic option chosen by the industry to reduce emissions from the perspective of technological readiness, supply availability and infrastructure. However, other solutions, such as liquid biofuels or methanol, appear more attractive due to the skyrocketing gas prices observed in 2022, the security of supply and growing awareness about methane emissions along the whole supply chain.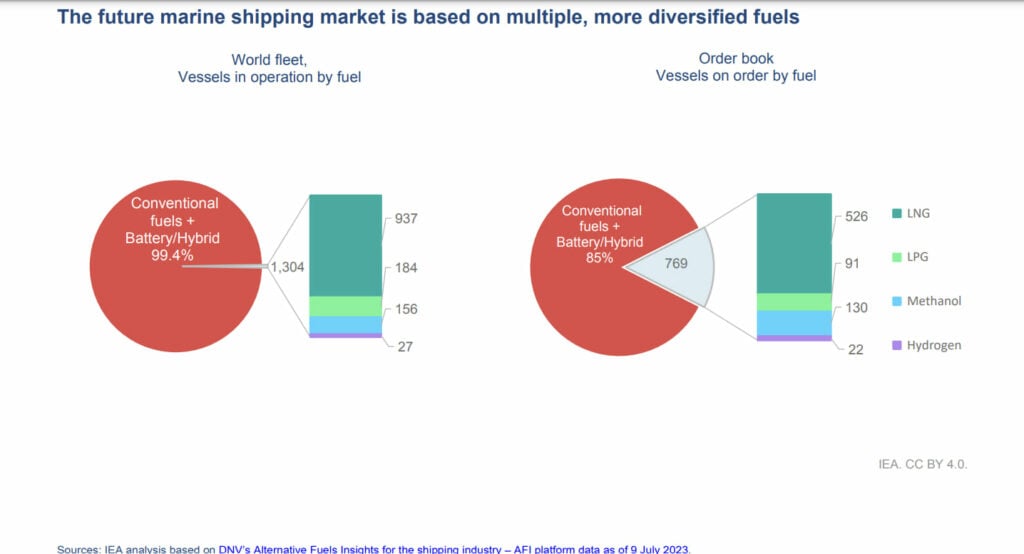 The report claims that infrastructure for fuel availability at ports is a pressing concern for the maritime industry, as bunkering technologies exist for LNG but there is no commercial bunkering infrastructure for ammonia or hydrogen yet, although the Global Maritime Forum recorded more than 50 ongoing ammonia demonstration projects as of May 2023, as well as almost 50 hydrogen projects.
Clean energy on the rise
Clean energy technologies are gaining ground, but accelerated policy support and investment are still needed to quickly expand momentum across more countries and to all parts of the energy system to move the world closer to net-zero emissions by 2050.
With the spending on clean energy in emerging markets and developing economies outside of China stagnating in recent years at around $250 billion per year, the IEA believes that a seven-fold surge in clean energy investment is needed in these countries by 2035 to align with the Paris Agreement.
The energy crisis provided a boost to global clean energy investment, which is set to reach more than $1.7 trillion in 2023, thus, for every $1 spent on fossil fuels, $1.7 is now spent on clean energy while five years ago this ratio was 1:1.
Renewable energy capacity additions rose by almost 13 per cent to nearly 340 GW in 2022 with solar PV breaking a deployment record last year due to net additions of nearly 220 GW – a 35 per cent increase from 2021 while annual wind capacity additions fell 21 per cent from 2021 to 2022, declining for the second year in a row.
Clean energy technology manufacturing is also expanding rapidly, with new capacity additions posting strong year-on-year growth in 2022 for batteries (72 per cent), solar PV (39 per cent), electrolysers (26 per cent), heat pumps (13 per cent), and wind manufacturing capacity (around 2 per cent).
This year is forecasted to bring more clean energy investment to the table, with growth driven largely by solar PV and EVs. The IEA claims that the existing capacity plus announced projects for wind, electrolysers, and heat pumps remain insufficient while all clean energy supply chains remain highly geographically concentrated, with China alone accounting for 40-80 per cent market share across these technologies.
What happened with emissions in 2022?
The IEA confirms that global growth in emissions was lower than feared in 2022 despite gas-to-coal switching in many countries due to energy price shocks, rising inflation, and disruptions to traditional fuel trade flows. The reason for this is the increased deployment of clean energy technologies such as renewables, electric vehicles, and heat pumps, which helped prevent an additional 550 Mt in CO2 emissions.
While global energy-related CO2 emissions still grew by 0.9 per cent or 321 Mt in 2022, reaching a new high of over 36.8 Gt, the IEA underlines that last year's growth was much slower than 2021's rebound of more than 6 per cent. Emissions from energy combustion increased by 423 Mt, while emissions from industrial processes decreased by 102 Mt.
However, the methane menace was very much present last year and left its mark, as the global energy industry released nearly 135 million tonnes of methane into the atmosphere, only slightly below the record highs seen in 2019. Despite this, emissions from very large leaks detected by satellite fell by almost 10 per cent in 2022 from what was detected in 2021, and preliminary estimates indicate that there was also a reduction in natural gas flaring.