IEA-OES names new Vice-Chair of ExCo
The IEA Technology Collaboration Programme on Ocean Energy Systems (OES) has appointed Purnima Jalihal as new Vice-Chair of the OES Executive Committee.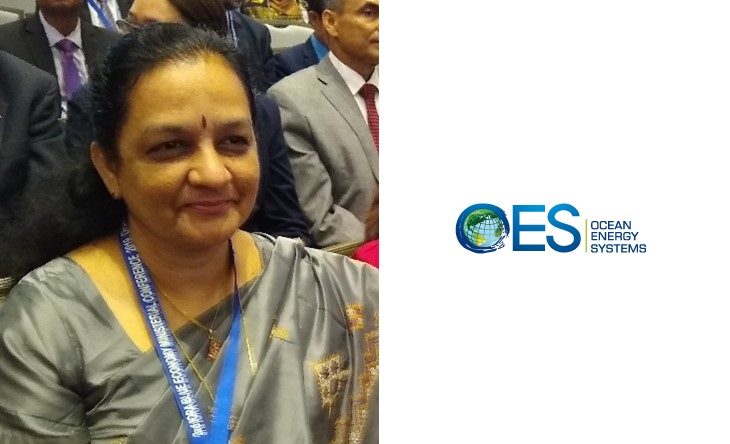 Purnima Jalihal is a senior scientist, Head of the Energy and Fresh Water group in the National Institute of Ocean Technology in India, and Alternate Member at the IEA-OES on behalf of the Government of India.
Jalihal joins the cabinet committee currently formed by a Chairman, Yann-Hervé De Roeck from France, Vice-Chair Matthijs Soede from the European Commission, and Ana Brito Melo, Executive Secretary from Portugal.
The cabinet oversees the work programme conducted by a group of 22 member countries and the European Commission, ensuring the effective running of OES.
Yann-Hervé De Roeck said: "We are honoured to have Purnima in this leadership position at the IEA-OES. Her action within the TCP has already been appreciable, in particular in leading the reflection on Ocean Thermal Energy Conversion (OTEC).
"The representation of the global dimension of the TCP will also be strengthened by Purnima's participation in the cabinet, not to mention her contribution to the gender balance, and we look forward to her active contribution to the ExCo".
Purnima Jalihal added: "I would like to thank the ExCo of the IEA-OES for electing me as Vice Chair. I hope that in this role, I will be able to promote ocean energies and help take forward more multi country initiatives in the future. Being from India, I also bring in a different location perspective which can help diversify the tasks towards additional forms of ocean energy".
The aim of OES, established as a technology collaboration programme on ocean energy systems under the International Energy Agency (IEA, is to advance research, development and demonstration of conversion technologies which harness energy from all forms of ocean renewable resources.