Interview: Dive into the well of offshore drilling wisdom
Many of you, if at all interested in offshore drilling – reading this on Offshore Energy Today means that you are – have probably heard the name David Carter Shinn.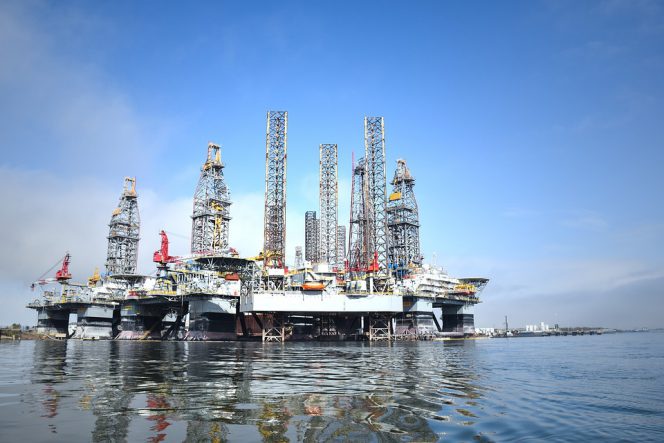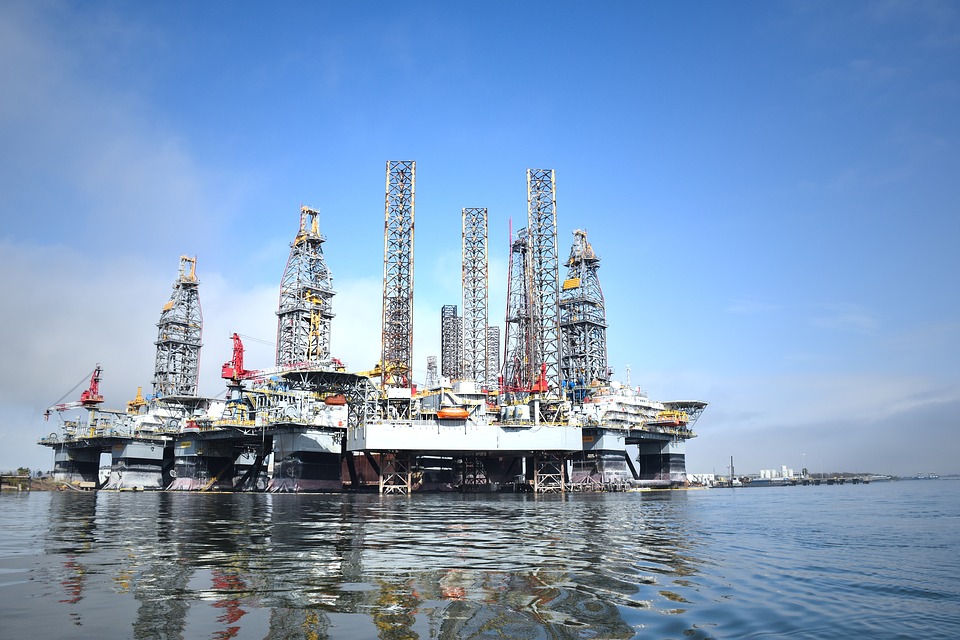 David, a partner in Oslo-based Bassoe Offshore, is the author of multiple articles in which he explores and explains ins and outs of the offshore drilling industry trends and forecasts. You can read his articles both on Bassoe, and on Offshore Energy Today.
Here's his commentary on the shrewd moves by the drilling magnate John Fredriksen. Trust me, dig in, and I promise you'll come out smarter, or at least with more talking points to share with your colleagues in the mess room of the rig you're working on.
Take note, don't read the Northern Drilling article right away, as there's an interesting interview below the link.
Since learning (about offshore rigs) never stops, we've decided to go to one of the wells David gets his drilling wisdom from – Bassoe Analytics – a free online tool recently launched by Bassoe, to help gather, and, at the same time, share offshore rig data with the world.
Disclaimer: Using Bassoe Analytics, I've felt like a kid in candy store, clicking, typing, comparing, jumping from a category to a category. That's one of the reasons I've approached David, who has a proven track record of making sense of the huge amount of drilling data.
David, we've recently noted the launch of Bassoe Analytics. After briefly testing it, we must say it looks quite impressive. But, before going too deep, can you give our readers a brief introduction to the tool. Is this how you call it, a tool, a database, the well of offshore drilling wisdom?
Yeah, we call Bassoe Analytics an open source and collaborative offshore rig database and analysis application.  Or you can call it a tool.
On it, you'll find a wide range of commercial data, technical data, valuation data (from our Rig Valuation Tool), and graphing tools.  For example, you can explore rig fixtures and dayrates, rig status and counts, contract status and backlog, rig sales and scrapping data, rig values, and technical information.
And it's free to use.
OK, you've said that everybody can provide input. How do you verify the data?
Our vision is to create an open world of offshore drilling rig data.  We want more transparency and better insight via aggregated, multi-source data.  We think this will benefit the rig market.
Bassoe Analytics' collaborative features make it unique.  We encourage real-world industry engagement and we're building a community and a knowledge-base in the offshore oil and gas industry which is fully accessible to all users.  There's a lot of knowledge out there not only that people want to find, but also to share.  Bassoe Analytics allows that.
While all users can contribute data, Bassoe Analytics (along with Bassoe Offshore's brokerage team) manages the core data.  Updates made to the data aren't enabled until they're verified and approved by us.
Data verification happens in several ways.  For example, when rig owners update their own rigs, it's pretty much verified by default (although we still check it for accuracy).  We also have a large network of rig owners, oil companies, shipyards, and other service providers and industry contacts who we communicate with to make sure that the data is good.
As with any database, there are always errors and missing or incomplete data.  Our goal is to minimize this through the closer interaction and cooperation Bassoe Analytics promotes within its user base.
For a first-time user, where do you think it's best to start?
The best place to start is where everyone starts: the dashboard.  There, we've tried to summarize, using graphs and tables, the most important data points in a general way.  You can quickly see which fixtures have been added, how many rigs are on contract, where they are, who's using them.  Or if you're interested in latest asset sales, there's a list of recent transactions and a graphical counter.
No matter what aspect of the market you're interested in, you should be able to find a gateway to the information you want from the dashboard.  And when you click into any of the dashboard elements, you can manipulate the data by searching, filtering, sorting, and adding and removing columns.  Then you can save the search for easy access later.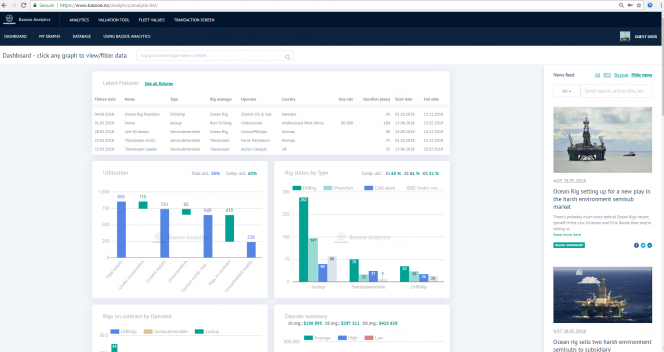 You've recently talked about the 85% utilization as being the holy grail the drilling market is praying to reach. Bassoe Analytics show the current utilization as being at 54%.  Why 85%, and what needs to happen to get there?
Normally, we focus on competitive utilization.  The number you're referring to is total utilization which takes into account all rigs in existence, including newbuilds.  Competitive utilization tries to determine the percentage of working rigs based on of the number of truly competitive rigs.  There are a few different ways to determine what's competitive and what's not, but the number Bassoe Analytics shows at the moment is about 65%.
The reason that most of the industry focuses on 85% is that, traditionally, this is the point at which dayrates start increasing at proportionally-larger intervals.  It's the balance-point.  Once you get over that, you're approaching undersupply as you need a 15% or so supply buffer to allow for liquidity in the sense of rig availability and asynchronous contract periods.
A lot still has to happen for the entire fleet to see 85% utilization.  Competitive utilization decreases as new rigs are delivered and supply increases, but we think this will be more than offset by additional retirements (scrapping or sales for conversion) and an increase in rig demand.  Obviously, this will develop differently depending on rig type and geographical area, but overall, we think that utilization is moving in the right direction – especially in the harsh environment semisub and premium jackup segments.
While 85% utilization is the goal, Bassoe Analytics shows a bleak future. If I'm getting this correctly, April 2020 sees competitive offshore rig utilization dropping to 37%!?
This number is purely based on current and confirmed future contracts.  It's an indicator of future availability and should be looked at periodically to identify a trend.  Right now, although contracting activity is looking better, contract durations are still relatively short.  As more contracts (which are hopefully longer) for programs starting over the next year or two are awarded, this number will rise.
Looking at the raw data provided by the tool, it looks like jack-ups have the highest utilization, especially in the Middle East. How do you explain this?
Saudi Aramco and ADNOC.  Together, they have about 70 rigs on contract (out of over 110 rigs which are drilling in the region), and more will be added when current tenders close.  The Middle East is by far the largest jack-up market in the world, and it will continue to grow along with other regions like Southeast Asia, West Africa, and the North Sea.
What are some of the interesting (surprising?) trends you see in Bassoe Analytics with respect to semis and drillships?
We've talked a lot lately about our views on the deepwater market, and think that contracting activity, especially in South America will continue to increase.  In this context, it's interesting to look at the deepwater market contract backlog in Brazil.  As things stand today, by the end of the year, there will be only 12 rigs on contract in the country compared to around 80 rigs five years ago and the 20-rig minimum which Petrobras is believed to require for the remainder of the decade.
Petrobras has already started the process for three tenders for one or more rigs each starting in 2019.  Added to that, the four confirmed Sete rigs will likely see contract awards over the next few months.
But even with these tenders (including the Sete rigs), Petrobras will only get back to their minimum.  Assuming that the offshore drilling market develops in the way we think it will, we should see further contract awards in Brazil not only from Petrobras, but also IOCs who will add further demand to the Petrobras' baseline.
Demand still doesn't look great, and dayrates are likely to remain low, but there's only one way to go at this point (and that's up).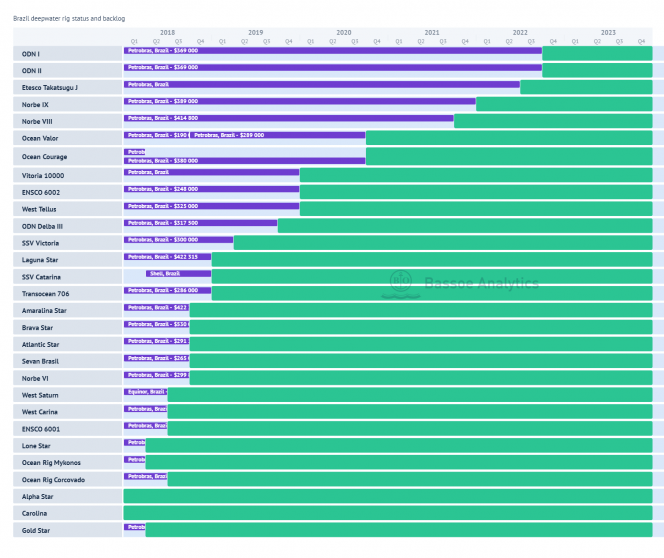 Here's a tough one. Your chart, or rather map, showing rig status by country, show the U.S. as having 31 offshore rigs currently drilling. However, according to the weekly status report by Baker Hughes (ending the first week of May), there were 19 offshore rigs active in the U.S. Why the discrepancy?
As far as I understand, the difference is in counting rigs actually drilling vs. rigs with active drilling contracts.  Sometimes rigs are moving to new locations, waiting to drill, or non-operational due to technical issues, but they still have contracts and are not available for other work.  In most cases for us, as long as a rig has an active contract, it's counted on the demand side.
In other words, both numbers are indicators which measure things differently.  Bassoe Analytics has more of a commercial focus while Baker Hughes is more operations-oriented.  As such, the two can be used together or separately depending on the application.