Iran says surpasses Qatar in gas extraction from South Pars field. Launches new phases
Iran has said that it has for the first time surpassed Qatar in gas extraction from the world's largest gas field – the South Pars.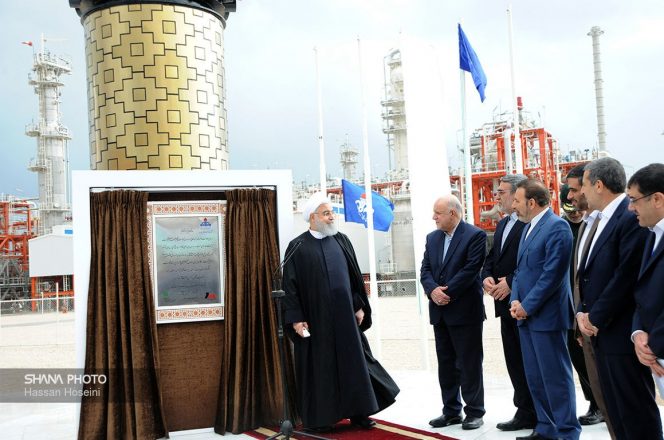 Iranian President Hassan Rouhani has inaugurated the onshore refining facilities of phases 13 and 22-24 of the supergiant South Pars offshore gas field, the Iranian Ministry of Petroleum has informed.
The ministry has said that each of the two phases would produce 56 mcm/d of natural gas, 75,000 barrels/day of gas condensate and 400 t/d of sulfur. The inauguration was held in on Sunday Assaluyeh where the refinery is located.
The phases are also expected to yield 1.05 million tons of liquefied petroleum gas (propane and butane) and 1 million tons of ethane to feed petrochemical plants annually, the ministry said.
"Iran has invested $10 billion in the two megaprojects which exceed 2% of the country's gross domestic product. By inauguration of the projects, for the first time, Iran's gas recovery from South Pars joint gas field exceeds that of Qatar," the ministry said.
The South Pars field is located in the Persian Gulf, between Iran and Qatar, and the field is shared between the two countries. In Qatar, the field, considered the world's largest gas fields, is called North Dome or just North field.
Iranian Minister of Petroleum, Bijan Zangeneh said Iran's gas output capacity from the South Pars offshore gas field would surpass 750 million cubic meters per day by late 2019, and Iran's overall gas production would reach 950 mcm/d by 2020.
Worth noting, when it comes to the South Pars/North Field, Qatar is not resting on its laurels, as the country has recently decided to increase the capacity of its LNG expansion project designed to develop additional gas from the offshore North Field.
Offshore Energy Today Staff
Related news
List of related news articles