Japanese majors unite on CO2NNEX demonstration system for e-methane
Osaka Gas, Mitsubishi Heavy Industries (MHI), and IBM Japan have built a demonstration system for CO2NNEX for e-methane, a digital platform for visualising the amount of CO2 emissions across the value chain of e-methane (methane synthesised with the methanation technology) and transferring e-methane's environmental value.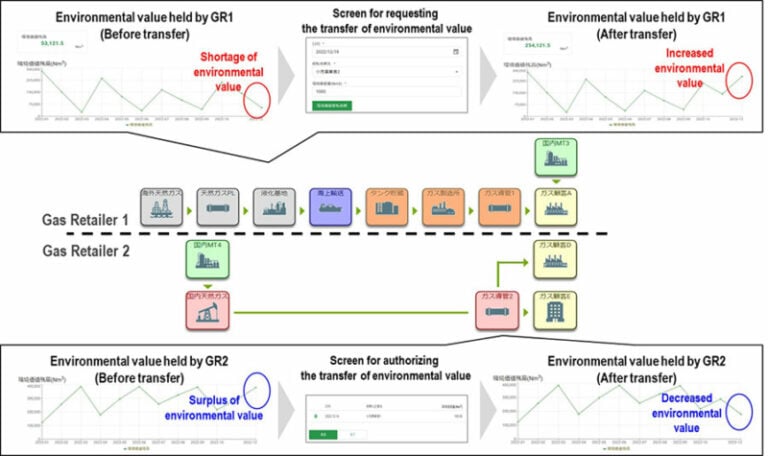 For the system, MHI said the partners developed a feature that visualises the amount of CO2 emissions throughout the e-methane lifecycle, from production to transport, supply, and combustion, a feature that displays the balance of e-methane environmental value held by each participant, and one that requests/authorises the trading of the value.
Using the system, the project aims to achieve the following:
A system for managing the amount of CO2 emissions from its sources throughout the e-methane supply chain to provide the data of e-methane's quantified environmental value to gas users.
A shared platform that digitally connects e-methane production sites to markets for trading and transferring the environmental value of e-methane, which will be blended with natural gas in the pipeline.
MHI noted that the partners aim to contribute to the transition to a net zero society, which requires practical solutions as currently studied, such as CO2 accounting methods for CCU (carbon dioxide capture and utilisation), including methanation, and the application of the accounting methods for e-methane, a recycled-carbon fuel.
The partners' plan is to conduct the demonstration to examine the effectiveness and efficiency of utilising CO2NNEX for e-methane while promoting a wider recognition of the system to collect feedback from academia, industry, and government.
According to MHI, in conducting the Proof of Concept (PoC) of CO2NNEX for e-methane, the three partners will discuss and exchange views with the Japan Gas Association, Tokyo Gas, Toho Gas, and INPEX Corporation to identify effective ways to promote the use of e-methane and establish its environmental value.
They intend to apply the PoC results to planned methanation demonstrations, aiming to realise the practical application of e-methane and contribute to achieving a carbon-neutral society.
The system has been established as part of the partners' joint project for another PoC that has been underway since October 2022 utilising CO2NNEX.
CO2NNEX for e-methane is based on CO2NNEX, a digital platform being developed by MHI and IBM Japan for visualising the CO2 supply chain.
In November 2022, Japanese giants, Tokyo Gas, Osaka Gas, Toho Gas, and Mitsubishi Corporation, entered into an agreement and commenced to conduct a detailed joint feasibility study on a project to produce e-methane in the US and transport it to Japan, utilising Cameron LNG facility.
Follow Offshore Energy's Clean Fuel on social media: