Keppel: No V-shape recovery for rig business. Focus on FPSOs in short-term
Offshore rig builder Keppel is seeing signs of improvement in the offshore and marine (O&M) business, however, the company is cautious with its optimism, leaning more towards floating production systems rather than towards drilling rigs.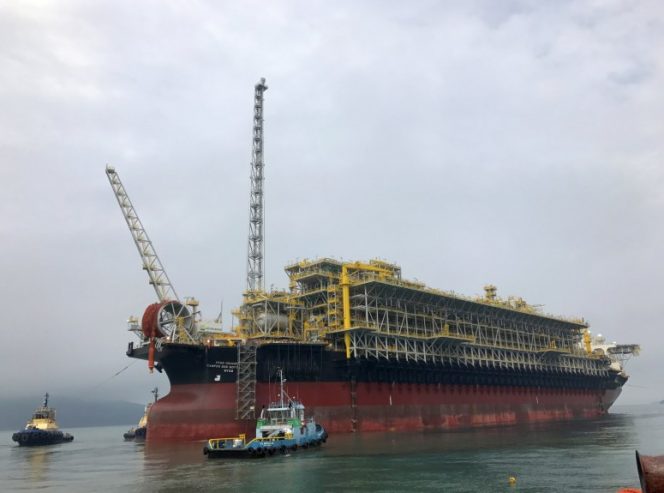 Loh Chin Hua, CEO of Keppel Corporation said: "Notwithstanding the recent volatility in oil prices, there is growing optimism in the O&M sector, with more projects sanctioned at oil prices of between US$55 and US$65 a barrel.
Keppel's Offshore & Marine (O&M) Division reported a net loss of S$109 million for FY 2018, an improvement of 87% over the net loss of S$826 million for FY 2017.
The loss included the one-off financial penalty and related costs arising from Keppel O&M's global resolution, Keppel Offshore & Marine (KOM) reached in December 2017 with the criminal authorities in the United States, Brazil and Singapore, bringing closure to the investigations into corrupt payments made by a former agent of KOM in Brazil. Keppel O&M agreed to pay fines totaling US$422 million to the three jurisdictions.
Excluding this, the O&M Division's net loss of S$109 million for FY 2018 would have been reduced by 47% from S$207 million a year ago, Keppel said.
"…there are signs of improvements in the offshore rig sector, though we do not envisage a V-shaped recovery," Keppel CEO.
The improved performance for FY 2018 was mainly due to higher revenue, a write-back of provisions for claims and lower net interest expense, partly offset by provisions for expected losses on the contracts with Sete Brasil and other asset impairments. The O&M Division would have made a net profit of S$6 million for FY 2018, excluding the provisions and write-back made at the end of 2018.
In 2018, the Division secured new contracts of about S$1.7 billion, including a mid-water harsh environment semisubmersible and over S$600 million worth of LNG and scrubber projects.
Worth noting the rig order in question, worth about $425 million, was the one made by Awilco Drilling, which was the market's first newbuild offshore rig order in four years.
With the gradually declining rig supply overhang, as well as increased tendering activity, there are signs of improvements in the offshore rig sector, though we do not envisage a V-shaped recovery, Keppel CEO said.
Looking at FPSO options for the short-term
"In the immediate future, we are cautiously optimistic about the offshore production market. We see opportunities in FPSOs, especially conversions, with several projects approaching Final Investment Decisions (FID) in 2019 and 2020," Loh Chin Hua said.
Global demand for gas, led by Asia, continues to grow, with a few FSRU projects also targeting FID later this year. Keppel Shipyard has also seen a pick-up in ship repair works boosted by exhaust gas scrubber retrofits. We secured 65 of such contracts last year from a variety of customers.
"We secured new contracts totaling S$1.7 billion in 2018 which is more than the S$1.2 billion of new orders won in the whole of 2017. Significantly, LNG and scrubber projects made up more than S$600 million of the new contracts secured in 2018. Keppel O&M's net order book has grown to S$4.3 billion as at end-2018, compared to S$3.9 billion at end-2017.
Waiting for nod for BP FLNG
Keppel O&M has recently received a limited notice to proceed from Golar LNG to start early conversion works on Golar Gimi for BP's Greater Tortue-Ahmeyim field. Full construction activities will start when Keppel Shipyard receives the final notice to proceed.
Keppel also provided an update on the Hilli Episeyo, the world's first converted FLNG vessel which it delivered in late 2017. According to Keppel, the FLNG has maintained 100% uptime since she began commercial operations and has despatched 13 LNG cargoes to date.
"Hilli's successful proof of concept as a quick and cost-efficient solution for monetizing stranded gas reserves continues to add momentum to new opportunities in the liquefaction vessel space," Keppel said.
Offshore Energy Today Staff
Related news
List of related news articles