KNCC all set to order LCO2 carriers featuring its unique containment system
Knutsen NYK Carbon Carriers AS (KNCC) is ready to order LCO2 carriers fitted with its unique Liquefied CO2-Elevated Pressure (LCO2-EP) containment system, the company said.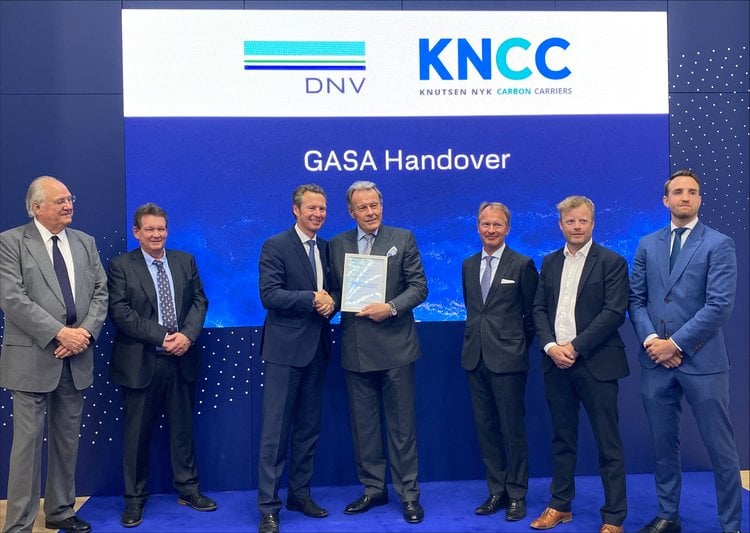 The intention is being revealed on the back of a General Approval for Ship Application (GASA) the company secured for the LCO2-EP containment system from DNV classification society.
The system, formerly called PCO2, enables to transport LCO2 at ambient temperature minimizing the need for specialized equipment such as cryogenic tanks and refrigeration systems which can be expensive to build and fit onboard vessels. The system can be fitted on newbuilds and retrofitted on existing vessels.
Following the Approval in Principle (AiP) awarded last year, KNCC has gone through detail design and discussion with engineers,  consultants, shipyards, subcontractors to prepare extensive documentation, calculations, and drawings to prove the capability of its design to achieve the GASA.
KNCC described the GASA as a huge milestone enabling the company to move forward with the ordering of LCO2 carriers with its unique containment system.
Trygve Seglem, Owner and President of the Knutsen Group and Vice Chair of KNCC explained that the LCO2-EP containment system is based on the development of Pressurized Natural Gas (PNG) technology and gas pipeline designs which are already proven.
"Transporting LCO2 in ambient mode will offer cheaper and less energy consuming solutions through the entire CCS value chain from capture to final storage. It also has great synergy for direct injection offshore from the LCO2 carriers as CO2 injection must be done at high pressure and supercritical phase of CO2," he added.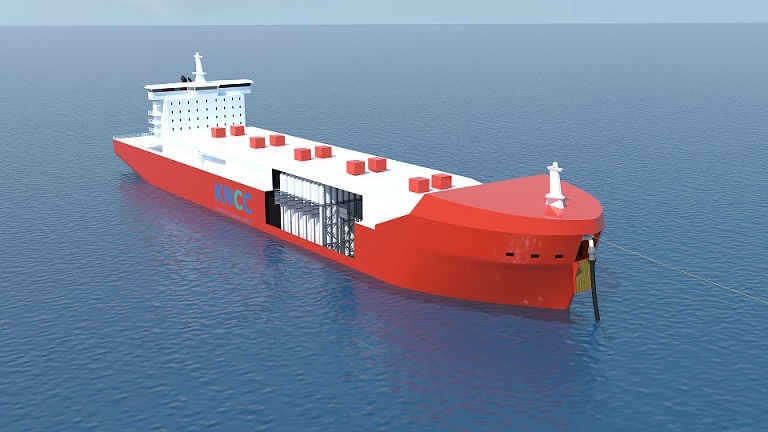 "CCS is one of the key solutions for the world to reach its climate goals and KNCC has been established to play an essential role in the CCS value chain. Obtaining the GASA from DNV is a huge milestone and step forward for KNCC now being able to provide technically and commercially viable LCO2 marine transportation according to significant demand on a global basis," said Svein Steimler, Chair of KNCC.
"Now with GASA in place we are opening up a new era of LCO2 designs which significantly strengthen the competitiveness of our offering of CO2 transportation. LCO2-EP containment system is one option but with support from both shareholders, NYKLine and Knusten Group we are also capable of offering middle pressure and low pressure transportation service," Anders Lepsøe, CEO of KNCC said.
Japanese shipping major NYK and Norway's vessel operator Knutsen Group established KNCC as a joint venture company intended for the commercial development of an LCO2 marine transportation and storage business worldwide back in 2022. NYK and Knutsen each hold a 50% stake in the new company.
With the rising interest in the development of CCUS as an effective and necessary concept for realizing a carbon-neutral society, it is expected that there will be a growing demand for liquefied CO2 carriers going forward. However, the number of vessels with the capacity to transport LCO2 is pretty scarce at the moment, and the shipping market expects the ordering to pick up to meet the anticipated demand.