Northern Lights director: Market for CO2 transport and storage is evolving rapidly
Northern Lights, a joint venture (JV) of energy majors Shell, Equinor and TotalEnergies, has signed a deal that paves the way for the acceleration of the development of a commercial market for the transport and storage of CO2.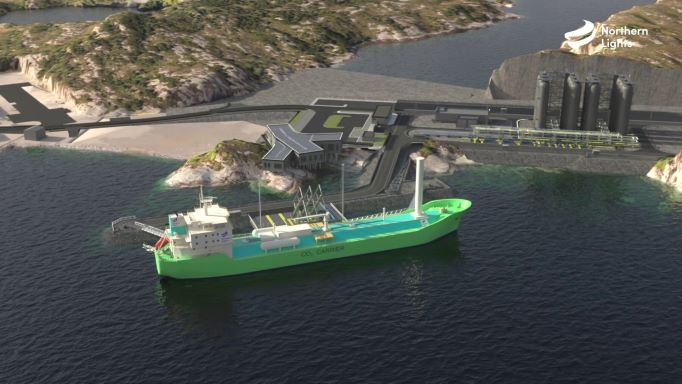 Namely, the JV, which is developing a carbon capture and storage project located in the North Sea, has signed a contract with renewable energy company Ørsted on CO2 transport and storage.
Under the terms of the deal, Northern Lights will transport 430,000 tonnes of biogenic CO2 annually from the Ørsted Kalundborg Hub in Denmark to a specialized CO2 receiving terminal at Øygarden, Norway. Biogenic CO2 refers to emissions derived from bioenergy production, resulting from the release of absorbed CO2 from biomass sources like wood or organic waste.
Namely, Ørsted was awarded public funding from the Danish Energy Agency under the first Danish tender of the CCUS Fund to develop a CO2 capture hub for the biomass power stations Asnæs and Avedøre.
The liquefied biogenic CO2 will be temporarily held in onshore tanks at Øygarden before being injected into an offshore reservoir via a pipeline. This permanent storage solution lies an impressive 2,600 meters beneath the seabed.
Northern Lights said that it would transport the liquefied CO2 by ship for permanent offshore storage below the North Sea.  
The company is building two LNG-powered, wind-assisted LCO2 transportation ships at Dalian Shipbuilding Industry Co. (DSIC) yard in China.
The vessels are specifically designed to transport liquefied CO2 in purpose-built cargo tanks from industrial emitters in Norway and Europe to the onshore receiving facilities in Øygarden, Norway.
The ships will have a cargo capacity of 7,500 cbm, a length of 130 meters, and will be operated by K LINE on behalf of Northern Lights.
The shipyard laid the keel for the duo on April 13, and the pair is slated for delivery by mid-2024.
The latest transport and storage deal takes effect from 1 January 2026 and sets the stage for Northern Lights to store 430,000 tonnes of CO2 annually for a period of 10 years.
"From 2026 Northern Lights will be shipping the first cargo of biogenic CO2 from Denmark to Norway, which shows that CCS is a realistic tool that contributes to reach the global climate targets. Together with the Yara announcement, the agreement with Ørsted supports Northern Lights' ambition on commercial growth and expansion, and establishing a European market for CCS", said Børre Jacobsen, Managing Director of Northern Lights.  
"Ørsted is our second commercial customer who, together with Yara, gives us the opportunity to further utilise the capacity at our storage site below the North Sea. This agreement confirms the commercial potential for CCS and demonstrates that the market for transport and storage of CO2 is evolving rapidly."
Carbon capture and storage is one of the four credible pathways to net zero as outlined by the International Energy Agency. In IEA's net zero scenario, bio-CCS plays an important part in not only reducing but removing CO2 emissions. Because biomass absorbs CO2 from the atmosphere, capture and storage of biogenic CO2 results in net removal of CO2. 
From a climate perspective, CCS plays a vital role in reducing greenhouse gas emissions by capturing CO2 at its source and preventing it from being released into the atmosphere. However, in order for CCS to be effective, a robust infrastructure for the transport and storage of CO2 is crucial.
Shipping will play an important role in the transportation of the captured CO2 to the storage locations or to dedicated onshore injection facilities where subsea pipelines will transport captured CO2 into depleted oil and gas fields.
With that in mind, Gibson estimates that there could be a shortage of shipping capacity available for when the projects are commissioned.