Knutsen's small-scale LNG carrier Ravenna Knutsen officially named
Italian energy player Edison and the Norwegian shipping company Knutsen held the naming ceremony for the LNG carrier Ravenna Knutsen that will serve the new small-scale LNG terminal in the port of Ravenna.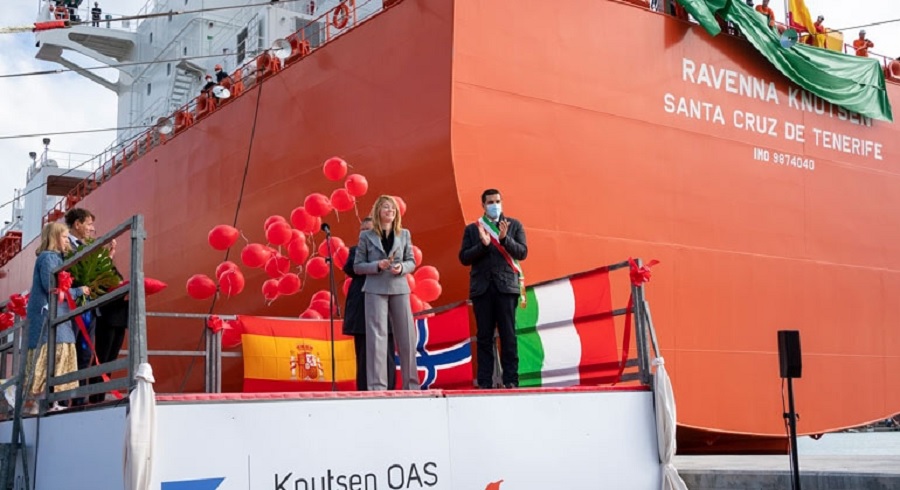 The ceremony took place on 11 October 2021 in the port of Ravenna.
With the Ravenna Knutsen LNG carrier, Edison completes the first integrated small-scale LNG logistics chain in Italy for the decarbonisation of heavy transport.
Meanwhile, Depositi Italiani GNL owns the new depot for the handling and storage of LNG. PIR Group owns 51 per cent of the company. Edison owns (30 per cent) and Enagás, through the subsidiary Scale Gas, (9 per cent) owns the rest.
The ship is one of the first small-size LNG carriers in the world. It can transport up to 30,000 cubic metres of LNG through three tanks. Besides, it can reach a speed of 15 knots.
It is 28.4 metres wide, 19.4 metres high and 180 metres long. In addition, it is equipped with dual-fuel propulsion.
Hyundai Heavy Industries constructed the vessel at the Mipo shipyard in South Korea and delivered it in February 2021.