Korean majors led by Sinokor and HMM forge alliance to develop nuclear-powered ships
Korean industry majors, led by shipping heavyweights HMM and Sinokor, have joined forces on the development of nuclear-powered ships.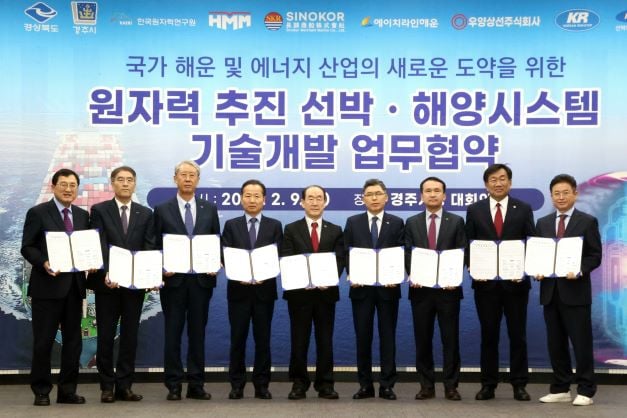 The Memorandum of Understanding (MoU) was signed earlier today by representatives of Gyeongju city, the Gyeongbuk Province, Korea Atomic Energy Research Institute, the Korean Research Institute of Ship & Ocean Engineering (KRISO), the Korean Register, Wooyang Shipping Co, Sinokor, H-Line, and HMM.
Under the agreement, the partners aim to develop and demonstrate how small modular nuclear reactors can be used to propel ships. The project will also investigate the development of relevant marine system interface and propulsion technology as well as the production of hydrogen using molten salt reactors (MSR).
"At this moment, collaborative partnerships with various industrial players are essential to study future alternative fuels so that this MoU can represent a meaningful step forward in a journey to the decarbonization of the shipping industry," an HMM Spokesperson told Offshore Energy.
"HMM is exploring a range of clean fuels or technologies with low or zero carbon emissions, and Small Modular Reactor (SMR) technology is one of them."
The parties also agreed to work on promoting the safety of maritime-nuclear power system operation, as well as developing the industrial infrastructure, training experts in the maritime nuclear-power operation, and designing the related regulatory framework.
Nuclear propulsion is gaining interest from the maritime world on the backdrop of growing challenges with respect to scaling up the production of green ammonia, e-methanol, and hydrogen which are believed to hold the key to the decarbonization of shipping.
Some of the key benefits the technology brings to the table are its independence from volatile fuel prices as well as the fact that running on nuclear would enable ships to abandon the slow steaming practice and boost vessel efficiency by sailing faster all while producing zero emissions.
An MSR is a class of nuclear fission reactors in which the primary nuclear reactor coolant and/or the fuel is a salt mixture. They have been designed to be inherently safe, with a variety of passive safety features built into them. In addition, they are smaller than many other types of nuclear reactors, meaning that they can be used on ships with limited space. They are also relatively simple to operate, as they require only a few controls and can operate at a wide range of temperatures.
MSRs also produce more energy than traditional solid-fueled reactors and are more efficient at turning uranium into energy. Furthermore, they produce much less radioactive waste than traditional reactors, making them much safer for the environment.
South Korean shipbuilders are already working on the development of the technology.
Samsung Heavy Industries, for example, has partnered up with KAERI on developing floating nuclear power plants based on MSR technology.
Furthermore, the shipbuilder has completed the conceptual design for a CMSR Power barge, a floating facility for offshore nuclear power plants, and secured approval in principle from the U.S.-bassed ABS classification society.
The speeding up of the development of nuclear power for marine propulsion is gaining traction as shipping companies look at potential solutions to meet the ever-stricter GHG reduction regulations.
The International Maritime Organization (IMO) has set a plan which aims to reduce greenhouse gas emissions from ships by 50% compared to 2008 by 2050. However, with the growing pressure from the international community, this target is likely to become more ambitious as certain nations are seeking the IMO objective to be aligned with the Paris Agreement and for the maritime industry to strive to become carbon-neutral in the next 30 years.