Korean shipbuilding majors reveal Q1 figures as ordering plummets amid Coronavirus woes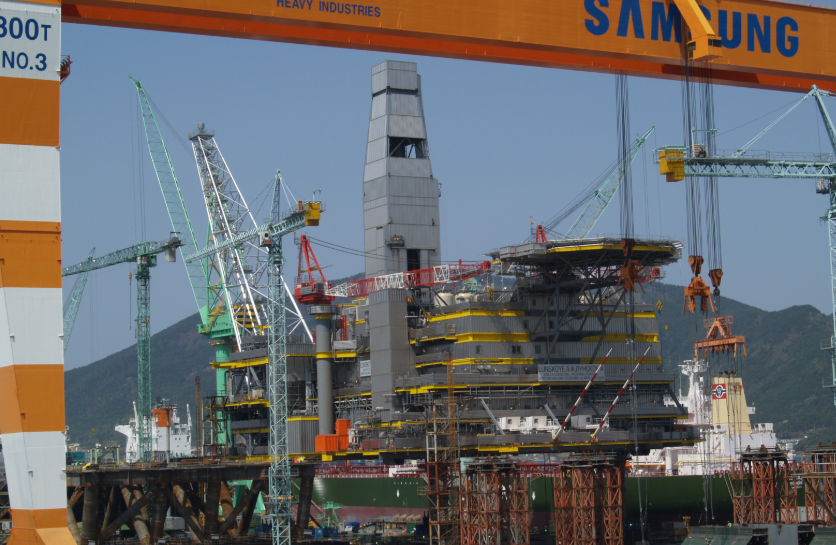 South Korea's two shipbuilding heavyweights, Korea Shipbuilding & Offshore Engineering Co and Samsung Heavy Industries have released their business performance figures for the first quarter of 2020.
Korea Shipbuilding & Offshore Engineering Co posted a net profit of ₩ 1.64.9 billion ($ 135.3 million) for the first quarter of this year, up by 853.2 percent.
Operating profit for the quarter stood at ₩ 121.7 billion, up by 251.7 percent, while sales rose 20.4 percent reaching ₩ 3.94 trillion, the shipbuilder said in a regulatory filing.
On the other hand, Samsung Heavy Industries (SHI) reported a widened loss year-on-year with a loss of ₩ 227 billion ($185 million), increasing 121.2 percent year-on-year.
Samsung's operating loss was ₩ 47.8 billion, increasing further from a loss of ₩ 33.3 billion a year earlier.
Impact of the coronavirus
The outbreak of the coronavirus pandemic has inflicted a significant blow to shipyards across the globe.
Namely, shipping companies are refraining from new orders as they recalibrate their spending, staying clear from new investments and focusing on cost-cutting that has also included layoffs.
The decarbonization drive of the shipping industry had already caused many companies to take the "wait and see" approach to fleet rejuvenation.
Hence, many shipowners have been cautious about their investments in new capacity amid worries that their future ships would not meet the environmental requirements of the future.
The issue of future-proofing of ships with environmentally-friendly and technologically advanced solutions seems to have been put on the back burner as COVID-19 pandemic pressures owners to preserve liquidity.
The investment in shipbuilding in the first quarter of 2020 fell to its lowest level in the past 11 years, Clarksons PLC is cited as saying by the Wall Street Journal.
The shipbroker said that only 100 vessels were ordered during the quarter for a total of $5.5 billion, a 71 percent decline from last year, and the lowest point since the second quarter of 2009 following on the economic recession.
Overall, Clarksons expects ordering to decline 26 percent this year amid economic downturn of the global economies stemming from the pandemic and lockdown measures.
The ordering freeze is expected to impact all ship types ranging from cruise ships to containerships, especially the ultra-large ones.
Nevertheless, there is some light at the end of the tunnel as shipyards start to reopen both in Asia and Europe.
Asian shipyards that have been shut during the lockdown are starting to resume operations, however, delays in delivery schedules are likely due to the disruption in the supply chain and travel restrictions still in place.