KR, DSME target large-scale LCO2 carrier development, green fuels
Korean Register (KR) and Daewoo Shipbuilding & Marine Engineering (DSME) have joined forces on the development of a 40,000 cbm liquefied carbon dioxide carrier (LCO2) featuring a next-generation cargo handling system.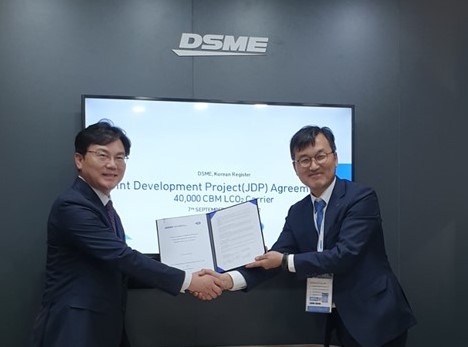 The demand for vessels capable of transporting carbon dioxide at scale from emissions sources to storage sites is expected to surge as carbon capture's role in decarbonizing global industries gains on importance.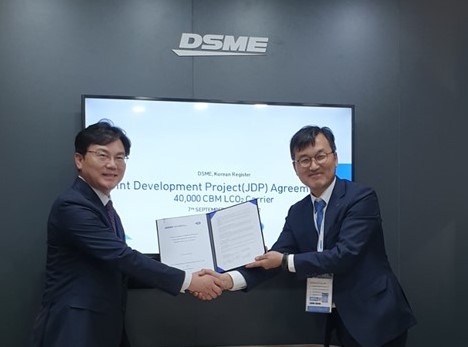 The cooperation was sealed with an MOU signed at Gastech 2022 in Milan, Italy on 7 September.
KR explained that carbon dioxide is a complex cargo to handle, having a triple point that is higher than atmospheric pressure, meaning that it can liquefy only at low temperatures and high pressures.
"Even a small environmental change can see CO2 transform into a gas, liquid or solid state. The new design will feature a reliable Ship and Cargo Containment System (CCS) using our accumulated technologies in the field of liquefied gas carriers, such as LNG and LPG carriers," the classification society noted.
DSME also plans to develop a cargo handling system (CHS) using the latest technology to prevent CO2 emissions and ensure navigational stability. All the systems will be examined for compliance by KR.
"Responding to climate change will be a new opportunity for the shipbuilding industry. To further enhance our competitiveness in the future green shipbuilding market, we will develop an efficient and safe LCO2 carrier through this collaboration and hope to obtain an Approval in Principle from KR within this year," Jun-Lyoung Seo, CTO of DSME, said.
"This collaboration with DSME is significant at a time when the demand for safer LCO2 carrier technology is increasing. Through this joint development project, we will continue to support DSME's CO2-related technology and decarbonization projects," Kyu-jin Yeon, Head of KR's Plan Approval Center, said.
Earlier this week, DSME received approval in principle from ABS for its design of cargo tanks on board super-large, liquefied carbon dioxide (LCO2) carriers.
The cargo tank of approximately 15,000 cbm will be mounted on a 100,000 cbm LCO2 carrier and is designed for operational efficiency in a vertical asymmetric structure to maximize the loading weight, so enough space can be provided to install LNG propulsion engines and carbon capture devices for future vessel designs.
DSME joins its industry rivals including compatriot Hyundai Heavy Industries and Samsung Heavy Industries in the race for developing a key component in the CCS value chain. Over the past week, classification societies have been green-lighting a number of LCO2 ship designs and containment solutions targeting CO2 on board vessels as well as the ones intended for transport.
The trend is indicative of an interesting shift in the industry as carbon capture and storage was not talked about as much just a couple of years back. However, CCS is expected to play a much more significant role in the transitional period as a way of offsetting emissions from the fossil industry, but also for cutting emissions from ships. Onboard carbon capture systems are already being fitted on ships as an immediate solution to cut GHG emissions, having in mind that the availability of carbon-free fuels has a long way to go.
KR and DSME will also be working together to develop new propulsion systems capable of handling green fuels including ammonia and hydrogen.
To be used as marine fuels ammonia and hydrogen need more careful consideration in the context of their technical requirements. These include the toxicity of ammonia, hydrogen embrittlement, cryogenic conditions equivalent to -253 ° C, diffusion characteristics, as well as ensuring the same level of safety as existing ships.
DSME aims to commercialize ammonia-powered container ships by 2025 based on its advanced technology, and is at an advanced stage in developing eco-friendly fuel technologies, including low-carbon ammonia carriers and liquefied CO2 carriers.
As part of its efforts to contribute to decarbonization of the shipping industry, KR has published guidelines for ammonia-fueled ships, and the classification society is developing its own hydrogen-powered ship rules.
"The added value of eco-friendly ship propulsion technologies is expected to increase further in the future amid the strengthening of environmental regulations. Besides this collaboration with KR, we will continue to develop advanced eco-friendly ship propulsion technology and strive to speed up the commercialization of decarbonized ships," Dong-kyu Choi, Head of DSME's R&D Institute, said.