KrisEnergy starts up Cambodia's first offshore oil field
KrisEnergy started producing oil from Cambodia's first oil field in the offshore Block A concession on 28 December 2020.
KrisEnergy said on Tuesday that the Apsara field began flowing from a single development well and the flow rate will take at least 24 hours to stabilise.
Production will increase to plateau as four additional wells are progressively completed and commissioned. Peak production rate of around 7,500 bopd is currently scheduled to be achieved once the drilling program is completed in mid-February 2021.
The Apsara field lies over the Khmer Basin, an unproduced geological basin in Cambodian maritime waters in the Gulf of Thailand.
Due to the unproven production performance of the basin, development of the Apsara area will be in several phases to mitigate risks and provide time for the collection and analysis of critical data to be applied in future phases.
In the first phase, designated Mini Phase 1A, the company will construct a minimum facilities wellhead support structure capable of housing up to six development wells, drill five more initial development wells drilled with the PV Drilling III jack-up rig, bring in the Ingenium II production barge for oil, gas, and water processing, add a storage vessel on the field for storage of processed crude oil before offloading, the company will also provide support from an onshore shore base at Sihanoukville – some 160 kilometres from Apsara.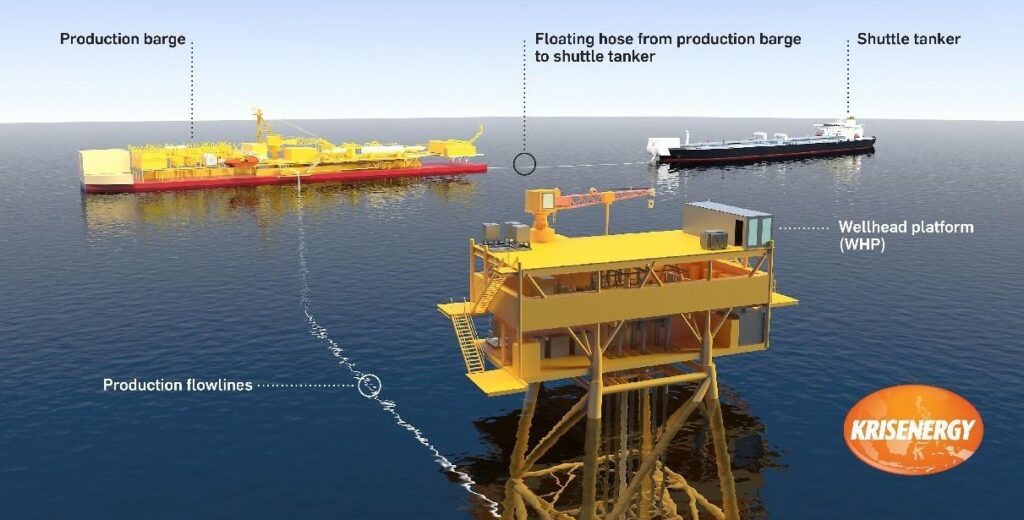 KrisEnergy is the operator of Block A and holds a 95 per cent working interest. The remaining five per cent interest is held by the Royal Government of Cambodia through the General Department of State Property and Non-Tax Revenue of the Ministry of Economy and Finance.
Kelvin Tang, CEO and president of KrisEnergy's Cambodian operations, said: "Apsara first oil marks a 10-year journey from when KrisEnergy initially became a partner in Block A. It has been three years since we signed with the Government the petroleum agreement to launch this project and there has been a steep learning curve for all involved in what is a momentous event for the Cambodian people and an important strategic and operational milestone for KrisEnergy.
"I convey my heartfelt appreciation to all relevant ministries and authorities for their assistance, cooperation and their dedication to get the Apsara oil development over the line. KrisEnergy is honoured to be a part of this historic occasion.
"Our task now is to complete drilling of the four remaining wells, stabilise production and monitor performance so that we may assess the best path forward to optimise Cambodia's oil production and the value of the asset in the years ahead".
It is worth noting that producing first oil on Apsara was crucial for KrisEnergy as the company stated in September that not achieving first oil by 31 December 2020 could have resulted in the termination of the concession rights for Block A.