MHI, Keppel, DNV agree to explore adoption of ammonia-fired gas turbine in Singapore
Mitsubishi Heavy Industries (MHI), Keppel New Energy and DNV have signed a memorandum of understanding (MoU) for a strategic collaboration to explore the feasibility and implementation of an ammonia-fired gas turbine on Jurong Island, Singapore.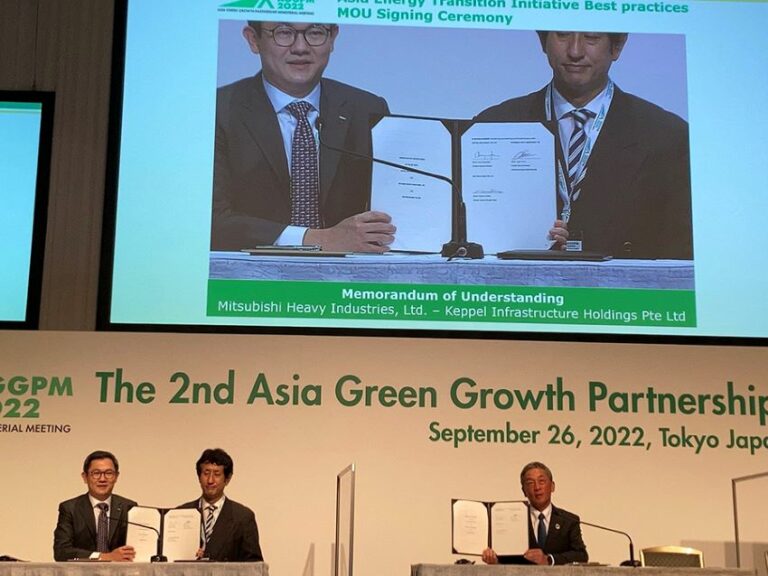 Under the MoU, the three companies will work together to perform a high-level quantitative risk assessment (QRA) to explore the use of 100% ammonia as a fuel for a gas turbine or combined cycle gas turbine (CCGT) toward the potential development of an ammonia power plant.
Specifically, Keppel will study the feasibility of an ammonia-fueled power plant, while MHI, with support from its power solutions brand, Mitsubishi Power, will develop an ammonia-fired gas turbine that produces carbon-neutral power to pursue the expansion of the ammonia fuel supply chain in Singapore.
Alongside this, DNV will prepare and present a QRA analysis on the project.
The aim of the project is to draw up robust assessment guidelines to ensure the safety and sustainability of ammonia as a clean fuel while maintaining high efficiency and low NOx emissions for use in a gas turbine system for power generation.
Takao Tsukui, general manager, International Sales and Marketing Department, GTCC Business Division, MHI, said: "Ammonia is a potential key component to building a hydrogen society. Mitsubishi Power has pioneered world-class gas turbine and hydrogen fuel combustion technologies for more than 50 years, and this MoU demonstrates our continued dedication to pursue cutting-edge solutions that can support the growing demand for electricity while transitioning towards a more sustainable energy future in Asia Pacific."
"DNV is proud to use our well-established advisory and hydrogen technical capabilities to provide quantitative risk assessment for this impactful project. We believe that ammonia-fired power generation can be an important step on the path to a more sustainable energy future. This MoU offers us an exciting opportunity to share our extensive industry experience to support this important contribution to Singapore's net zero and energy transition goals", said Brice Le Gallo, vice president and regional director-Asia Pacific, Energy Systems, DNV.
This agreement follows the recent announcement that Keppel Energy will develop Singapore's first hydrogen-ready power plant in the Sakra sector of Jurong Island, constructed by a consortium comprising Mitsubishi Power Asia Pacific and Jurong Engineering.
A long-term service (LTS) contract for major maintenance of the turbine was also awarded to Mitsubishi Power. Keppel New Energy additionally signed an MoU with MHI to carry out a feasibility study on the development of a 100% ammonia-fueled power plant on a selected site in Singapore.
Follow Offshore Energy's Clean Fuel on social media: