Mitsubishi, NYK Line win green light for their ammonia and LCO2 carrier
Japanese heavyweights Mitsubishi Shipbuilding Co., Ltd. and Nippon Yusen Kabushiki Kaisha (NYK Line) have secured an Approval in Principle (AiP) for their jointly developed ammonia and liquefied CO2 (LCO2) carrier from ClassNK.
 
The vessel is designed to carry both ammonia and LCO2 safely and economically using the same carrier. The NH3/LCO2 carrier enables operations such as transporting ammonia to thermal power plants on the outbound route and transporting CO2 emitted from thermal power plants to storage sites on the return route.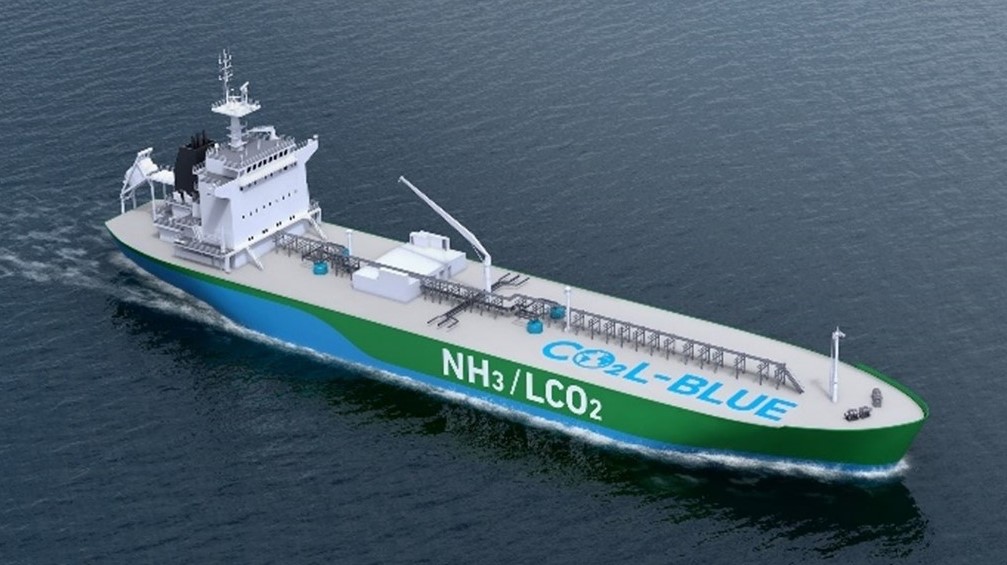 Specific carriers for each material normally run empty on their return voyage, so a ship able to handle both substances will increase operational efficiency, and contribute to enhanced transport efficiency overall, the developers claim.
ClassNK carried out the design review of the ammonia and LCO2 carrier based on its Part N of Rules for the Survey and Construction of Steel Ships incorporating the IGC Code. Upon confirming it complies with the prescribed requirements, ClassNK issued the AiP.
This is an important milestone for Mitsubishi Shipbuilding, which has been working hard on commercializing the ammonia/liquefied CO2 carrier in cooperation with marine-related corporations and petroleum development corporations.
As the maritime industry is embracing innovative technologies to combat carbon emissions and reduce its environmental impact, two key elements in this pursuit are ammonia and carbon capture. Moreover, the integration of these technologies in vessels, specifically NH3/LCO2 carriers, holds immense potential for revolutionizing the shipping sector.
Ammonia is projected to be widely used as a source of clean energy for decarbonization since it does not emit CO2 when combusted, and is expected to be increasingly transported by sea.
On the other hand, efforts toward carbon dioxide capture, utilization, and storage (CCUS), a process that captures emitted CO2 and either uses it as a resource or stores it in a stable underground geological formation, are also progressing.
LCO2 carriers and the shipping of captured CO2 play a pivotal role in the growing development of CCS technology.
The global nature of shipping means that CO2 can be transported from areas with high emissions to storage locations in regions with the necessary geology for safe and permanent storage. This also means that markets such as the US and Europe, where significant CO2 storage is being developed, could import CO2 from outside the region, requiring larger vessels to facilitate economies of scale. While there are technical and regulatory challenges, there is a clear will at the government and corporate level to develop CCS as a solution to combat climate change, making the role of shipping all the more important in this effort.
If these projects are to be developed by the late 2020s, they will create a growing demand for dedicated vessels, hence the growing interest in developing such vessels.
A number of LCO2 vessel designs are pressing ahead with their development having secured initial approvals and the market is buzzing with activity as oil majors seek partnerships within the gas shipping sector to explore cooperation in the ccs space.
One of the most recent examples has seen gas carrier owner and operator Navigator Holdings team up with Bumi Armada Berhad to establish a joint venture company to provide CO2 shipping and injection solutions in the United Kingdom.