MOL and Shell to work on alternative maritime solutions to decarbonise sector
Japanese shipping major Mitsui O.S.K. Lines (MOL) and Shell Marine Products Singapore, a business division of Shell Eastern Trading Pte, have signed a Memorandum of Understanding (MoU) on a joint focus on the advancement of alternative maritime solutions and managing carbon emissions liabilities holistically.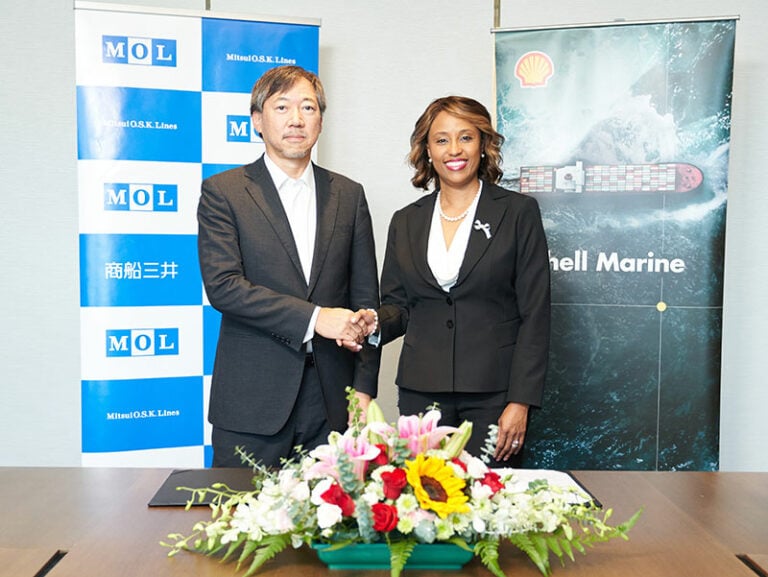 The collaboration offers an opportunity for Shell and MOL to work together to engage the industry and its stakeholders on strategic policy issues, combining their dual perspectives with the purpose of understanding and exploring practical implementations for compliance measures.
As part of the agreement, the two companies will look to jointly conduct trials to explore the viability of bio- and synthetic fuel options as realistic decarbonisation pathways.
They will also explore the effectiveness of these fuels in the context of carbon markets.
"We are pleased to execute this MOU with Shell, one of the most prominent companies leading the decarbonisation in the shipping society. We believe this MOU will be an important step for both businesses to drive impactful change in the industry. Choices of marine fuel will require a strategic decision, then the collaboration with experienced and reliable partners is essential," Kazuhiro Takahashi, Executive Officer at MOL, said.
"We are delighted to build upon our long-standing relationship with MOL. With this MoU, we will focus on joint studies in understanding the impact from different regulatory environments as well as exploring possible pathways for the successful decarbonisation of the shipping industry," Melissa Williams, President of Shell Marine, stated.
MOL is the first company in the Japanese ocean shipping industry to set the target of achieving net zero GHG emissions by 2050. As part of its decarbonisation strategy, the Japanese firm has also recently joined the non-profit organization "Leadership Initiative to Promote Maritime Cluster Innovation and the Blue Economy" organized by Washington Maritime Blue (WMB).
WMB membership encompasses more than 150 maritime organizations such as port authorities, port management companies, tugboat companies, classification societies, industry associations, research institutes, and government agencies as well as shipping companies, plus more than 50 startups.
It is forming clusters that accelerate innovation in maritime-related technologies and promote the Blue Economy, by connecting across corporate and organizational boundaries and building a broad and diverse network.
MOL will contribute to the development of this cluster by leveraging the technological expertise and know-how it has accumulated over the years in the ocean transport and offshore businesses. The company will provide technology demonstration opportunities for stakeholders in the cluster, especially start-ups, and broadly explore potential strategic partnerships and collaborations.
"We are honored to have MOL join Maritime Blue as a Catalytic Member of our strategic alliance and innovation cluster. Together we will work to advance and accelerate ocean-based climate solutions, including maritime decarbonization, digitalization, renewable energy, ocean health, and more," says Joshua Berger, Maritime Blue's president and CEO. "Attracted to our region's leadership, MOL brings significant expertise, capacity, and commitment to our collaborative model for joint innovation and desire to accelerate new ventures in the sector," WMB CEO Joshua Berger said.