Neptune hires CIMC-built offshore rig for drilling in Norway
Neptune Energy has hired the newly built Beacon Atlantic semi-submersible drilling rig for up to 16 wells offshore Norway.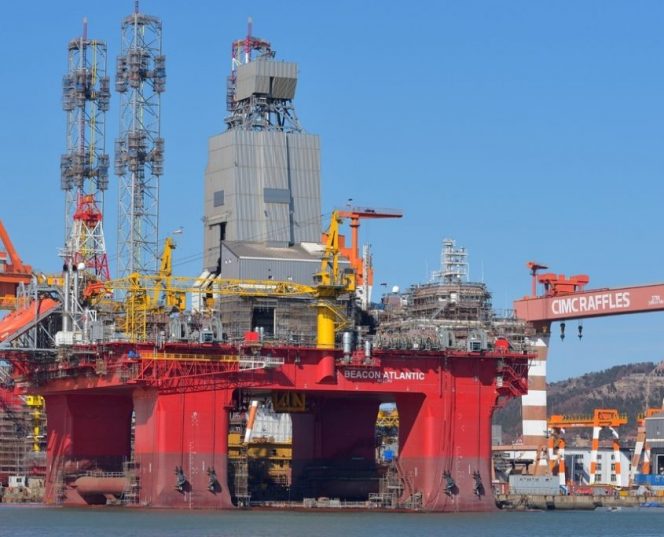 Neptune has chartered the rig from China's rig builder CIMC Raffles, and the rig will be managed by the Norwegian offshore drilling specialist Odfjell Drilling.
The drilling operations are scheduled to start in the fourth quarter of the year. The estimated duration of the firm program of six wells is 400 days. Neptune will have options to extend the contract for up to 10 more wells.
CIMC Raffles and Odfjell Drilling have started with the assembly of the project team at the shipyard to prepare and mobilize for the operations in the North Sea. Beacon Atlantic is of GM4D design and is currently at CIMC Raffles yard in Yantai, China completing final commissioning and sea trials. The drilling unit is capable of harsh environment operation and is winterized for operation in Arctic areas.
In parallel, CIMC Raffles and Odfjell Drilling have signed a four-year management agreement, under which Odfjell Drilling will manage and operate Beacon Atlantic on behalf of CIMC Raffles. The driller will also have the exclusive right to buy the rig and will have a right of first refusal on any offer to purchase the unit following the exclusivity period.
Odfjell Drilling will also have the right to market Beacon Atlantic's sister unit, Beacon Pacific.
Rig for Duva and Gjoa fields
Oil and gas operator Neptune Energy in February submitted development plans to Norwegian authorities for the Duva (PL636) and Gjøa P1 (PL153) projects in the Norwegian sector of the North Sea.
The company now plans to use the Beacon Atlantic rig to drill three development wells on the Duva field starting at the end of 2019. In addition, it may drill another three development wells in the northernmost part of the Gjøa field.
Odin Estensen, Managing Director of Neptune Energy in Norway said: "With the contracting of this modern rig, we are on track to develop the Duva and Gjøa P1 fields, both of which are key growth assets in our Norwegian North Sea portfolio. First oil for Duva is expected by late 2020 and early 2021 for Gjøa P1."
Total recoverable resources are estimated to be 120 million barrels of oil equivalent (Total of 54,000 barrels of oil equivalent per day at maximum production).
The fields will be developed as subsea tie-backs connecting two templates to the nearby Gjøa platform, operated by Neptune Energy Norge.
The Norwegian Ministry of Petroleum and Energy said that the overall investment costs for these two developments are about NOK 10 billion ($1.17 billion).