Net-zero by 2050 ambition at risk: In with renewables and out with fossil fuels 'far from fast enough,' warns DNV
While the energy transition journey is undoubtedly a tricky endeavor considering the current geopolitical challenges, which have brought about global energy woes, there is no denying the progress that is being made in the decarbonization race. However, DNV, a Norway-based classification society, points out that the pace of the energy mix transformation from fossil fuels to renewables is not being imbued with enough speed to reach net-zero by 2050 targets.
In the wake of the Ukraine crisis, developments in the geopolitical landscape over the last 18 months have brought energy security into sharp focus, moving it to the top of global governments' agendas due to the disruption of energy supplies and price shocks for energy importers. As a result, domestic energy production is being prioritized over energy imports with most regions favoring renewables and nuclear energy while some turn to more coal.
Taking into account the current trends in the energy mix, DNV has launched the seventh edition of its Energy Transition Outlook, exploring when renewable energy will truly start to replace fossil energy, how the cost of the various energy sources and technologies will develop over time, when emissions will peak and how fast they will decline.
This forecast up to 2050 dives into a comprehensive analysis encompassing: renewable energy technology scaling and costs, energy demand by sector and source, energy efficiency and supply, electricity and infrastructure, hydrogen, energy expenditure, policies driving the transition, and global emissions, along with analysis for ten world regions.
The report takes into account governments' willingness to pay a premium of between 6% and 15% for locally sourced energy while reshoring and friend-shoring policies are adding to supply chain complexities and costs already strained by inflation. As an illustration, the Indian Subcontinent is now forecast to transition slower with more coal in the energy mix while Europe's transition is accelerating with the alignment of climate, industrial, and energy security objectives.  
During 2022, an increase in the levelized cost of renewables was observed in several regions, particularly with wind projects, but DNV expects cost reductions to return to historic learning curve rates by 2028. Therefore, energy security and sustainability are anticipated to pull in the same direction in the long term, decarbonizing energy mixes with wind, solar, and batteries as the main sources to increasingly shield national energy systems from the volatility of the international energy trade.
How far has the energy transition come?
The latest outlook indicates that the energy transition is still in the starting blocks, as global energy-related emissions continue to climb and are only likely to peak in 2024. For DNV, this is effectively the point at which the transition kicks off, even though across many nations and communities, energy-related emissions have already started to fall. Despite a rapid buildout of renewable capacity, renewables have met only half, or 51%, of new energy demand during the five-year period from 2017 to 2022 while fossil sources took care of the remaining 49%.
As fossil fuel use is still growing in absolute terms, DNV points out that renewables are just meeting increased demand rather than replacing fossil fuels. With the dash for gas following the Ukraine crisis and the disruption of the oil market leading to high prices and a surge in new oil and gas projects, high gas prices have also seen several countries intensify coal-fired power generation over the last 18 months, driving emissions yet higher.
However, the report outlines that natural gas is losing its status as a 'bridging fuel' for the transition to low-carbon and green energy, even though renewables are not yet closing in on replacing fossil fuels in the global energy mix.
Remi Eriksen, Group President and CEO of DNV, commented: "Globally, the energy transition has not started, if, by transition, we mean that clean energy replaces fossil energy in absolute terms. Clearly, the energy transition has begun at a sector, national, and community level, but globally, record emissions from fossil energy are on course to move even higher next year."
With this at the forefront, DNV underscores that limiting global warming to 1.5°C is "less likely than ever," as CO2 emissions would need to halve by 2030 to reach the goals of the Paris Agreement. While global emissions will fall, the report indicates that this will not happen fast or far enough to usher in the net-zero by 2050 future. Therefore, the forecast shows that CO2 emissions will be only 4% lower than today in 2030 and 46% lower by midcentury, which is associated with 2.2°C of global warming above pre-industrial levels by the end of this century.
As a result, the outlook warns that the pace of the transition is "far from fast enough" for a net-zero energy system by 2050. Reaching the net-zero goals would require roughly halving global emissions by 2030, but DNV's forecast suggests that ambition will not even be achieved by 2050. While emissions rise, the consequences of climate change are becoming more visible and impactful, with extreme weather events becoming more frequent and damaging.
When are renewables taking the reins from fossil fuels?
As energy-related CO2 emissions are still hitting record highs, the outlook emphasizes that they are only likely to peak in 2024, which is effectively the point at which the global energy transition begins in earnest. Once this happens, the share of renewables in the primary energy mix is set to grow by more than one percentage point per year, resulting in a 52% non-fossil share by 2050, up from 20% today, enabling renewables to outsprint fossil fuels.
In line with this, the lion's share of primary energy supply additions from 2025 onward will come from non-fossil sources, primarily wind and solar, which will grow nine-fold and 17-fold, respectively, between 2022 and 2050. Solar energy is estimated to reach 17% and wind power 11% of the global primary energy mix in 2050, with further growth expected beyond mid-century. Moreover, DNV claims that electricity production will more than double between now and 2050, bringing efficiencies to the energy system.
"Wind power will deliver 7% of global grid-connected electricity and installed capacity will double by 2030, despite inflationary and supply chain headwinds. However, in the near-term, transmission and distribution grid constraints are emerging as a key bottleneck for renewable electricity expansion and related distributed energy assets such as grid-connected storage and EV charging points in many regions, including in North America and Europe," added DNV.
While the transition involves both the addition of renewables and the removal of fossil sources, the report predicts that it will take the next 27 years to move the energy mix from the present 80% fossil and 20% non-fossil split to a 48/52 ratio by mid-century. Over the next decade, the report underlines that new fossil production in low and medium-income countries will largely be nullified by reductions in high-income countries.
Although coal use peaked in 2014, it has come close to that level again in recent years, but its share of primary energy falls from 26% today to 10% in 2050. DNV's predictions indicate that fossil primary energy demand will decline from 490 EJ to 314 EJ by 2050. Cumulatively, the fossil energy not used compared with today's use amounts to 1,673 EJ or 275,000 million barrels of oil equivalent by 2050.
Roadblocks on the road to net-zero
While diving into the gridlock impeding the near-term expansion of decarbonization technologies, DNV explains that solar installations reached a record 250 GW in 2022 despite inflationary and supply-chain headwinds. On the other hand, wind power contributed 7% of global grid-connected electricity, and installed capacity is expected to double by 2030.
The global grid — transmission and distribution combined — is also set to double in length from 100 million circuit-km (c-km) in 2022 to 205 million c-km in 2050 to facilitate the fast and efficient transfer of electricity, but in the near term, transmission and distribution grid constraints are emerging as the key bottleneck for renewable electricity expansion and related distributed energy assets such as grid-connected storage and EV charging points in many regions, including the U.S., Canada, and Europe.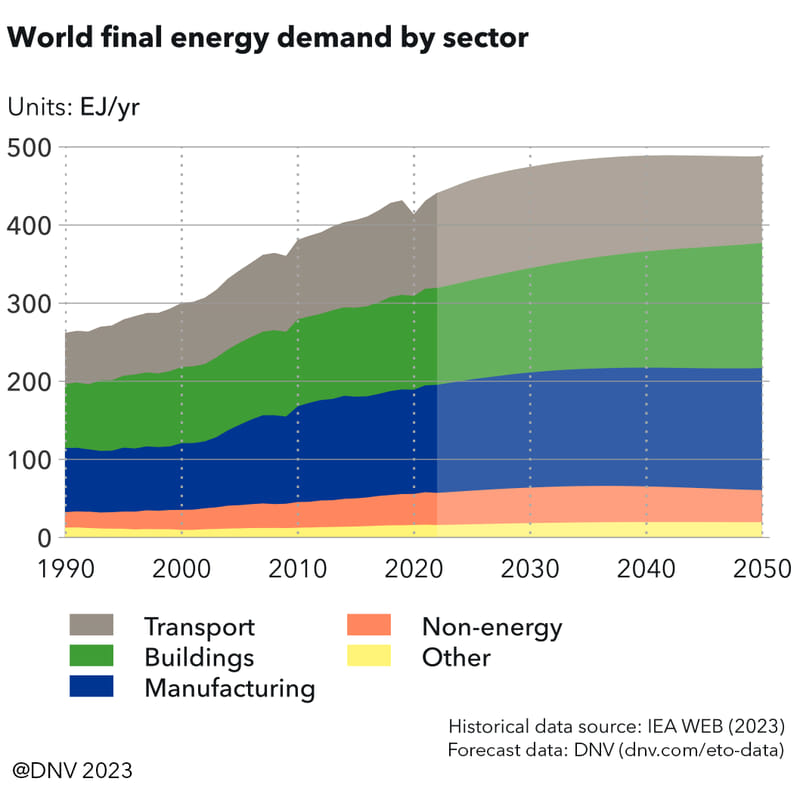 While paying attention to the impact of lagging grid capacity in the near- and medium-term to build-out rates of renewables, the report confirms that both the EU and the U.S. are advancing policies to address permitting delays, but a deeper policy response is still needed, which may encompass expropriation and financing to ease cable manufacturing production constraints. DNV further elaborates that grid expansion is important for the production of hydrogen, which in turn is dependent on more robust demand-side measures to incentivize offtake.
"There are short-term set-backs due to increasing interest rates, supply chain challenges, and energy trade shifts due to the war in Ukraine, but the long-term trend for the energy transition remains clear: the world energy system will move from an energy mix that is 80% fossil-based to one that is about 50% non-fossil based in the space of a single generation. This is fast, but not fast enough to meet the Paris goals," added Eriksen.
According to DNV, progressive policy is making an impact with big decarbonization policy packages rolled out in the last year supercharging the transition regionally and nudging it forward globally. The Inflation Reduction Act is accelerating the transition in the U.S., with $240 billion already committed to clean investments in response to the broad array of incentives under the IRA. Things in the EU are also heating up on the decarbonization front, as the EU Green Deal, REPowerEU, and Fit for 55 policy packages make Europe's net-zero goal more realistic.
Shipping is also going green and is set for a faster transition due to the inclusion in the EU's emission trading system and the IMO's ambitious new decarbonization strategy aiming for net-zero by 2050. DNV underlines that the race to the top in clean technology amongst the advanced economies will drive global learning benefits in hydrogen and carbon capture and storage (CCS) technologies.
The report outlines that the scaling of clean tech in advanced economies will only partly benefit medium- and low-income regions where economic development and other SDGs are prioritized. Bearing all of this in mind, DNV concludes that de-risked financing is needed to accelerate the pace of the transition beyond leading regions.
"Ahead of COP28, DNV will publish its 'Pathway to Net Zero' report, showing that technology is not the main challenge, but rather the incentives to drive fast deployment of renewables & storage and dis-incentives to drive down emissions from fossil fuel are lacking," stated Eriksen.