New Bill Calls for Portion of LNG, Crude Oil to Be Exported on U.S-Built Ships
U.S legislators Roger Wicker and Congressman John Garamendi have introduced a bill titled Energizing American Shipbuilding Act, which if passed, would require a portion of liquefied natural gas (LNG) and crude oil exports to be transported on U.S.-built, U.S.-crewed vessels.
The bipartisan bill would require the construction of over fifty ships vessels by 2040 thus supporting American shipbuilding, and would create thousands of maritime and mariner jobs, the senator said.
"This bill would strengthen our shipbuilding industry and would recognize the importance of having more American-flagged ships to transport our growing exports of oil and natural gas. China, India, and other nations are investing heavily in their shipbuilding capacity. The United States must keep up," Wicker pointed out.
"Congress has neglected our maritime industry for too long, to the point that we're now several dozen merchant ships and 1,800 mariners short of what's needed to guarantee sufficient sealift support in times of crisis. This bill seeks to turn the ship around by taking advantage of America's energy export boom to bring back American shipbuilding, shipyard, and mariner jobs rather than continuing to outsource them to countries like China. I believe this bill is the start of a long-term reinvestment in the idea of America as a maritime, seafaring nation," Garamendi added.
American Shipbuilding Suppliers Association and American Maritime Officers also voiced their support to the bill as it would help boost the country's shipbuilding industry and expansion of American infrastructure and expertise.
Representatives from the iron and steel industry, and labor leaders have backed the move as well as they believe the bill would support the international competitiveness of the domestic steel and iron industry.
The move comes a year after a bipartisan bill titled Energizing American Maritime Act was introduced by Garamendi to the U.S. Congress requiring up to 30 percent of U.S, LNG exports to be carried on U.S.-flagged ships.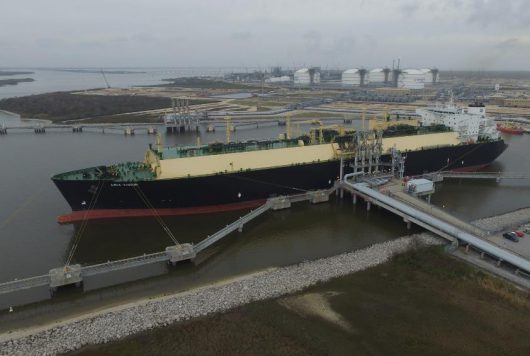 The bill has since been referred to the Subcommittee on Energy, data from the U.S. Congress shows.
The introduction of the said legislation is coordinated with the ramping up of the country's LNG exports, which quadrupled in 2017 year-on-year.
U.S. exports of LNG reached 1.94 billion cubic feet per day (Bcf/d) in 2017, up from 0.5 Bcf/d in 2016, data from the U.S. Energy Information Administration (EIA) shows.
All of the exported LNG originated from Louisiana's Sabine Pass liquefaction terminal and reached 25 countries.
Aside to Sabine Pass in Louisiana and Cove Point in Maryland, four more projects are scheduled to start operation shortly: Elba Island LNG in Georgia and Cameron LNG in Louisiana in 2018, followed by Freeport LNG and Corpus Christi LNG in Texas in 2019, bringing the U.S. export capacity to 9.6 Bcf/d by the end of 2019.
The United States is projected to become the third-largest LNG exporter in the world by 2020, surpassing Malaysia and remaining behind only Australia and Qatar, EIA said.
What is more, the U.S. seaborne export of oil products reached the highest annual level ever in 2017, both in terms of volume and tonne miles demand, according to BIMCO.
Related news
List of related news articles