New FPSO comes to work on Brazil's third largest oil field
Brazilian state-owned oil and gas giant Petrobras has welcomed the arrival of a floating production, storage, and offloading (FPSO) vessel, which will work on the company's giant oil field in the Santos Basin offshore Brazil.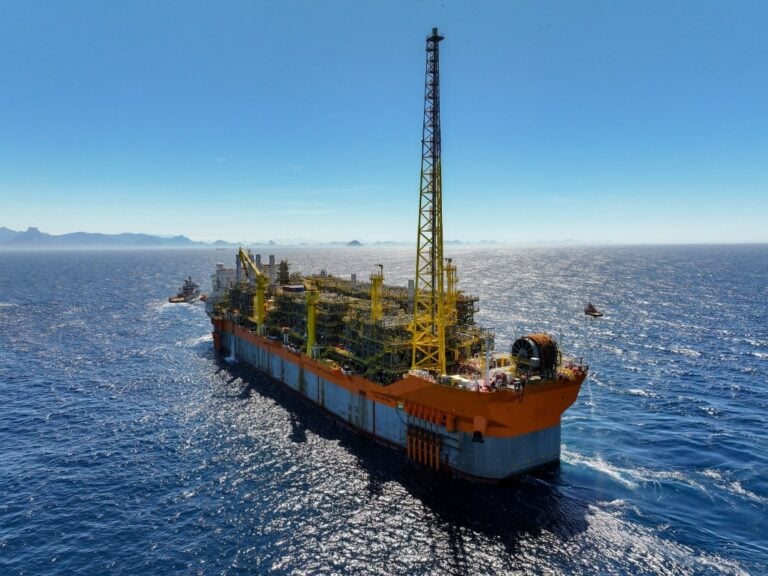 This unit was chartered by Petrobras, thanks to a 22.5-year lease and operation deal from December 2019 with SBM Offshore, also responsible for its construction. When February 2023 rolled in, the topsides integration and onshore commissioning activities for the FPSO Sepetiba, which is destined for Petrobras' Mero field in the Santos Basin offshore Brazil, were ongoing.
Come June 2023, the work was wrapped up, thus, the FPSO, which is SBM Offshore's third Fast4Ward one, sailed away on 16 June from the BOMESC shipyard in China and started its transit to the Mero field, located 180 kilometres off Rio de Janeiro.
According to Petrobras, the FPSO Sepetiba has arrived in Brazil to start production by the end of the year. Prior to heading to its location at the Mero field in the Libra block to kick off production, the unit will undergo technical and legal procedures. It is expected to come into operation in the fourth quarter of 2023.
The FPSO is capable of producing up to 180,000 barrels of oil and 12 million cubic meters of gas daily and it will be the second definitive FPSO to be installed in the Mero field, the third largest field in regard to the volume of oil in place (VOIP), out of a total of four systems. The four units together will have the capacity to produce up to 720,000 barrels of oil per day.
The Mero field is operated by Petrobras (38.6 per cent), in partnership with Shell Brasil (19.3 per cent), TotalEnergies (19.3 per cent), CNPC (9.65 per cent), CNOOC (9.65 per cent) and Pré-Sal Petróleo SA – PPSA (3.5 per cent).
Mero is a large pre-salt field, which is currently home to the FPSO Pioneiro de Libra, with the capacity to produce up to 50,000 bpd, operating the Early Production System (SPA 2), and the FPSO Guanabara, with the capacity to produce up to 180,000 bpd. It already reached its production peak of 179,000 barrels of oil per day in February 2023, about eight months after the first oil.
Mero is the third largest field in Brazil, after Tupi and Búzios, also located in the Santos Basin pre-salt. The Brazilian giant recently revealed plans to put 11 additional FPSO units into operation in the pre-salt layer offshore Brazil by 2027, which are anticipated to boost production, enabling it to reach 2.4 million boe.