NGO Shipbreaking: COVID-19 exposes vulnerability of migrant workers in South Asia
The strict lockdown measures across South Asia aimed at curbing the COVID-19 pandemic have also shut down the shipbreaking facilities in India, Bangladesh, and Pakistan.
The worst hit by the lockdown measures are migrant workers who became stuck away from home still pending their March salaries and some even deprived of access to food, according to the latest report from NGO Shipbreaking.
As informed, the government has had to step in to provide migrant workers in Alang with ration kits to help them navigate through the nation-wide lockdown.
Unions in Pakistan have reported similar practices, while in Bangladesh food packages were reportedly only being provided to local workers, leaving out migrant workers.
" YPSA and OSHE, another Platform member organisation active in the Chattogram area, are currently providing assistance to part of the migrant workforce. There is a dire need to secure emergency food assistance, as well as medical check-ups and awareness raising to avoid the spread of Covid-19," the NGO said in a report.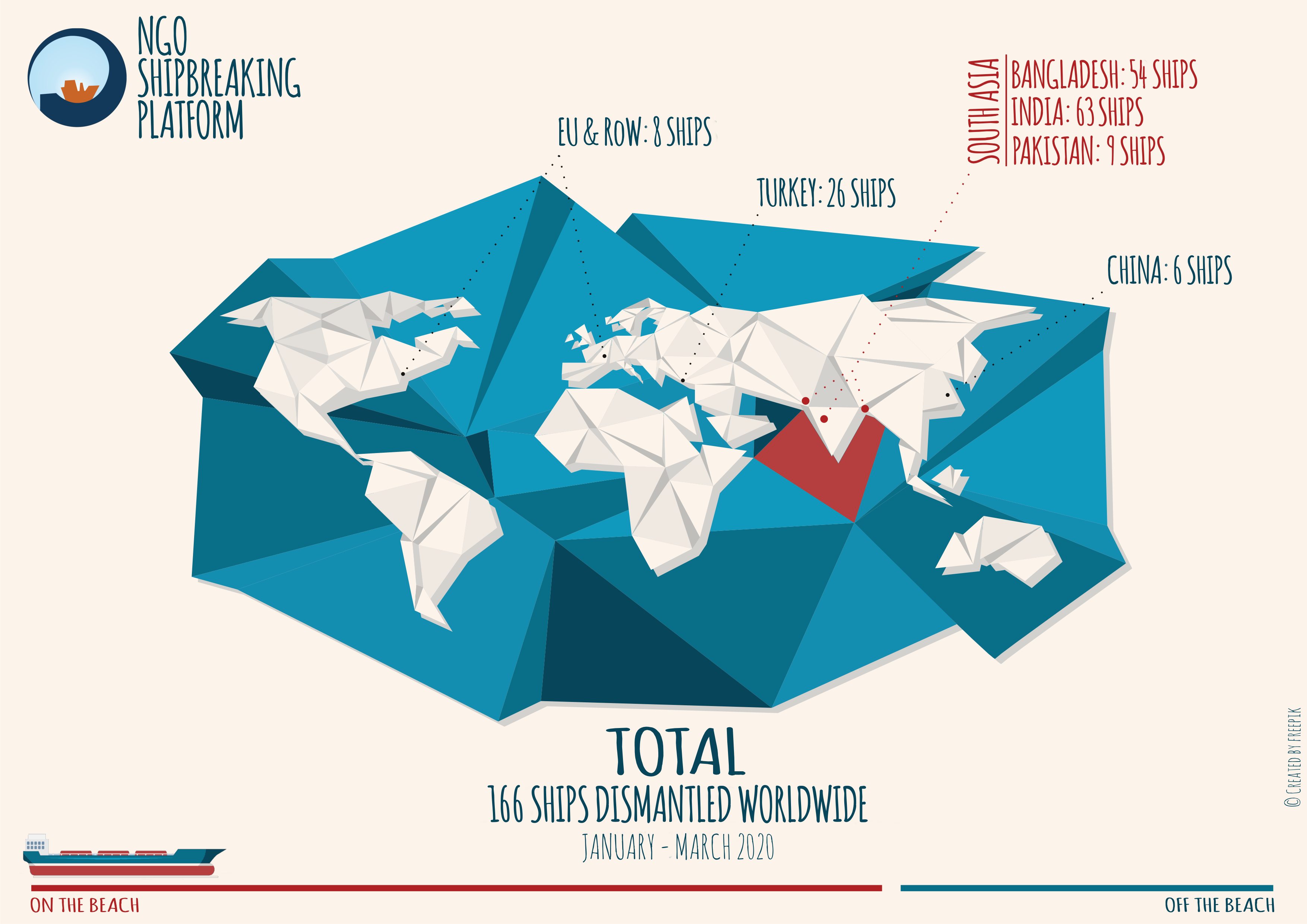 The organization's latest shipbreaking figures for the first quarter of 2020 show that a total of 166 ships were broken in the first three months of this year, with mast majority (126 ships) still being sold to the beaches of South Asia.
The report further indicates that during this time at least 4 workers lost their lives and at least 7 were severely injured when breaking ships in Bangladesh.
Saudi Arabian owners were identified as top sellers of ships to South Asian yards, followed by South Korean and Greek owners. 
The NGO said that the shipping company Berge Bulk sent five vessels to Bangladesh for dirty and dangerous breaking, pushing its tally to nine when combined with the four ships sold to the same beach last year.
The reflagging practice of ships to the registries of Comoros, Gabon, Palau and St. Kitts and Nevis just weeks before hitting the beach continues. 
The Platform recorded at least six ships that de-registered from an European flag registry prior the last voyage to South Asia in order to circumvent EU legislation.