Photos: Norwegian Frigate Continues Sinking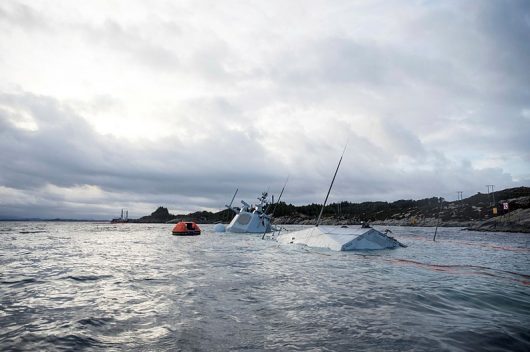 ---
The Norwegian frigate Helge Ingstad has almost completely sunk based on the latest footage released by the Norwegian Navy.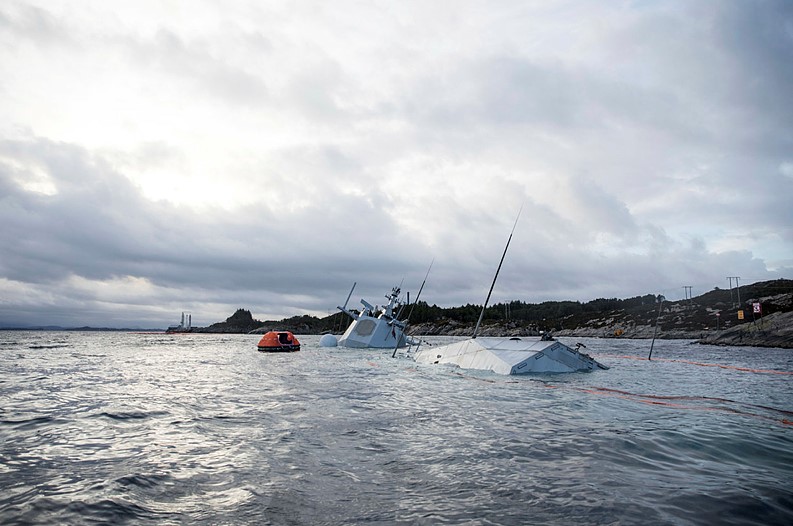 Despite being anchored to the land, the ill-fated frigate continued to sink over night and now only the radar tower is seen above the water surface.
The Norwegian Coast Guard said that there have been fuel leaks detected around the ship, but nothing of significance. A containment boom has been placed around the vessel.
The frigate started listing after colliding with Sola TS oil tanker at the Sture terminal in Øygarden, Norway, on Thursday morning, November 8. Eight people sustained minor injuries and 137 people were evacuated from the Norwegian frigate.
There were 23 people on board the oil tanker Sola TS when the collision occurred and there were no reported injuries. The Maltese-flagged Aframax, part of Tsakos Energy Navigation's fleet, did not sustain damages below the waterline.
The navy ship suffered a large gash below the waterline and its helicopter tank was punctured in the collision, resulting in a minor spill. The amount of leakage was not considered to be actionable as the thin layer of helicopter fuel was expected to evaporate and dissolve naturally.
The Norwegian Navy and Coast Guard managed to stabilize the vessel post collision, as the ship was intentionally grounded and moved to a safe place. The Navy was planning to rescue the frigate and inked a deal with BOA management for the ship's salvage.
Based on the latest update from the Norwegian Coast Guard, the Navy is yet to determine its next steps on the matter.
Initial reports indicate that the frigate was repeatedly warned to alter course but failed to undertake corrective action to avoid the collision with the tanker, which is more than ten times bigger than the frigate.
Citing radar images and audio logs, local media reported that the Norwegian frigate crashed into the fully-loaded tanker at a speed of 17 knots.
The frigate just returned from Trident Juncture, a NATO-led military exercise, held in Norway, when the incident occurred.
The Fridtjof Nansen class frigate was built by the Spanish shipbuilders Navantia and was commissioned into service in 2009. The ship is valued at around USD 470 million.
World Maritime News Staff