Oceanic Breeze tanker to carry Ichthys gas to Japan
A tanker that will be transporting 0.9 million tons of liquefied natural gas (LNG) per year produced from Inpex's Ichthys field in Australia, has been named. The naming ceremony took place Tuesday at Mitsubishi Heavy Industries' (MHI) Nagasaki Shipyard & Machinery Works in Nagasaki, Japan.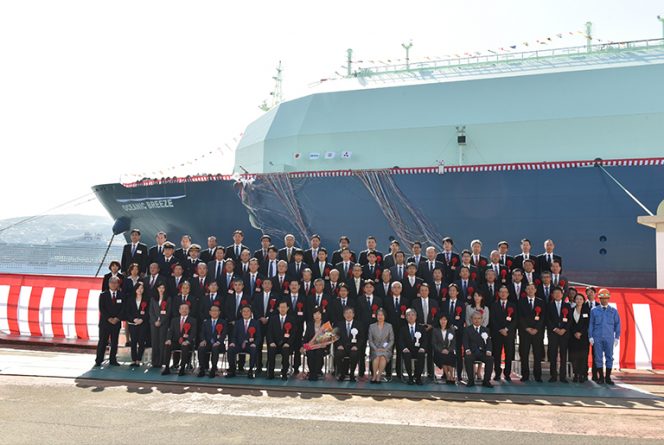 The LNG tanker, named Oceanic Breeze, will be used to carry LNG from Australia to Inpex's Naoetsu LNG Terminal in Joetsu, Niigata Prefecture, Japan.
This is the second vessel that will be chartered by the Inpex Group to transport Ichthys-produced LNG following the Pacific Breeze, for which a naming ceremony was celebrated on September 1, 2017.
The LNG tanker is owned by Oceanic Breeze LNG Transport S. A. (OBLT), a joint venture between Inpex Shipping (30%) and Kawasaki Kisen Kaisha Ltd. (K-Line) (70%), and was newly built based on a construction agreement between OBLT and MHI. Through Inpex Shipping, Inpex has entered into a time charter agreement for this tanker with OBLT. The tanker is scheduled to be deployed in conjunction with the startup of LNG shipments from the Ichthys LNG Project.
The Oceanic Breeze LNG tanker has a 155,300-cubic meter tank capacity and features the "sayaendo" (peapod) design incorporated in MHI's newest class of LNG tankers where MOSS-type spherical tanks are shielded by an outer cover integrated with the hull.
According to Inpex, this feature helps strengthen the tanker's overall structure, reduces weight and significantly cuts down on resistance from wind pressure during operations. The tanker is also equipped with a new type of steam turbine propulsion unit that uses reheated steam to power the main engine, slashing fuel consumption by a considerable margin compared to conventional turbine vessels and raising expectations for lower CO2 emissions and transportation costs.
"The handover of the tanker improves the state of readiness to transport the LNG produced from the Ichthys LNG Project, and further accelerates the strengthening of INPEX's gas supply chain, which links overseas natural gas sources starting with the Ichthys LNG Project with the domestic gas market and is positioned as one of the company's growth targets as outlined in the medium- to long-term vision," INPEX said.
The Ichthys LNG Project is located in the Ichthys field within the northern Browse Basin about 220 kilometers north-west of Western Australia's Kimberley coast, at the western edge of the Timor Sea.
During operations, the Ichthys LNG Project is expected to produce up to 8.9 million tonnes of LNG and up to 1.6 million tonnes of LPG per annum and 100,000 barrels of condensate per day at peak, requiring an 890-kilometer pipeline to facilitate export.