Offshore Energy Exhibition & Conference 2017 – Transformation through Collaboration
It is the time to join the tenth edition of Offshore Energy Exhibition & Conference (OEEC), the largest European event covering the whole offshore energy mix. With oil & gas, offshore wind and marine energy all assembling, the event creates the ideal place to display your products and services to the world.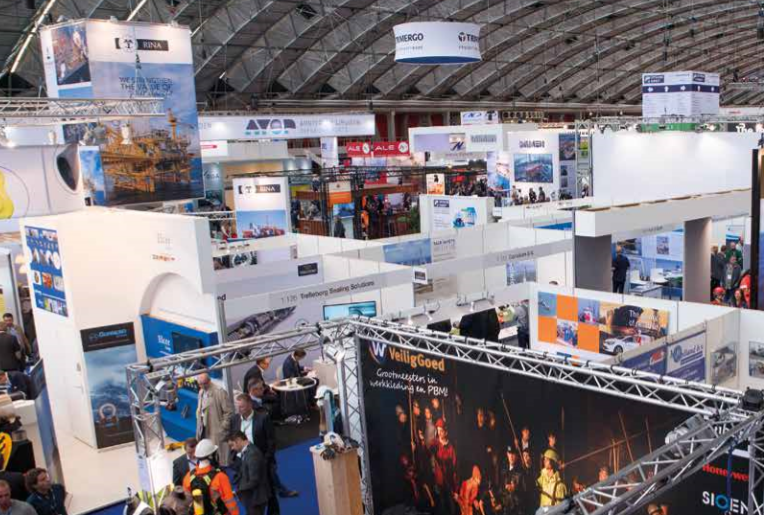 Based on its track record, OEEC expects to attract over 12,000 offshore professionals representing around 100 nationalities and over 650 key players from the offshore industry exhibiting at the show.
This year's theme is 'Transformation through collaboration' and it will focus on the transformation happening both in oil, gas and in renewables as a consequence of a lower for longer price environment.
Both the lower price of oil and gas and the lower price per kWh for offshore wind power present challenges for the industry – albeit for very different reasons – and are leading to intensified collaboration. Add to this the industry's efforts in making the energy transition happen and you have a very topical mix of themes which will feature prominently in the conference program but can also be experienced on the exhibition floor where exhibitors will offer their own solutions for tomorrow's energy mix.
This year's conference program features keynotes, Master Classes, Offshore WIND Conference (October 9 and 10), Marine Energy Event (October 11) and eight Technical Sessions. The Technical Sessions, covering subjects ranging from Decommissioning to Asset Integrity and from Global Business Opportunities in E&P to The Rise of Renewables, will be offered in breakfast or lunch session format, allowing for ample networking and knowledge-sharing opportunities.
OEEC provides the platform to meet new prospects and strengthen relationships with other leading industry players. OEEC will also be welcoming the following international pavilions: Iran, Italy, Scotland, Norway, the United Kingdom, China and the Netherlands.
Community Square
Launched in 2016, Community Square on the Offshore Energy exhibition floor will offer an exciting free-to-attend program of ON AIR talk-shows and Community Café meetings on industry transformation. Think of climate change, decommissioning and reuse, renewable energy uptake, digitalization – developments that are reshaping the energy industry as we know it, perhaps even creating an integrated energy industry.
A wide range of stakeholders of E&P companies and utilities, supply chain companies, NGOs, academia and government will share and discuss new ideas and solutions on energy transition, the future of the North Sea and new forms of collaboration transforming the industry and the economy.
At the Community Square, visitors can hear what high-level developments of goals, roadmaps and milestones really mean for their business.
Offshore WIND Conference
For the fifth time, OEEC features the dedicated Offshore WIND Conference. The 2017 conference theme is: Leading the way! This theme was chosen to show the continuing progress of one of the leading forms of renewable power generation: offshore wind.
OWC 2017 will focus on the opportunities for the offshore wind sector for the short, medium and long term. What will upcoming tenders offer the supply chain (short term)? What are the trends and opportunities in the next decade? Subtopics such as cost reduction, innovations, subsidy and cooperation with the oil and gas industries will also be tackled. Offshore WIND Conference will take place on October 9 and 10 and is organized as part of OEEC.
During the Offshore WIND Conference, more than 15 expert speakers and over 250 industry professionals will discuss short- and long-term issues in the industry. On both days, the plenary sessions will be alternated with networking opportunities. Among others, speakers from DONG, Siemens Gamesa, Bladt Industries, European Committee of the Regions, Van Oord, European Space Agency and DHI Group will be present.
Marine Energy Event
The marine energy industry has a role to play in the EU electricity supply by 2050. This requires advancement in the certification and verification of technologies in order to access commercial funding.
The Marine Energy Event 2017, organized in cooperation with the Dutch Energy from Water Association (EWA), offers delegates an insight into the latest developments in marine energy in the field of tidal and wave energy, salinity power and OTEC with a focus on bankable projects. Marine Energy Event will take place on October 11 and is organized as part of OEEC.
Dredging Today Conference
The first annual Dredging Today Conference will take place on and October 9 and 10, 2017 at RAI Amsterdam. The 2017 theme is "Changing Climate, Resilient Business".
The conference is co-located with Offshore Energy Exhibition & Conference and is part of Navingo's dredging platform which also comprises the online news portal DredgingToday.com and the recent Dredging Vessel Directory.
This event will offer a forward-looking agenda for the dredging industry addressing economic, social and environmental challenges and the capabilities of the dredging industry to tackle these.
Dredging Today Conference is distinctive in its choice of speakers from around the globe, its room for dialogue and its attention for business rather than technology. The conference is supported by the International Association of Dredging Companies (IADC).
An important part of the conference is dedicated to climate change, adaptation and resilience. Topics include the impact of climate change on the dredging industry, available funds for climate adaptation solutions, changing client demands and future proofing business strategies.
For more information see www.dredgingconference.com
And the award goes to…
The second edition of the Offshore Energy Opening Gala Dinner and Awards show will take place on October 9, 2017, at a new and beautiful location: the National Maritime Museum (het Scheepvaartmuseum) in Amsterdam.
This black-tie event is held the night before OEEC kicks off. The Offshore Energy Opening Gala Dinner and Awards show brings the industry together to celebrate successes by presenting three industry awards: Offshore Energy Young Engineer Award, Offshore Energy Public Outreach Award and Best Innovation in Offshore Energy.
Nominees for the Best Innovation in Offshore Energy Award 2017 are Barge Master with their 'Floating motion compensated drilling', Gusto MSC with their 'NG-20000X with Telescopic Leg Crane' and Next Ocean with their 'Next Ocean Wave Predictor'.
Nominees of the Offshore Energy Public Outreach Award 2017 are Buccaneer Delft, Our Oceans Challenge and TransitieCoalitie.
Nominees of the Offshore Energy Young Engineer Award 2017 are Ben Arntz (GBM Works), Dries Lammens (Jan de Nul Group) and Martijn van Exsel (Boskalis).
Trade missions
Offshore Energy expects to welcome official trade missions from Brazil, Mexico, Myanmar, Iran, Qatar, the United Arabic Emirates, Senegal, Cyprus, Lebanon and Scotland.
Netherlands Maritime Technology is organising a special moment for their members to meet the delegates from Myanmar. This 'business opportunity seminar' will be held on October 10. Attendees need to register for this seminar.
Holland Pavilion
Dutch maritime companies present themselves at the Holland Pavilion. You will find the Holland Pavilion in Hall 1, booth number 1.022.
At least 24 Dutch companies present their products and know-how. During the Holland Networking Reception, participants of the Holland Pavilion have an opportunity to invite their (potential) clients for a drink.
Enterprise Europe Network
There is also a special international matchmaking event during the exhibition, headed by the Enterprise Europe Network (EEN). This B2B event offers business contacts to industry, science and technology professionals the opportunity to meet, discuss and network.
Companies looking for cooperation, new customers, new partners or collaborative alliances within the oil, gas and renewable energy fields can attend the event.
Offshore Energy Exhibition & Conference (OEEC) will be held on October 9, 10 and 11, 2017 at the  RAI Amsterdam in the Netherlands. See for more information on all activities: www.Offshore-Energy.biz.