Oil dispersing after huge offshore spill on Husky's field
Following an oil spill on the White Rose field off the coast of Newfoundland, Canada, Husky Energy has informed that no additional oil has been detected at the sea surface and that the oil is dispersing.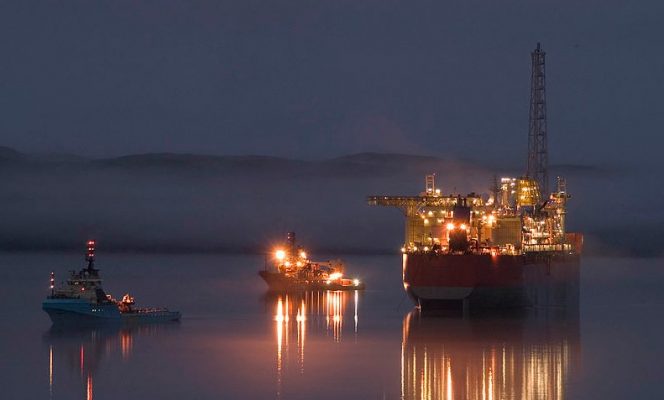 ---
As previously reported, Husky Energy had shut-in oil production at the White Rose field on Thursday, November 15 due to operational safety concerns resulting from severe weather, which was one of the worst the region has seen offshore since the Ocean Ranger disaster in 1982.
A spill occurred on Friday, November 16 when Husky tried to restart production. The SeaRose FPSO experienced a loss of pressure from a subsea flowline to the South White Rose Drill Center, which is located in the White Rose field, approximately 350 km southeast from St. John's.
Initial estimates from Husky were that 250 cubic meters (250,000 liters) of oil were released to the environment. According to CBC, Canada's national public broadcaster, the incident is believed to be the largest oil spill in Newfoundland and Labrador's history.
In a statement on Monday, Husky confirmed that operations remained suspended at the SeaRose FPSO vessel with all production wells secured.
Husky has deployed a remotely operated underwater vehicle (ROV) to inspect the flowlines and confirm the source of the leak. Since the original spill, no additional oil has been detected at surface, the company said. Observation flights and sea vessel sweeps conducted over the weekend are tracking the original spill and indicate the oil is dispersing.
"Husky, the Canada-Newfoundland Offshore Petroleum Board and Canadian Coast Guard authorities continue to monitor the oil and impact on wildlife. A wildlife rehabilitation center has been activated. Five oiled sea birds are confirmed," Husky added in the statement.
Production from the SeaRose remains shut in. Before the shut-in, production was approximately 20,000 barrels of oil per day (Husky working interest, before royalties).
Canadian offshore regulator, C-NLOPB, previously said Husky's production and drilling operations at the field would remain shut for the foreseeable future.
This is the second incident related to Husky's SeaRose in less than two years. The previous one involved a near miss of an iceberg with the SeaRose FPSO in March 2017.
Offshore Energy Today Staff