Oil majors begin evacuations, shutdowns as storm Sally approaches
Several oil majors have evacuated personnel from their Gulf of Mexico facilities ahead of the incoming tropical storm Sally, which is expected to turn into a Category 2 hurricane.
Forecasters from the National Hurricane Center said that tropical storm Sally was expected to become a hurricane on Monday, 14 September, and reach the shore by early Tuesday, bringing dangerous weather conditions, including the risk of flooding to Louisiana and Mississippi.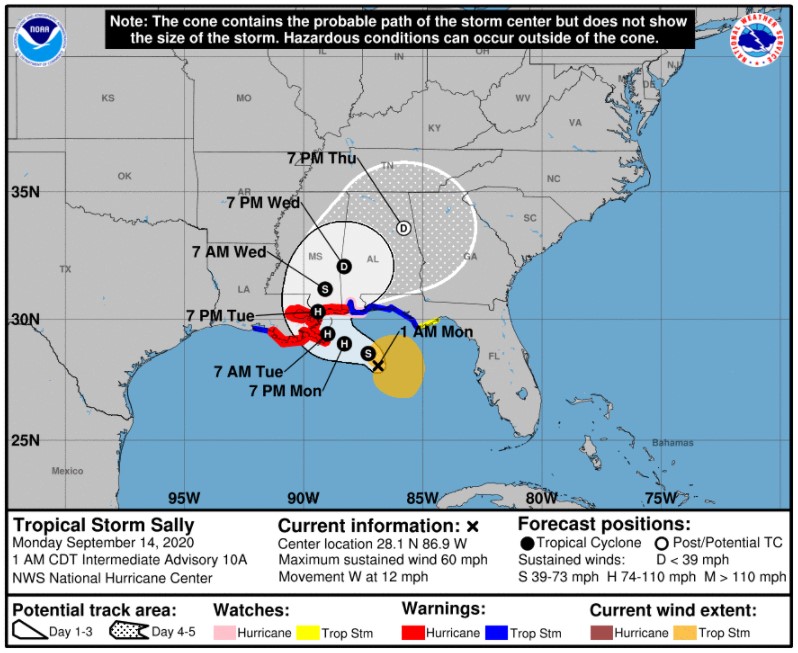 This will be the second hurricane in less than a month after Hurricane Laura hit in late August. Laura, at its strongest point, shut-in 84.3 per cent of the current oil production and 60.94 per cent of natural gas production in the Gulf of Mexico.
These numbers were close to the 90 per cent outage that Hurricane Katrina brought 15 years ago meaning that Hurricane Laura was the biggest threat to U.S. oil production since 2005.
And now only five days after the Bureau of Safety and Environmental Enforcement (BSEE) made its final report following Hurricane Laura – oil and gas companies with facilities in the Gulf of Mexico, both on and offshore, will have to begin preparations for what will turn into Hurricane Sally.
BP said on Sunday that it was closely monitoring Tropical Storm Sally to ensure the safety of its personnel and operations in the deepwater Gulf of Mexico.
With forecasts indicating the storm will move across the northeastern Gulf of Mexico in the next few days, the company secured offshore facilities and evacuated non-essential personnel from the Nakika and Thunderhorse platforms.
"Safety is our top priority, and we will continue to monitor weather conditions closely to determine next steps", BP said.
Also, Chevron said in a statement on Monday that it shut down the Blind Faith and Petronius offshore production platforms in the Gulf of Mexico on Sunday, in preparation for tropical storm Sally. The company added that it also evacuated all personnel from the two facilities.
According to Reuters, Equinor shut its Titan platform and evacuated all personnel from the platform for the same reasons late on Saturday.
On the same day, Murphy Oil stated it was preparing to remove non-essential staff from offshore oil facilities in the eastern U.S. Gulf of Mexico.
As for tropical storm Sally, the system was moving northwest at 13 kph on Sunday night. It was centred 225 kilometres south-southwest of Florida, and 300 kilometres east-southeast of the mouth of the Mississippi River.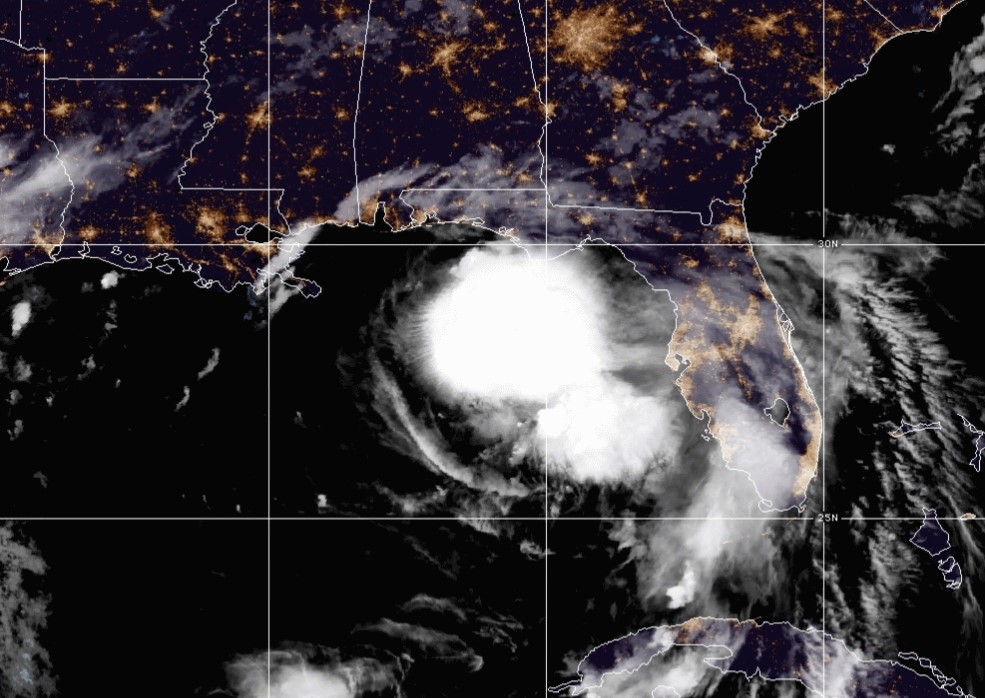 Pensacola was bracing for 25 to 38 centimetres of rain while Sally could produce rain totals up to 61 centimetres by the middle of the week. Its maximum sustained winds on Sunday evening were 95 kph.
"That system is forecast to bring not only damaging winds but a dangerous storm surge", said Daniel Brown of the Hurricane Center.
"Because it's slowing down it could produce a tremendous amount of rainfall over the coming days".
A mandatory evacuation has already been issued in Grand Isle, Louisiana, ahead of the storm. On Saturday, New Orleans Mayor LaToya Cantrell issued a mandatory evacuation order for Orleans Parish residents living outside of the parish's levee protection system while Louisiana Governor John Bel Edwards declared a state of emergency on Saturday.
To make matters worse, this isn't the only storm in the Atlantic basin at the moment. Paulette gained hurricane status late Saturday and was expected to bring a storm surge, coastal flooding, and high winds to Bermuda.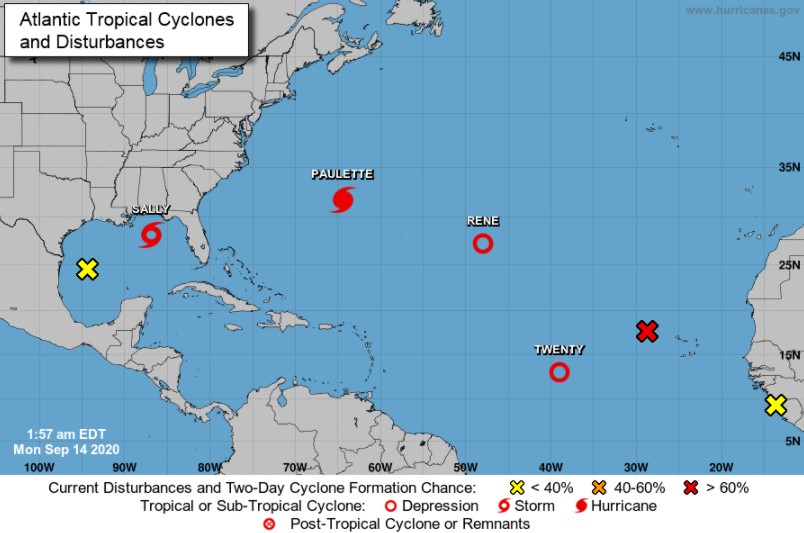 On Sunday evening, it was located about 125 kilometres southeast of Bermuda. Its maximum sustained winds were 137 kph.
Once a tropical storm, Rene was forecast to become a remnant low Monday and tropical depression Twenty is expected to strengthen this week and become a tropical storm by Tuesday.
Related news
List of related news articles