O'Neil: We Are All at the Start of Digitalization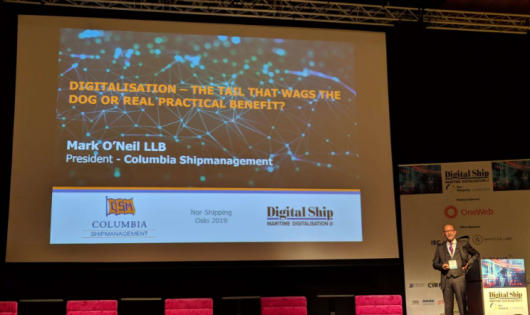 Digitalization of the maritime industry was the topic of today's Digital Ship Maritime Digitalisation Forum held within Nor-Shipping exhibition and conference taking place in Lilestrom and Oslo, Norway.
The forum tackled various aspects of digitalization, including from the perspective of owners and managers as well as that of IT companies.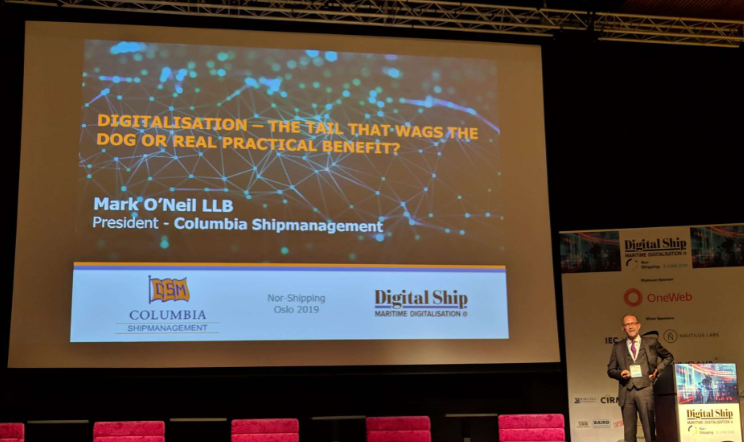 Delivering a keynote address at the forum, Mark O'Neil, President of Columbia Shipmanagement, pointed out that there is a "lot of hype out there" about what industry majors are doing in the field.
"This results in companies believing that the competition is way ahead of them in digitizing their business," which, as O'Neil noted, "is not the case in reality."
The Cyprus-headquartered company recently merged with Marlow Navigation, creating a holding company, Columbia Marlow. The merger created one of the world's largest ship managers with a fleet of over 370 ships.
O'Neil added that the industry heavyweights are predominantly at the early stage of testing different digital concepts, and not actually implementing solutions for another couple of years. Therefore, companies that are not, shouldn't be concerned about being left behind.
"In our industry, there is a tendency to believe that you have to digitalize everything. You don't. You have to digitalize only what is necessary to digitalize," O'Neil said, adding that digitalization is "a tool in our optimization tool-box."
We are all in the same boat
As explained, digitalization should be looked at as an evolution rather than a revolution. The most important thing in digitalization for companies is for them to figure out what they want to achieve.
"Digitalization is not all about technology, it is an intersection of technology, innovation and processes-all equally important!
"Being ahead of the curve is just as dangerous as being behind the curve. You have to be on the curve itself and go with the curve," he said.
"We are all in the same boat, looking at different models of digitizing things," O'Neil continued.
"It is a path, not a journey: a means to an end, not the end itself, which is optimization. We always have to look how to do things in a better way; more efficiently and effective and cheaper. That said, true efficiencies and economies of scale only come with digitalization. It enables us to do data analytics, the modeling and automation of processes."
The key to a successful service industry is to recognize what the client needs and meet those needs with a digitalized service.
Another thing to keep in mind is that the business has to continue to run.
"Digitalization has to be a slow transformation and slow improvement keeping in focus the business you have to fulfill," he added.
"We are all at the start of the digitalization road, you are not being left behind! Take your time and remember that the service is what is important to the client."
Reported by Jasmina Ovcina Mandra