Orbital decommissions SR2000 unit
Orbital Marine Power, working with Thompsons of Prudhoe and Port of Blyth, has decommissioned its 2MW SR2000 floating tidal turbine.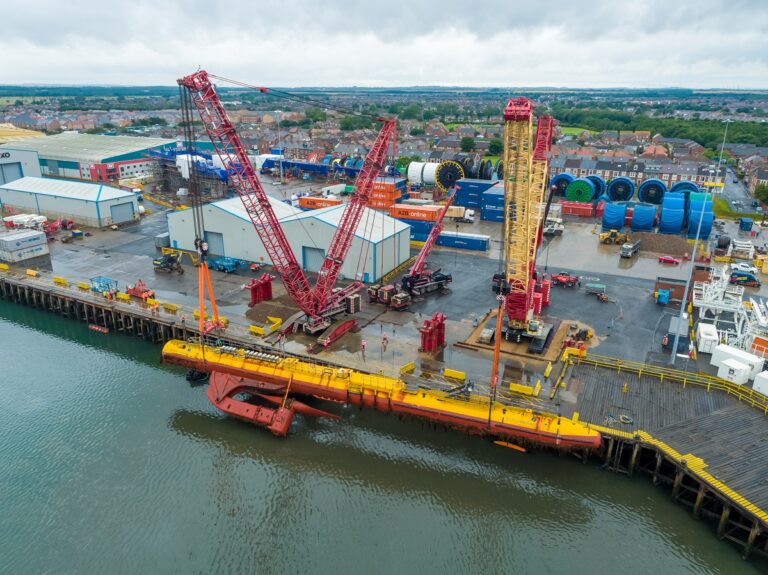 Heavy lifter Mammoet managed the tandem lift of the 516-tonne structure out of the water and onto the Blyth quayside.
It was also the port's largest heavy lift to date.
Orbital are reclaiming key components and elements of the turbine to carry out engineering inspections.
Additionally, the remainder of the structure will be dismantled for recycling and disposal.
Leask Marine towed the unit from Orkney to the Northumberland facility using the C-Odyssey vessel.
The final phase of the full-scale demo follows a test programme which saw over 3,250 MWh of electricity generated by the SR2000 at EMEC in Orkney.
Building on the SR2000, Orbital is currently manufacturing its 2MW O2 turbine set for EMEC early next year.
The O2 incorporates key innovations and lessons from the SR2000 which should boost its yield by a 35 per cent.
Andrew Scott, Orbital CEO, said:
"The SR2000 was an industry break-through and its success is a testimony to the team who engineered, built and operated it.
"Not only did it validate the conceptual benefits of our floating tidal solution, but it re-set the performance bar for the sector.
"A truly outstanding platform for us to be building on with our new O2 turbine."
Alan Todd, Port Director of Port of Blyth, said:
"Completing the largest project lift the Port has ever planned and executed highlights the skill and competence of the Port of Blyth's engineering and operations teams.
"The project also highlights both the strength and potential of our new decommissioning partnership with Thompsons of Prudhoe."