Pavilion ticks off several LNG bunkering firsts at Jurong Port
Temasek-owned Pavilion Energy has completed a number of first during the past week with the LNG bunkering of Marine Vicky.
The company said it has completed the truck-to-ship LNG bunkering operation for Singapore's first conventional fuel bunkering vessel propelled by LNG.
It was also the first LNG bunker delivery for the receiving vessel, Marine Vicky and the first delivery completed by a newly-ordered LNG truck with Pavilion's appointed operator.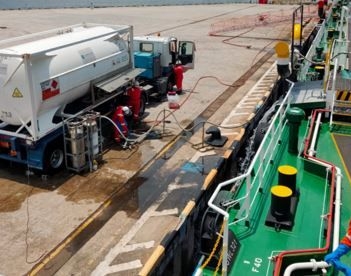 The operation involved a transfer of 34 cubic meters of LNG from the trucks to the receiving vessel at Jurong Port.
The new LNG-enabled equipment involved in this operation demonstrates the industry's commitment to the development of LNG as a marine fuel in Singapore, Pavilion said in its statement.
Following this operation, Pavilion Energy will be commencing regular LNG TTS operations with the Marine Vicky under a supply contract with V-Bunkers Tankers, a Vitol unit.
Pavilion further noted that as an LNG bunker supplier in the Port of Singapore, it is continuing the expansion of its LNG bunker logistics and supplies.