Perenco and Carbon Catalyst win two more carbon storage licenses
Following the carbon storage license award to progress the Poseidon project over the Leman fields, Perenco UK and Carbon Catalyst have secured two further CO2 storage licenses in the Southern North Sea sector of the UK Continental Shelf (UKCS).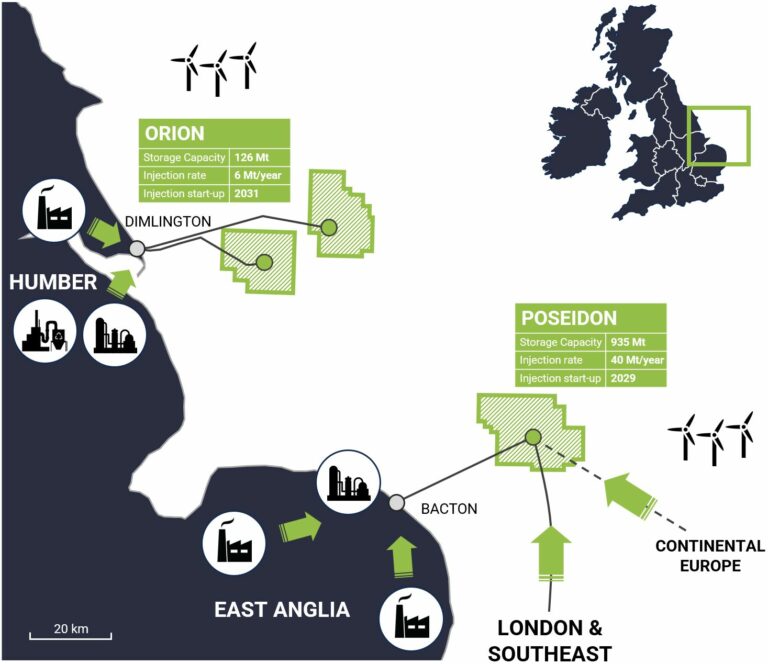 The Orion carbon capture and storage (CCS) project encompasses both the decommissioned Amethyst field and the currently producing West Sole field, using depleted gas reservoirs for the permanent storage within geological formations of captured carbon dioxide.
The project is designed to deliver an initial injection capacity of 1 million tonnes per annum (Mtpa), rising to 6 Mtpa, and is expected to commence injection in 2031.
Perenco, who owns and operates gas infrastructure in the Humberside area including its Dimlington Terminal, will evaluate the possibility of reusing existing assets, such as strategic pipelines, to facilitate the project.
"Orion is strategically positioned to support the accelerated decarbonisation of the Humberside industrial area, with the project's storage sites located a mere 46km offshore from Perenco's Dimlington gas processing terminal. CCL is looking forward to supporting Perenco as they advance this important project towards final investment decision, ultimately aiming for first CO2 injection by 2031," said Nick Terrell, Executive Director at Carbon Catalyst.
According to the partners, Orion has the potential to complement other CCS projects currently in development, providing additional capacity for the decarbonization of Humberside and adjacent areas over a 30-year period.
To remind, Perenco UK and CCL announced two days ago the award to progress the Poseidon CCS project, which encompasses the Leman gas fields. The project is due to come online by 2029 with initial CO2 injection rates of circa 1.5 Mtpa, ramping up to 40 Mtpa.
Jo White, General Manager of Perenco UK, said: "Following the recent announcement of the Poseidon Project, today's news is another important step in our CCS strategy and our ambition to use our extensive technical expertise in the gas industry in support of UK's decarbonisation goals."
In its first competitive carbon storage license round, the North Sea Transition Authority (NSTA) also awarded Wintershall Dea with a license for its Camelot project.