Petronas and Posco team up to unlock carbon capture and storage potential in Malaysia
Malaysia's state-owned Petronas and South Korean steel-making company Posco have joined forces to collaborate on evaluating and exploring carbon capture and storage (CCS) potential in Malaysia, which will contribute to turning the country into a CCS solutions hub.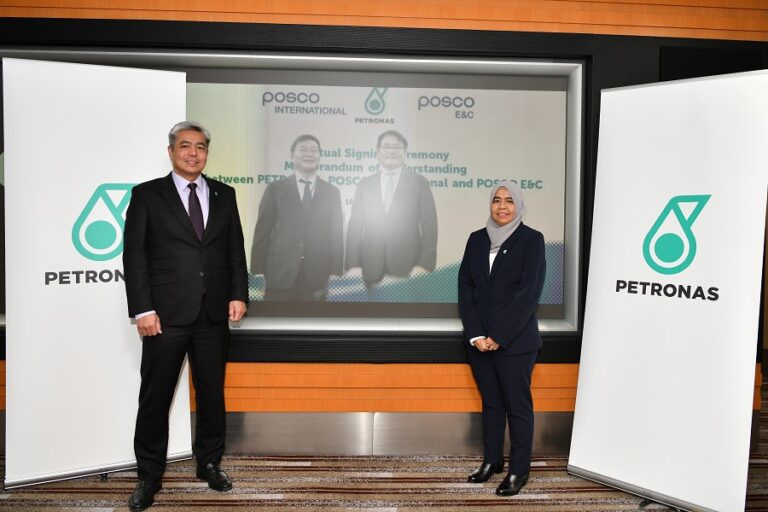 Petronas signed a Memorandum of Understanding (MoU) with Posco International Corporation and Posco Engineering & Construction on Friday. This agreement will enable the companies to jointly explore opportunities in CCS technologies as well as carbon dioxide (CO2) storage solutions in Malaysia. Therefore, the firms will assess opportunities to unlock CCS potential and identify suitable technology within the scope of carbon capture, transportation of CO2 and storage for a potential application.
Adif Zulkifli, Executive Vice President and Chief Executive Officer of Upstream, remarked: "Given the multiple business adjacencies between Petronas and Posco, we are delighted to collaborate in unlocking the opportunities and potential of CCS. This is one of the many efforts to establish Malaysia as a leading CCS solutions hub in the region."
During the signing of this agreement, Petronas was represented by Executive Vice President and Chief Executive Officer of Upstream, Adif Zulkifli, while Posco International Corporation was represented by Vice President, Head of Energy Business Division, Hwang Euy-Yong. On Posco's behalf, the agreement was signed by Vice President, Head of Plant Business Office, Lee Gyu Chul.
The two companies will collaborate and perform technical maturation activities to unlock CCS potential in Malaysia. Petronas explains it is taking deliberate steps to build a resilient and sustainable portfolio to support the transition towards lower-carbon energy sources, including evaluating the application of technology towards lowering emissions across the value chain, which will encompass carbon capture, transport and storage.
To this end, the company signed another memorandum of understanding last month with ExxonMobil to explore potential CCS projects in Malaysia.
Both companies will assess the viability of carbon capture projects in select locations offshore Peninsular Malaysia and share subsurface technical and infrastructure data for pipelines, facilities and wells.
In addition, Petronas is pursuing more zero continuous flaring and venting of hydrocarbons to reduce emissions aligned with its aspiration to achieve net-zero carbon emissions by 2050.
To remind, the firm's efforts to build a resilient and sustainable portfolio include developing, testing, and piloting a suite of technologies at its first offshore CCS project set for CO2 injection in 2025.