'Radical but durable' paradigm needed for delivery of low-carbon energy infrastructure in race to net-zero
Australia's engineering company Worley has partnered with Princeton University's Andlinger Center for Energy and the Environment to measure the indicators of change in the journey to net-zero by 2050, outlining that countries need to move from years to weeks to develop and build their low-carbon energy infrastructure to meet the net-zero challenge.
According to Dr Fatih Birol, IEA Executive Director, the global oil and gas industry's income jumped to almost $4 trillion in 2022, which is "a huge rise" from its recent average of $1.5 trillion. The IEA's chief believes that the oil and gas sector has a unique opportunity to invest a significant chunk of this in clean energy transition, especially in emerging and developing economies.
Based on IEA's findings, methane emissions from oil and gas alone could be reduced by 75 per cent with existing technologies while less than 3 per cent of the income accrued by oil and gas companies worldwide last year would be required to make the $100 billion investment in technologies needed to achieve the reduction.
Another recent analysis from IEA shows fossil fuel consumption subsidies rose to a record of over $1 trillion in 2022, as governments acted to limit the impacts of the energy crisis on consumers and energy bills, however, IEA claims that faster transitions, not subsidies, are the way forward.
In line with this, Worley and Princeton University outline in their 'From Ambition to Reality' series that "we must dramatically rethink the way we deliver infrastructure. We can't turn up to 2030 and expect the world to have fundamentally changed. We don't want to get there and find ourselves saying: If only we knew. To avoid this, we need to monitor, report and adjust our behaviours and practices along the way," if we want to get to net-zero and limit warming to 1.5ºC.
Dr Paul Ebert, Group Director, Sustainability & Energy Transition Leadership, remarked: "Decarbonisation of our economies is an enormous challenge, one we've made harder through slow action. But the world is moving inexorably to net-zero now and it will be a hell of a ride."
'From Ambition to Reality 2: Measuring change in the race to deliver net-zero' is the next installment of Worley and Princeton University's Andlinger Center for Energy and the Environment's series. While the first paper showed that achieving net-zero is technically feasible, but there's an immense infrastructure delivery challenge to get there, the next paper focuses on how to convert thinking into action by outlining the indicators to be used to measure and drive change in this critical decade. It provides information on the gaps that need to be closed over the next seven years to get to a net-zero future.
Dr Clare Anderson, Director, Sustainability Performance, commented: "The biggest challenge is the scale and pace required to reach net-zero by 2050. It's an enormous undertaking. But it's also a huge opportunity. To overcome this challenge, we are going to need to form new partnerships and develop new ways of working."

Worley says that the new installment of 'From Ambition to Reality' series has modelled Australia and the U.S.A. with net-zero Australia and America, however, the issue with infrastructure delivery rates is universal, thus, 'Measuring change in the race to deliver net-zero' explores ten infrastructure changes needed to turn net-zero ambition into reality.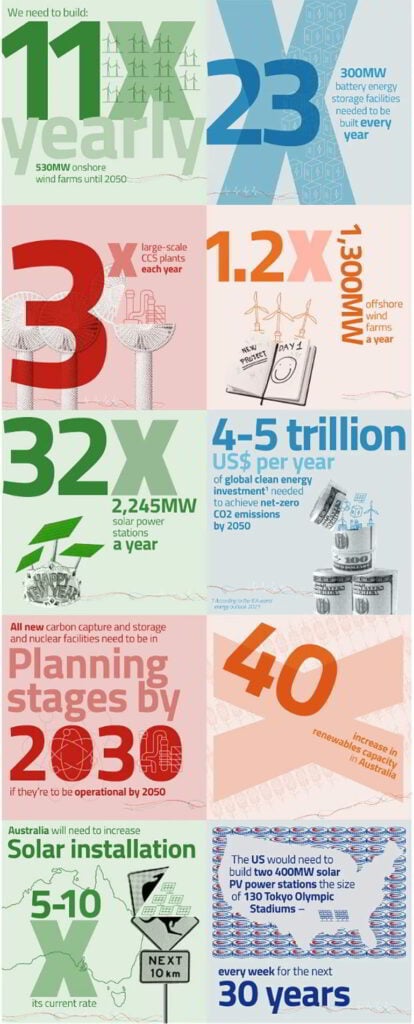 The list of low-carbon energy infrastructure that needs to be built on a yearly basis by 2050 covers 11 onshore wind farms of 530 MW; 23 battery energy storage facilities of 300 MW; 3 large-scale carbon capture and storage (CCS) plants; 1.2 offshore wind farms of 1,300 MW; and 32 solar power stations with each having a total capacity of 2,245 MW.
Worley underscores that $4-5 trillion of global investment is needed per year to achieve net-zero CO2 emissions by 2050 while all new carbon capture and storage and nuclear facilities need to be in the planning stage by 2030 if they are to be operational by 2050.
The company points out that Australia needs a 40 per cent increase in renewable capacity while its solar installation will need to ramp up by 5-10 times its current rate. On the other hand, the U.S. would need to build two 400 MW solar PV power stations the size of 130 Tokyo Olympic Stadiums.
Furthermore, Worley and Princeton University's Andlinger Center for Energy and the Environment have studied the required infrastructure and found the speed and scale of development unprecedented, as continuing to develop and build the infrastructure the way it is currently done will not be sufficient.
According to the two players, "a complete reimagining of infrastructure delivery" is required with systemic changes to the way "we share value, develop technologies, standardise designs, create partnerships, collaborate, and embrace digital tools and thinking."
The duo claims that "a radical but durable new paradigm for infrastructure delivery" will need to be established to provide the foundation to move confidently towards net-zero by mid-century. Diving deeper into the five key shifts described in the first paper, Worley and Princeton University explore examples from a range of sectors where new implementation approaches have had a transformational impact.
Laying the foundation in the critical decade for action, the duo proposes fifteen indicators of change, three per shift, that will allow measuring, adjusting, and correcting infrastructure delivery practices to meet the challenge of scale and speed.
In addition, they outline how performance against these indicators needs to progress over time, starting from an assessment of where we are now, where we need to be by 2026, and ultimately by 2030, which the two players see as "a pivotal target year, if we're to have any chance of reaching net-zero by 2050."
Based on the paper, success by 2030 entails broadening value with projects delivering more than the financial value with communities at the heart of the transition; enabling options, as existing low-carbon technologies are being deployed and there is an investment in the future technologies we need while intellectual property is shared openly; and standardisation, as engineers are working to agreed global standards, with designs based on equipment and modules already available in the supply chain.
Additionally, this includes creating partnerships with collaboration becoming the norm, as the public has full visibility of projects, operating assets, and performance; and the digital accelerant with secure digital platforms connecting all stakeholders and assets while project data is openly shared, with teams learning from each other.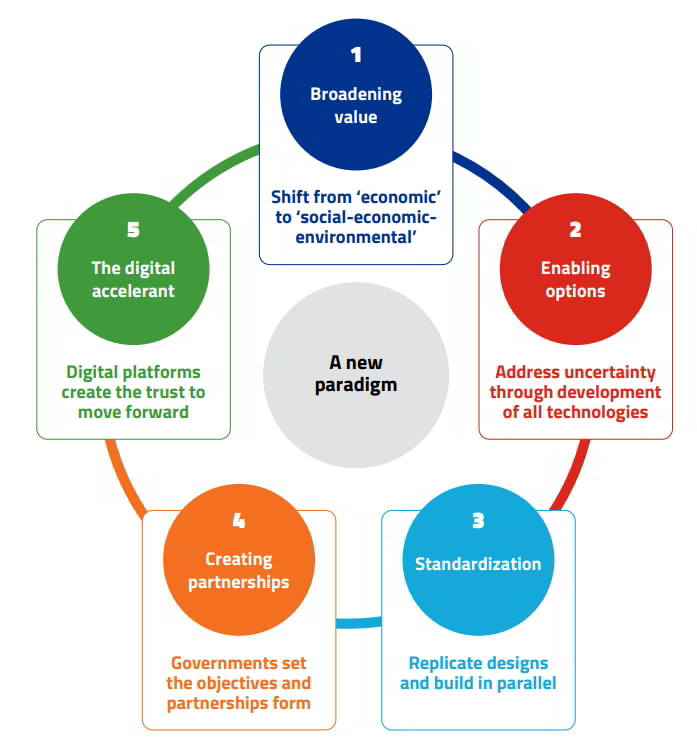 Moreover, Worley and Princeton University's Andlinger Center for Energy and the Environment claim that the overall gap between the current project delivery practices and where we need to be by 2030 is high, thus, there is a lot to do in the coming years to close the gap on all five shifts by 2030.
Undertaken by Princeton University, a survey will track these indicators of change, year-on-year from 2023 to 2030, across ten core stakeholder groups – including asset owners, project developers, regulators, communities, service providers, educators, and policymakers – influential in the delivery of infrastructure.
The two players highlight that the Ambition to Reality survey is aiming to establish a panel of more than 3,000 individuals across multiple regions while the results will be used to determine if and where the global infrastructure build is on track, and where it is not, how the course could be correct.
By reinforcing the extent of the challenge, Worley and Princeton University's Andlinger Center for Energy and the Environment provide a new set of net-zero numbers, using data from net-zero Australia. This is a much smaller energy economy than the U.S.A., but with greater energy exports, requiring up to 3,000 GW of new renewables by 2050, essentially replicating the total world renewable current fleet, and up to 1 GT of CO2 sequestration.
Despite the differences between these nations, the scale of the challenge is similar. Therefore, to achieve such numbers the message is clear: "we must dramatically rethink the way we deliver infrastructure. Authentic ESG-charged partnerships, standardised design, confident supply chains, fully immersed communities, a digital overhaul, honesty, transparency, and a collective imperative: that's how we'll get to net-zero by mid-century," concluded the two players.