Update: Noble denies buying another newbuild jack-up rig in Indonesia
Update: Adds a statement by Noble Corporation denying reports that it has acquired another rig from Graha yard in Indonesia.
---
Following initial reports that offshore driller Noble Corporation has acquired another Gusto-designed newbuild jack-up rig from PaxOcean's Graha yard in Batam, Indonesia, the driller has denied the reports. It does still have the option to acquire the rig in question.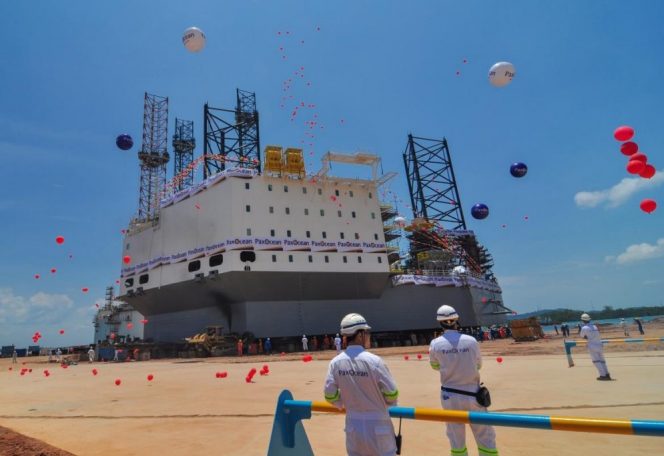 Namely, Offshore Energy Today, based on data from VesselsValue, on Thursday morning reported that Noble Corp. had acquired the Jingxuan newbuild jack-up rig which the Indonesian yard originally built for China-based Petrolor Oilfield Services.
This would have marked the second purchase of a newbuild rig by Noble from the Indonesian yard as it in September bought the Jinghang jack-up.
The driller, which was not immediately available for comment, eventually responded to Offshore Energy Today, denying it had exercised its option for the Jingxuan.
Jeff Chastain, Vice President Investor Relations & Corporate Communications at Noble Corp said: "Following the purchase of a CJ46 design jack-up by Noble in September 2018 from PaxOcean, Noble has an option to purchase a second CJ46 design jack-up unit from the PaxOcean shipyard in Batam, Indonesia. However, Noble has not exercised the purchase option at this time. Should the option be exercised, Noble anticipates making a public statement to confirm such action."
Worth noting, at the time of the update of this article, VesselsValue, a website specializing in vessel and rig valuations and deals, still showed the rig as having been sold to Noble. See screenshot below:

As reported earlier, Noble bought the Jinghang jack-up rig from Graha yard.  The rig was previously ordered, and abandoned, by China's Petrolor. Noble at the time said the price was $93.75 million, which was below the market value estimates.
The first rig, renamed to Noble Johnny Whitstine, immediately secured a long-term contract with an undisclosed client in the Middle East. The contract is expected to start in the first quarter of 2019. The rig is currently in a shipyard in Singapore.
Both rigs are of the GustoMSC CJ46-100XD designed to operate in water depths of up to 375 feet and drill to 30,000 feet deep.
---
Related: Most interesting deal of the year award? Noble scores big in newbuild jackup acquisition
---
Offshore Energy Today Staff
Related news
List of related news articles