Rolls-Royce Uses Intelligent Awareness to 'Turn Night into Day'
Mitsui O.S.K. Lines and U.K.-based Rolls-Royce Marine said that they have verified the capacity of Intelligent Awareness and machine learning technologies to improve navigational safety.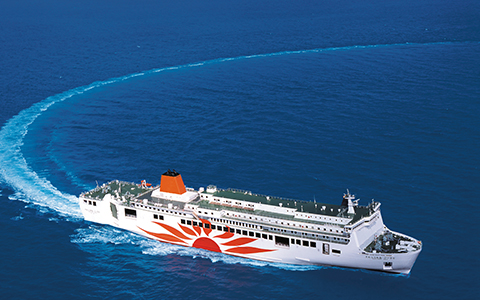 The technology was tested in a pilot project on board a 165-meter passenger ferry, Sunflower Gold, which was equipped with the Intelligence Awareness System (IAS).
The ferry, operated by MOL Group company Ferry Sunflower Co., serves Japan's Seto Inland Sea route, and operates night-time sailings between Kobe and Oita, Japan.
The project focused on research related to advancement of watch keeping from the bridge. Namely, the system was used to detect debris and other obstacles in a demonstration test in Seto Island Sea, one of world's most congested waterways. The project team also used the demonstration to verify the system's capabilities to fuse data.
Rolls-Royce installed an array of Intelligent Awareness sensors, thermal imaging cameras and its Light Detection and Ranging (LIDAR) system on the vessel in April 2018, following the 2017 signing of a joint development agreement with MOL.
The technology was fused together to give the vessel's bridge team day-time-like situational awareness of the surrounding area, providing enhanced decision-making capability and improving the safety of the vessel.
"Results from sea trials on the vessel, which operates night-time sailings between Kobe and Oita, Japan, found that the navigating officers were able to visually detect objects that would otherwise have been cloaked by the blackness of night," Rolls-Royce said.
"During the trials the Intelligent Awareness system was able to detect all potential navigational obstacles, allowing the crew to mitigate against any safety risks during night crossings," Iiro Lindborg, Rolls-Royce, General Manager Remote & Autonomous Solutions, said.
"We turned night into day," said Lindborg. "MOL and the Sunflower Gold crew were very satisfied with the results."
Data obtained from this and other Rolls-Royce IA projects will now be fed into the company's machine learning algorithms to further develop the IA system, with the objective of putting a permanent installation aboard the Sunflower Gold later this year.
"To achieve MOL's high-level safety policy, Rolls-Royce and our project team had a discussion about how the Rolls-Royce Intelligent Awareness System could help our crew's navigation duty aboard passenger ferry Sunflower Gold. Our crew always needs to be under intense situational awareness because our ferry runs through an area with heavy marine traffic in the dark and the relative speed is high," Kenta Arai, Director at MOL, added.
Data captured from tests on board Finferries' 65m double-ended ferry Stella, which operates between Korpo and Houtskär in the Archipelago Sea on the southwest coast of Finland, will also be fed into the Rolls-Royce machine learning algorithm.
MOL said that it plans to continuously accumulate data on the sea and use it to generate practical improvements in watch standing performance that make the system suitable for navigation in the Seto Inland Sea, while upgrading its performance in adverse weather.
The Japanese shipping company has been very active in researching and developing smart technology and artificial intelligence, in order to unlock the potential to cut costs and environmental impact of its services.