RWE eyes three new carbon capture and storage projects in UK
UK energy company RWE is planning to progress three new carbon capture and storage (CCS) projects across the UK, which could secure up to 4.7 GW of generation and capture 11 million tonnes of CO2 per year.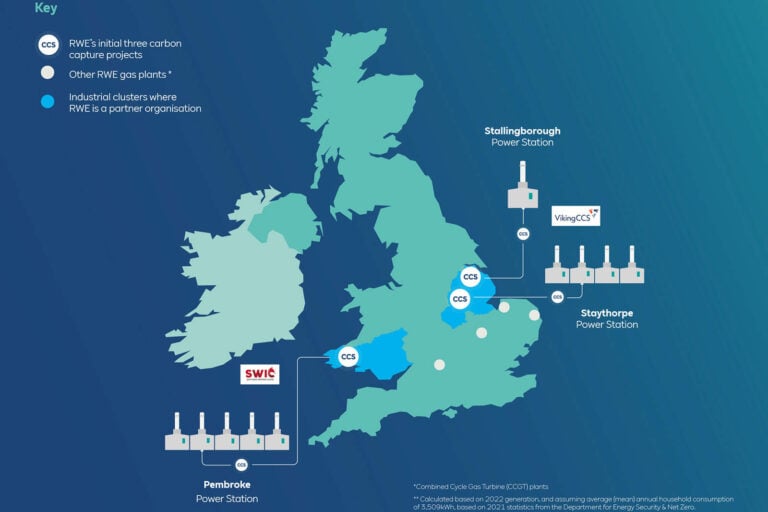 In pursuit of decarbonisation technical solutions for its European conventional fleet of plants, RWE announced it was testing the feasibility of options to retrofit carbon capture technology at its existing combined cycle gas power stations at Pembroke and Staythorpe.
In addition, the UK company is developing proposals for a new carbon capture, gas-fired power station at Stallingborough, close to the Humber Estuary. The proposed development would be up to 800 MW of capacity.
If all three projects are progressed, they would be capable of delivering up to 4.7 GW of flexible, generation capacity, said to be enough to produce electricity to power the equivalent of 8.1 million UK homes, while capturing 11 million tonnes of CO2 per year.
The projects are close to proposed CO2 networks or will have access to shipping facilities, which would enable the CO2 to be transported and stored by third parties.
RWE is now preparing to apply to the UK Department for Energy Security and Net Zero's Track 2 Phase 2 cluster sequencing funding application process, which is dedicated to carbon capture projects in close proximity to carbon capture storage or transport facilities.
"In order to decarbonise the power sector, support security of supply and enable large-scale industrial decarbonisation, it is important that clean gas generation projects are developed," said Tom Glover, UK Country Chair for RWE.
"Carbon capture can support the expansion of the other renewable and low-carbon technologies that RWE is a leader in deploying, by providing energy security through firm and flexible provision of electricity that is not reliant on weather."
RWE has developed partnerships with industrial clusters South Wales Industrial Cluster (SWIC) and Viking CCS in order to develop transportation and storage options.  Where possible, utilization options for the captured CO2 will be targeted, RWE said.
While being instrumental in the UK's long-term energy security, the three proposed CCS projects are expected to play a key part in helping RWE achieve its own global ambition to be carbon neutral by 2040 in line with the Paris Agreement.
In a bid to curb its carbon footprint, RWE is also embracing hydrogen, as illustrated by the inking of a memorandum of understanding (MoU) with Kellas Midstream to look into the potential for large-scale green hydrogen production in Teesside.