Sabah govt and Petronas team up to realise full potential of oil & gas industry
Malaysian energy giant Petronas and the Sabah state government have teamed up to further expand the mutually beneficial relationship between them by working on progressing and evolving the oil and gas industry in this Malaysian state, located in the northern part of the island of Borneo.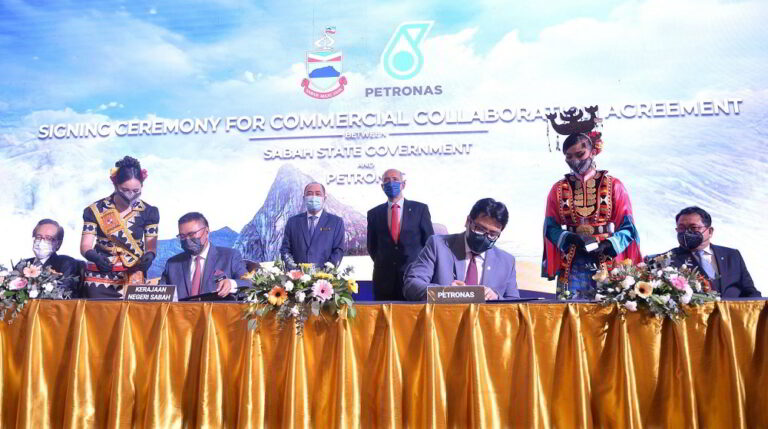 Petronas announced the signing of a commercial collaboration agreement on Tuesday. This agreement is expected to further enhance the collaboration between the firm and the government in developing the oil and gas industry in Sabah.
The Sabah-Petronas commercial collaboration agreement was signed at Menara Kinabalu in Kota Kinabalu. It was witnessed by Petronas' President and Group CEO, Datuk Tengku Muhammad Taufik, Sabah State Secretary, Datuk Seri Panglima Haji Safar Untong, Sabah Chief Minister, Datuk Seri Panglima Haji Hajiji Haji Noor and Petronas Chairman, Tan Sri Mohd Bakke Salleh.
On Petronas' behalf, Senior Vice President, Malaysia Petroleum Management, Mohamed Firouz Asnan, signed the agreement as a witness, while Sabah Finance Minister, II Datuk Seri Panglima Masidi Manjun signed as witness for the Sabah state government.
Concluded under the steer of the federal government, this deal is a testament of an expanding mutually beneficial relationship between the state and Petronas, as the national oil and gas corporation, in responsibly realising the full potential of the domestic oil and gas industry.
According to Petronas, the objectives of this agreement for the state of Sabah entail a greater involvement with Petronas in the oil and gas development and the increase of the revenue for Sabah from oil and gas production in the state. This is expected to be accomplished by increasing its participation in the oil and gas industry and its value chain.
Furthermore, the state of Sabah, through its nominated state-owned entity, will have the opportunity to increase its participation in upstream petroleum arrangements. This includes the partnership with Petronas Carigali – the wholly-owned subsidiary of Petronas – as well as in the midstream and downstream oil and gas businesses within the state.
Petronas claims the signing of this agreement marked a new chapter of closer collaboration between the company and the Sabah state government. In addition, to achieve the objectives of this deal, a consultative framework will be established whereby both parties will jointly engage on matters of importance to the industry to maintain a sustainable, conducive business and investment environment for the benefit of the state and the nation. 
Petronas is actively working on developing the oil and gas industry in Sabah and, to this end, the company awarded two front end engineering design (FEED) contracts a few days ago to a JGC-Samsung Heavy Industries consortium and to Saipem for a nearshore LNG project in Sabah.
Petronas claims this project is a first of its kind in Malaysia and it will have a minimum capacity of two million tonnes per annum (MTPA).