Safeen, Allianz Marine create new logistics provider
Abu Dhabi Ports' maritime arm Safeen has recently signed an agreement with Allianz Marine & Logistics Services (AMLS) to launch a new international provider of integrated maritime logistic services.
Abu Dhabi Ports said on Friday that the new company would be named Offshore Support and Logistics Services Company (OFCO), headquartered in Abu Dhabi.
According to the port, the new joint venture will be one of the largest and cost-efficient providers of onshore and offshore integrated logistics solutions and subsea services in the GCC region and beyond.
"OFCO combines Safeen's strategic position and experience as a port marine operator, with Allianz' diversified fleet and expertise in offshore logistics and supply chain management, making it the leading fully-integrated supplier of marine logistics solutions and services in the GCC", Abu Dhabi Ports said.
OFCO will be a 'one-stop-shop' offering clients a spectrum of service solutions including integrated logistics for oil and gas, EPC and IRM companies as well as firms providing subsea services, supported by Abu Dhabi Ports' land-based operations.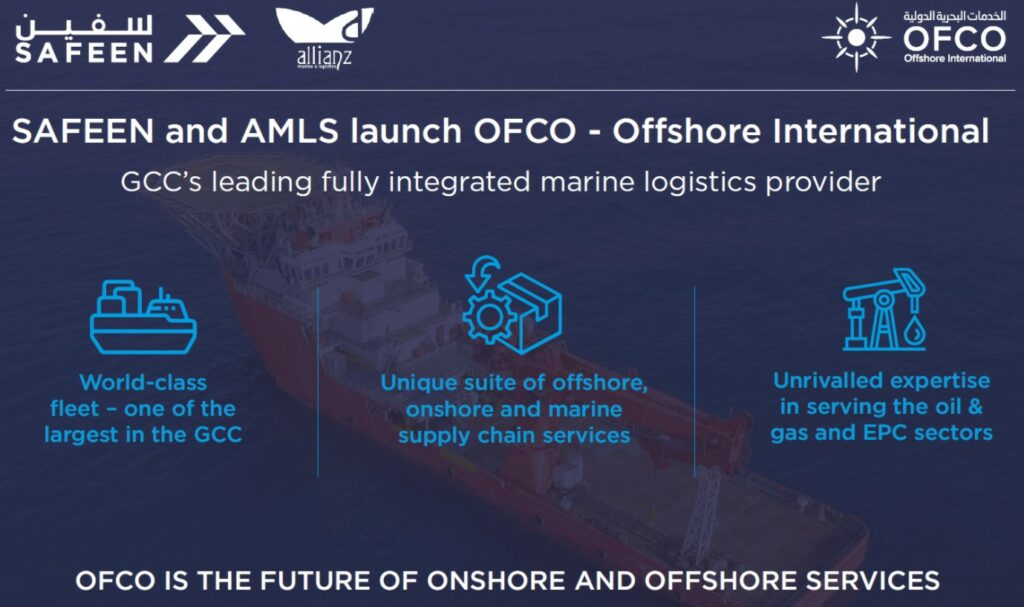 The new company will focus on large offshore infrastructure projects, which include ongoing operations within the regional oil and gas sector, as well as future projects set to be launched in the coming years.
Mohamed Juma Al Shamisi, CEO of Abu Dhabi Ports, said: "The launch of OFCO represents a significant leap forward for Safeen, which is one of the main pillars of our maritime business.
"By adding OFCO to our extensive portfolio of trade, logistics, and port services, we are in a position to offer our regional and global customers a very comprehensive and compelling end-to-end value offer, in one place and at the same time".
Ahmed Khalil, general manager of Allianz Marine & Logistics Services, added: "Our partnership with Safeen is a significant milestone for AMLS. By engaging with one of the subsidiaries of Abu Dhabi Ports Group, which is positioning Abu Dhabi as a major global gateway for offshore logistics and services, we are enhancing not only our ability to support regional infrastructure projects but are expanding our existing portfolio internationally as well.
"With access to one of the largest service fleets marine services provider in the Arabian Gulf, we believe that OFCO will be a game-changer for the oil and gas market, providing integrated offshore logistics solutions and operational excellence to our clients".
As part of a wider value offering, OFCO's customers will also have access to a broad spectrum of trade logistics and services offered by Abu Dhabi Ports, which include offshore, onshore, base operations, logistics, industrial zone, and maritime services.