Saipem turns to biofuels for its drilling and construction fleet
In a bid to curb emissions, Italy's oilfield services provider, Saipem, is pooling resources with Eni to add renewable fuels to its arsenal, which would be used for its drilling and construction vessels.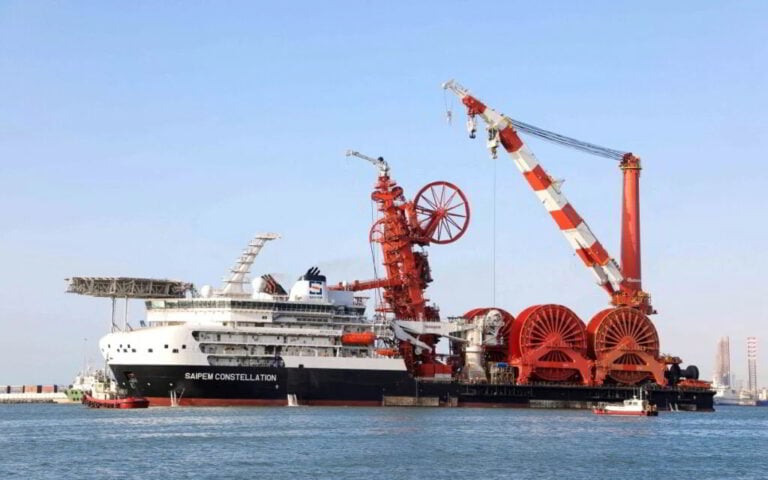 Saipem disclosed on 22 February 2023, that it had signed a memorandum of understanding (MoU) with Eni Sustainable Mobility, aiming to employ biofuels on its drilling and construction naval vessels, with particular attention to operations in the Mediterranean Sea. The oilfield services provider has a global fleet consisting of 45 vessels for construction and drilling operations.
The two Italian giants claim that this MoU represents an important milestone for both of them, confirming the mutual commitment to diversifying energy sources and reducing the carbon footprint across offshore operations.
Thanks to the conversion of the Venice and Gela refineries into biorefineries, which have been palm oil free since the end of 2022, Eni has been producing biofuels since 2014. Biofuel products are processed through proprietary Ecofining technology, vegetable raw materials or animal waste and HVO (Hydrotreated Vegetable Oil).
Eni confirms that biofuels are one of the pillars of its strategic plan to achieve carbon neutrality by 2050, through a decarbonisation process that aims to reduce emissions from industrial processes and products.
According to Saipem, the agreement with Eni forms part of the execution of its strategy for the reduction of GHG emissions and implements, together with the other initiatives and investments envisaged in its strategic plan, the reduction of its Scope 1 and Scope 2 emissions by 2035 and the achievement of net-zero – including Scope 3 – by 2050.
As outlined in the joint statement, the agreement is expected to leverage the experience and expertise of both players: "Eni Sustainable Mobility, among the first producers of biofuels in Europe, brings its global expertise in providing solutions to reduce carbon emissions.
"Saipem, through its commitment to the energy transition, aims to increase the use of alternative fuels on its vessels so as to immediately reduce its own emissions and those of its clients."
With the use of biofuels, Saipem expects to potentially reduce emissions by around 550,000 tonnes of CO2 per year, equal to 60 per cent of its total annual Scope 1 emissions.
Regarding Saipem's recent activities, it is worth noting that the oilfield services provider entered into two new credit facilities in February 2023, totalling approximately €860 million (almost $925.2 million) to further strengthens its financial structure and liquidity.
The Italian giant also revealed two contracts in January 2023 – one in Brazil and one in Norway – worth approximately $900 million. This came after the firm secured new offshore contracts with a total value of approximately $1.2 billion for work in Guyana and Egypt.
In addition, the oilfield services player recently launched a new asset integrity management system for offshore energy operators and confirmed its participation as a technology partner in Snam and Baker Hughes' operational tests at the Snam natural gas compression plant in Istrana, Italy.