SeaVolt partners set to launch offshore solar platform in the North Sea
SeaVolt project partners, which include Tractebel, DEME, and Jan De Nul, are making final preparations to install its first offshore solar energy test platform in the Belgian North Sea.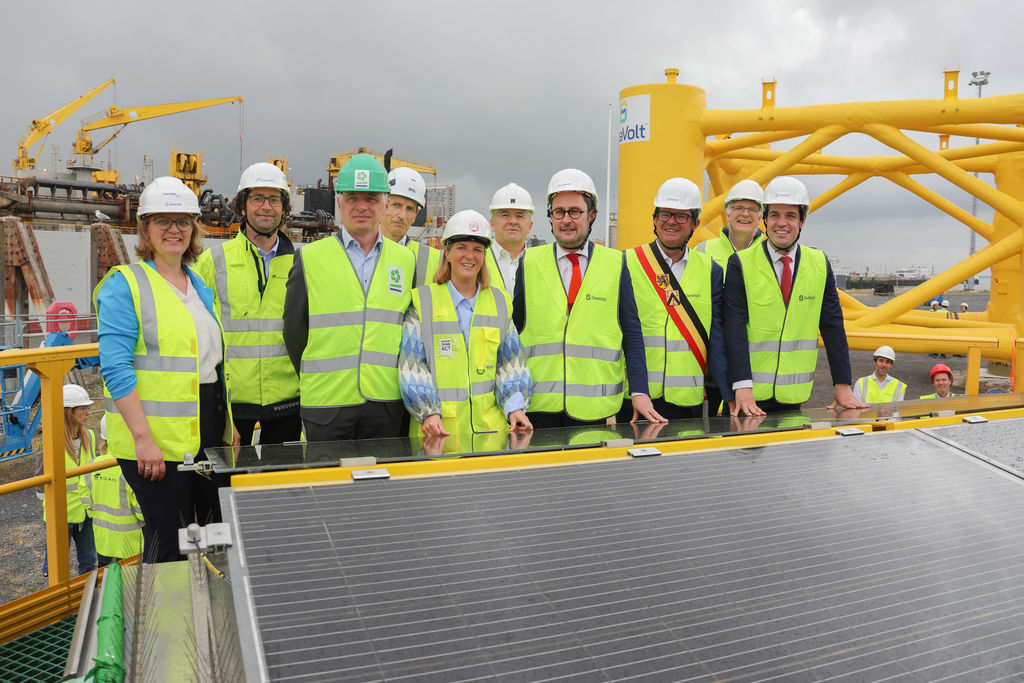 The platform floatation system is currently located in the port of Ostend, on the Belgian North Sea coast, where main contractor Equans is finalizing assembly.
The test platform will be the first installation in the Belgian North Sea aimed at the large-scale development of offshore solar energy and is scheduled to be towed offshore, anchored, and put into operation to gather data for at least a year starting in August 2023.
Unlike existing floating solar installations on lakes, SeaVolt has developed a concept specifically tailored to the conditions of rough seas. With its modular design, the technology is said to be highly suitable for installation as a complement to offshore wind farms.
Under the framework of the Blue Cluster-funded research project MPVAQUA and additional support from the federal government via BELSPO, the partners within SeaVolt together with Ghent University (UGENT) are ready to conduct a year-round open-sea testing inside the POM-West Vlaanderen owned 'Blue Accelerator offshore test zone'.
This proof of concept installation will gather crucial data on the impact of waves, rain and salt sprays on various solar panels with different solar panel configurations.
In addition, the impact of varying inclinations, caused by waves and wind, on the energy output will be closely monitored. The test aims to determine the level of protection required to shield the solar panels from seawater and bird droppings, SeaVolt project partners informed.
Julie De Nul, CEO of Jan De Nul Group, said: "We are thrilled to launch the SeaVolt technology, which represents the culmination of years of hard work and innovation in offshore PV technology together with our partners. As we enter the offshore test phase, we are excited to see what this technology will become.
"The floating solar energy test platform is a crucial step in developing a reliable and sustainable solution. It serves as a laboratory to gain knowledge and push the technological development further. We believe SeaVolt has the potential to play a crucial role in optimizing the use of space on the sea by complementing offshore wind farms. We are excited to shape the future of renewable energy and contribute to a more sustainable future."
Testing the SeaVolt floater and ecological impacts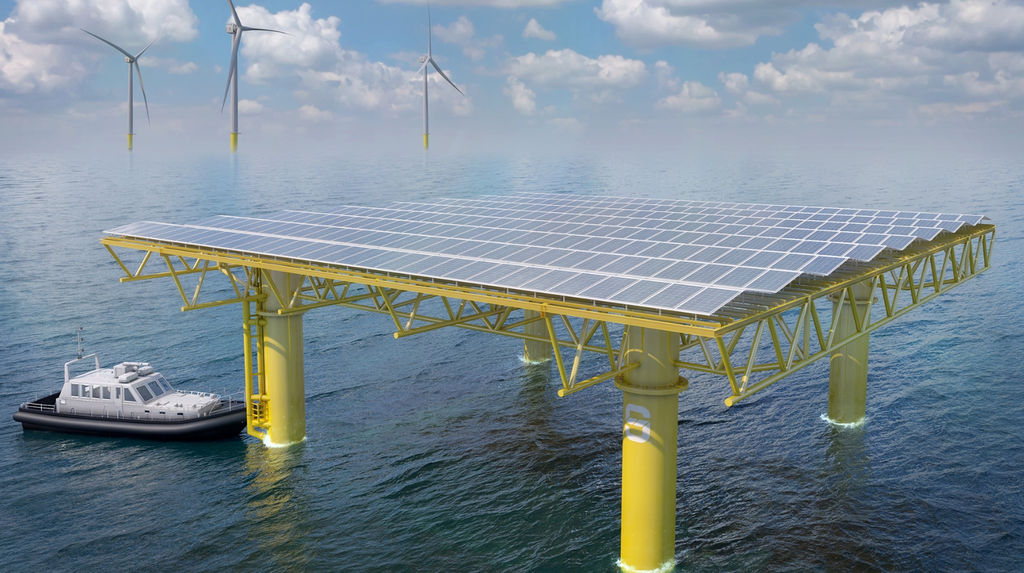 Amongst other materials suitable for this floating technology, SeaVolt has chosen to use novel light-weight carbon fiber material in this test installation. The material presents potential benefits for offshore use however is not often used in such harsh marine conditions yet.
Optical embedded fibers and sensors attached to the structure will assess if the structural integrity (vibrations/fatigue) of the material is in line with the numerical models and results obtained from the ocean wave tank and wind tunnel tests. Since the floating structure and solar panels are driving the cost, these measurements are indispensable for further financial assessment.
In addition to technical tests, the SeaVolt test installation will also address ecological aspects. Various materials will be evaluated based on prevention of adverse effects on the marine environment. The test results will determine the selection of materials for further development.
It is important not only to minimize the attachment of excessive marine growth to the floater to maintain its buoyancy. Lastly, specific tests will be conducted to assess combining the floater systems with mussel cultivation and oyster farming, which present specific challenges.
Since this test is only containing a few solar panels for a rather large floater construction, it is not to be seen as a first prototype of the full scale. It is rather a laboratory to gain knowledge and push the technological development further, according to SeaVolt project partners.
Promising European market and next steps for SeaVolt
The significant potential of offshore solar energy is also recognized internationally. It has captured the attention of the European Green Deal plans, with an announcement by the Dutch government to have 3GW of offshore solar energy in operation by 2030, and concrete projects under development up to 100MW.
Technology development is essential to achieve these ambitions. With this offshore test, SeaVolt is taking the critical initial step to further advance large-scale marine floating solar energy.
Meanwhile, ecological research and economic research is ongoing amongst others covering future LCOE evolutions analysis.
To ensure further development, SeaVolt is preparing for a large-scale demonstration project within an offshore wind farm.
As such, the potential of integrating offshore floating solar inside an offshore windfarm will be further assessed. If all goes well, large-scale offshore solar energy is expected to become a reality and, in this case, SeaVolt hopes to secure a significant share in this new development of the already strong Belgian offshore sector.
Thomas Dermine, Belgian Secretary of State, said: "Solar energy in the North Sea has the potential to become just as important as our wind farms when it comes to green power generation. To accelerate the development of offshore solar energy, we are investing in technology and know-how among Belgian players through our recovery plan.
"In this way we are addressing three crucial challenges simultaneously: the fight against climate change, greater independence from energy imports, and the development of technological expertise in Belgium that creates new jobs and exports."
Subscribe and follow
Offshore Energy – Marine Energy LinkedIn