SIDS DOCK and Naval Energies Partner on OTEC
UN-recognized initiative Small Island Developing States (SIDS DOCK) and Naval Energies recently signed a memorandum of understanding to support the development of marine renewable energy.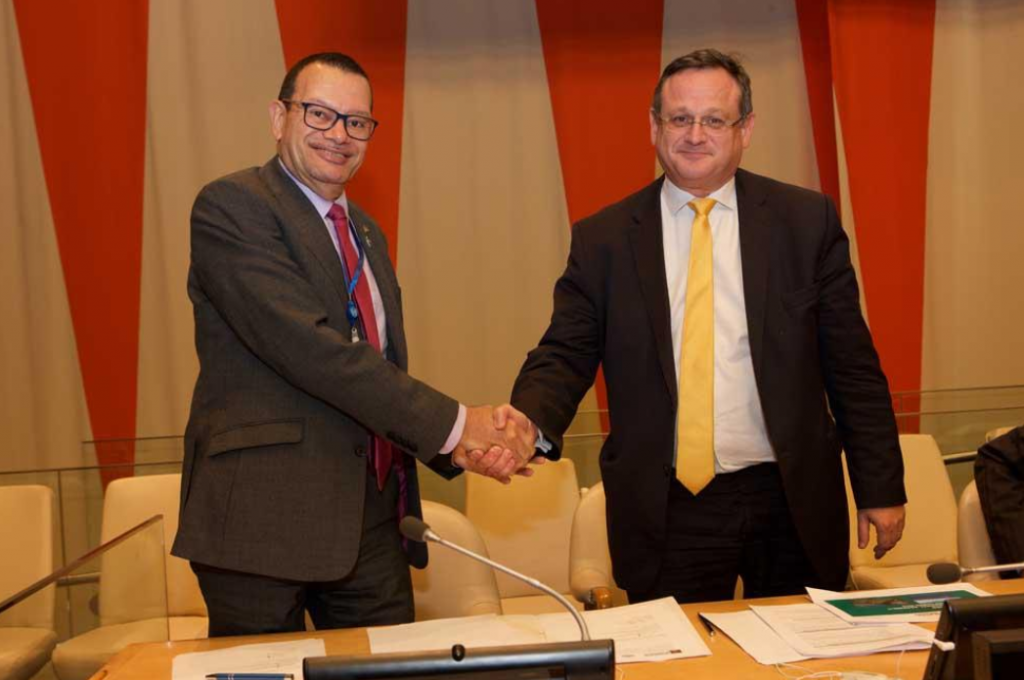 The agreement will see SIDS DOCK and Naval Energies collaborate to foster the development of OTEC deep-sea conversion and floating wind projects in small islands countries, recognizing that the ocean is the largest renewable resource for SIDS.
The signing ceremony took place during fifth session of the Assembly of SIDS DOCK at the UN Economic and Social Council (ECOSOC) Chamber, on the sidelines of the seventy-fourth (74th) UN General Assembly, at UN Headquarters, in New York City, United States.
The MoU has been signed by Ronald J. Jumeau, Chair, Executive Council of SIDS DOCK and Laurent Schneider-Maunoury, Chief Executive Officer of Naval Energies.
Through this partnership, both SIDS DOCK and Naval Energies will closely cooperate with regional organizations, the small island countries and the renewable energies stakeholders to promote the development of OTEC Deep-Sea Conversion and Floating Offshore Wind projects. Together, the partners will be advocating Marine Renewable Energies development, gathering experts and mobilizing resources to perform site studies and feasibilities studies in order to attract sponsors and investors to finance the development of project on a short-term basis, with the goal of helping the SIDS transition to a Blue Economy.
"As the designated country with lead responsibility for promoting the Blue Economy in the Caribbean region, Grenada takes its responsibility seriously, and has already begun planning for the first OTEC facility in SIDS, and we believe that Naval Energies is the partner that can assist us with meeting this goal, and we look forward to the partnership," said Keith C. Mitchell, Prime Minister of Grenada and President of the SIDS DOCK
Laurent Schneider-Maunoury, CEO of Naval Energies said, "We are very pleased to sign this partnership with SIDS DOCK and look forward to a fruitful collaboration to develop marine renewable energies projects in small islands in the Caribbean, Pacific and Atlantic and Indian Oceans. The OTEC Deep-Sea Conversion onshore plants will highly contribute to supply islands with a unique combination of renewable electricity, air-conditioning, fresh water and aquaculture and will help address the energy-water-waste nexus. The generation of renewable electricity with floating offshore wind turbine shall also power the islands closed grid with a reliable new source of renewable energy with no land pressure. We would like to warmly thank SIDS DOCK for their trust and believe that our partnership will contribute to provide solutions to mitigate climate change and help the SIDS transition to low carbon economies."